Captive Chrissy Marie – No Way To Treat A Lady HD
Captive Chrissy Marie – No Way To Treat A Lady HD
Chrissy is at home reading and doesn't notice a robber has broken in the back door. The masked intruder sneaks up behind her carrying and bag containing rope and other things he uses on his victims. He clamps a hand over her mouth and tells her not to scream if she doesn't want any trouble. Chrissy nods and he removes his hand. She starts asking him who he is and how he got in. He explains that he is a professional burglar and it's his job to get into the homes of wealthy socialite ladies like her. He pulls her to her feet and tells her he is going to have to tie her up so she won't cause any problems while he's working. but first she must take off her clothes. "Why?" she asks. "Because it keeps me from getting angry, now do it!" he demands. Chrissy reluctantly removes her skirt and blouse and is now wearing bra, panties, dark seamed stockings, garter belt and heels. She pauses and he orders her to remove the bra and panties. Chrissy hesitates so he says "Quickly! I'm not a patient man!" She proceeds to remove her underwear and cover up coyly. "OK, let's find you a seat" he says as he picks up his bag and pulls her off toward a chair.
Now we see Chrissy is tightly bound to a chair with her legs spread. A tight crotch rope with a clit knot is also in place. "I was a boy scout" says the robber as he finishes tying off a knot. "I'd never have guessed" Chrissy replies sarcastically. Now it's time to get to business. He tells her he know she has to have a safe somewhere and demands to know the location and combination. Chrissy tries to claim that she doesn't have a safe or anything but he isn't buying it. He threatens her to tell him or else he is going to have to get tough on her. Chrissy gives a defeated sigh and tells him there is a safe in the bedroom closet and gives him the combination. "Now you're being sensible" says the robber. He pulls out a roll of microfoam tape from his bag. He stuffs Chrissy's panties she was wearing earlier in her mouth and applies a tight wraparound of tape to seal them in. "You just sit tight while I go make myself richer" he says and walk out of the room. Chrissy squirms and struggles in the chair for several minutes trying to get loose but she is bound too tight and can't manage to escape. Later the robber returns and tells her he didn't get much out of the safe. "I know you've got more here. Are you going to tell me where it is?" Chrissy defiantly shakes her head no. "Very well, let's see if a tougher situation will persuade you to change your mind." He starts untying her ropes as the scene fades out.
Now we see Chrissy has been ball tied with legs together and pulled up to her chest and wrists crossed and pulled up high behind her back. She is lying on her side on the carpet, still gagged. The robber takes a butt plug from his bag and holds the plug for Chrissy to see. "Mmmmmph?!" she exclaims through her gag, wide-eyed. The robber explains "All my ladies get one of these if they don't cooperate." He inserts the plug in her ass producing a loud "MmmmMMMMMpph!!" from gagged Chrissy. "That's what they all say" he says as he ties off her crotch rope so it pushes the plug in deeper. He then pulls Chrissy into a sitting position. "OK, I'll leave you two to get acquainted while I take another look for whatever you're hiding. Enjoy." He leaves and Chrissy struggles desperately trying to get free. After a minute she loses balance and falls onto her side, unable to sit back up. Her raised hands keep her from being able to reach the butt plug. All she can do is squirm helplessly on the floor feeling humiliated by her predicament. Later the robber returns, sits her up and removes her gag. He tells her he's looked everywhere and he knows she's got real valuable stuff somewhere. At this point Chrissy is ready to talk. "OK, I'll tell you.. but only if you promise to take that thing out of my you-know-what." She says coyly. He tells her it's a deal. She admits that the closet safe was a decoy and there's another hidden behind a picture in the bedroom. "The bedroom. that's convenient. because it's way past your bedtime, lady. Let's fix that." He begins untying her ropes as the scene fades out.
Chrissy is now tied face down on the bed, spread eagled wide and tight so she can barely move. She has been panty gagged and tapegagged as before. The robber pulls a vibrating bullet from his bag. "Now, that safe was worth looking into. I kept my promise about the butt plug but forgot to tell you all my ladies get one of these as a parting gift." Chrissy pleads and protests through her gag as the robber proceeds to lube and insert the vibe into her ass until it disappears. He places the control box to the left of Chrissy so the wire snakes across her upper thigh. "That little devil is fitted with brand new, ultra long life batteries, so it should keep you entertained for a quite a few hours. I'll turn it on high for you." Chrissy frantically shakes her head no and mmmmfffs on her gag. He turns it on high anyway. She leds out a loud "Mmmmmph!!!!" and begins to squirm wildly. The robber picks up his bag and begins to leave. He tells her he will call the cops in the morning to tell them where they can find another one. You have a good night now. Chrissy is left helplessly squirming on the bed with the vibrating bullet impeded deep in her ass. She is desperately trying to fight arousal. There is an obvious mix of distress and pleasure in her struggling and reactions. Chrissy will be left to suffer and endlessly orgasm until the cops eventually find her naked, bound and gagged.

Starring: Chrissy Marie
Size: 1.28 GB
Duration: 00:23:50 min
Resolution: 1920×1080
Format video: mp4
Preview: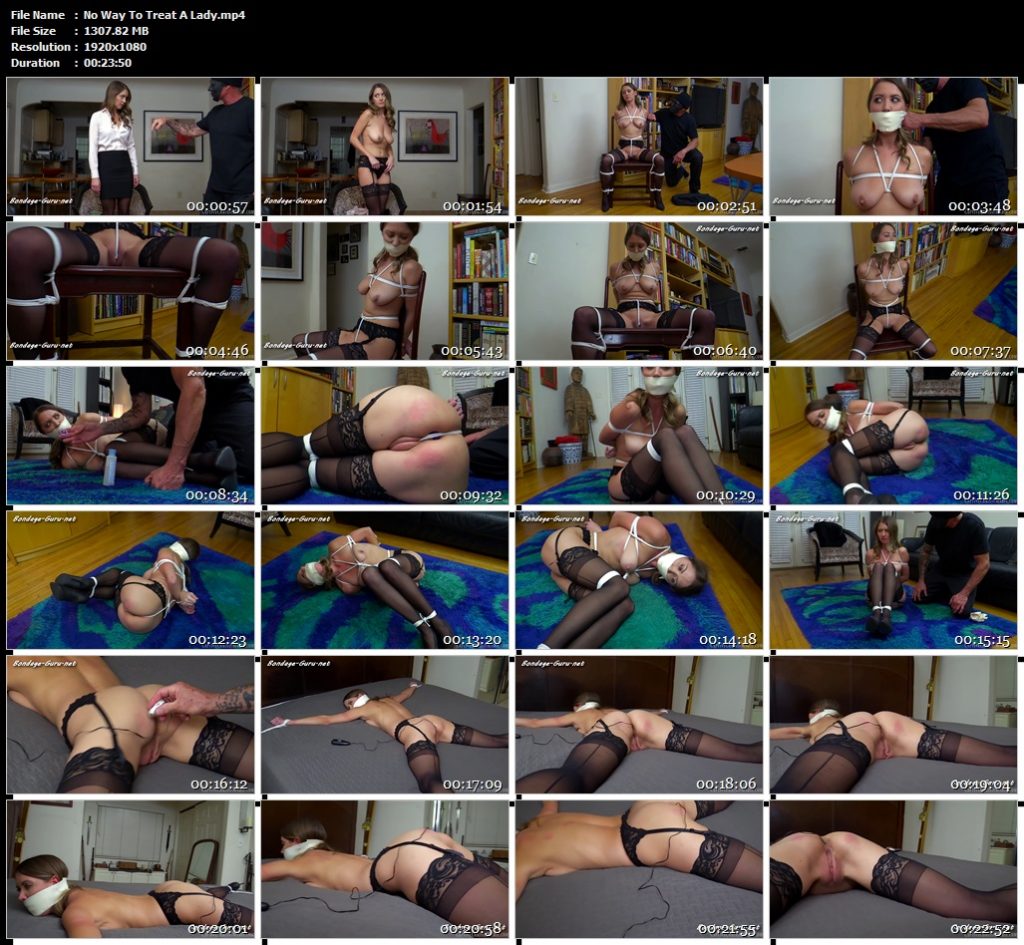 Download link:
No_Way_To_Treat_A_Lady.mp4