Captive Chrissy Marie – Helplessly Bound & Gagged With Whatever He Could Find!
Captive Chrissy Marie – Helplessly Bound & Gagged With Whatever He Could Find!
Chrissy picked the wrong day to come home early from work. She unsuspecting opens the door to enter her house from the garage when she is suddenly overpowered by an intruder who had broken in to rob her. The man her back into her garage and quickly searches around for anything he could use to tie her up! He notices a bunch of zip ties and proceeds to bind her arms and legs as she struggles and pleads with the man to let her go! She was getting too noisy and he needed to keep her quiet so he found a large sponge and stuffed it into her mouth, it in until it was full to the brim! After taping her pretty packed mouth shut he leaves to finish getting what he came for! Chrissy struggles furiously as she tries to escape but the zip ties are too tight and too painful to try and wiggle free from as they cut into her skin. Before making his getaway the intruder returns to have some fun with the helpless homeowner… she is a lot sexier then he would have expected! He uses more zip ties around her waist and between her legs to form an extra cruel crotch rope… and to torment her even more he tops it off with by tying her elbows together with another zip tie then finally pulling her up into a strict hogtie. Chrissy now finds herself in quite a bind and struggles in desperation not knowing what else he might have in store for her. Chrissy's finds out her worries were definitely warranted when he proceeds to pull down her top to expose her breasts…. just to add to the humiliation IF and WHEN someone eventually finds her! No one can hear her with that thick gag in her mouth… and there is no chance of escaping from the brutal tight zip ties on her own. She squirms helplessly bound and gagged on the garage floor, hoping that someone will come to her rescue before it's too late… and before that mean menacing man comes back to 'finish the job'!!!

Featuring: Chrissy Marie
Size: 324.2 MB
Duration: 00:07:40 min
Resolution: 1920×1080
Format video: mp4
Preview: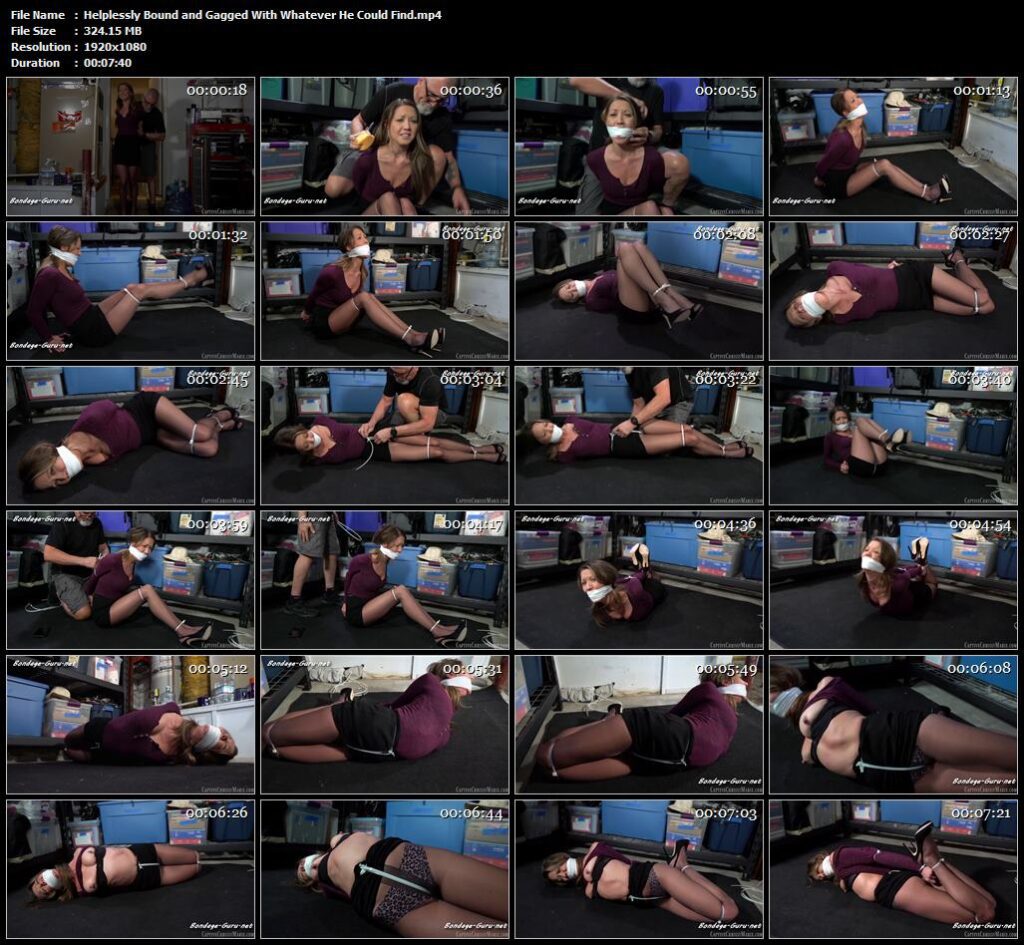 Download link:
Helplessly_Bound_and_Gagged_With_Whatever_He_Could_Find.mp4