Captive Chrissy Marie – Cleaved Cooking Lessons HD
Her husband recently got a raise and offered that she can cut back on hours at work and have more time off for her hobbies, but under the condition that she would keep the house clean and have dinner ready for him every night when he gets home from work since he does work long hours. So far Chrissy has kept her end of the bargain, but today she was feeling particularly lazy and just wanted to relax and play games on her phone. She assumed he would be ok with making himself something to eat just for one night, but that assumption was a huge mistake! He arrives home just as Chrissy is in the middle of a difficult level on her game, so she isn't being very attentive to him. Chrissy starts to get annoyed when he asks her to be sexy for him, so she reluctantly agrees to give him a little tease if he promises to leave her alone for a while. He tried to be nice, but since Chrissy won't give it up, he decides to question her about the fact that no dinner is ready, thinking that she better have a good excuse! She tells him that there is probably something in the freezer he can make and goes back to playing her game, thinking it's no big deal. He decides he needs to teach his defiant wife a lesson! He grabs her by the arm and drags her to the kitchen as she pleads with him that she is sorry and will make him dinner right away!
Unfortunately for Chrissy, it's too late for that! He will make his own dinner, but is going to force her to watch him while tied up on the cold hard granite counter top! He will show her who's boss around this house! Chrissy really doesn't like it when he ties her up out of anger because then he makes it extra tight and inescapable. He pulls her sweatpants down to see what he wanted in the first place, and gives her ass a couple firm smacks to make sure she is really learning her lesson. Then he surprises her with a gag and she begs him not to put it in her mouth, he knows how much she hates being gagged! He is so sick of hearing her pathetic pleading that he instead ties it extra tight then ties her hogtie to it so that it keeps gagging her harder as she struggles! Before he gets to cooking he pulls out her tits and gropes them as she squirms and gags on her hogtied cleave. She tries hard to spit her gag out but it's too tight, so she begs him to please remove it, but he refuses and tells her she has to stay like this until he is done with dinner! Chrissy struggles while severely gagged, naked and barefoot on the countertop, for what seems like an eternity until he is finally done. She thinks she will get a break now, but he just tells her it's time to go upstairs, saying if she thinks that gag is big in her mouth, just wait until she sees what else he has for her!

Starring: Chrissy Marie
Size: 720.4 Mb
Duration: 00:16:10 min
Resolution: 1920×1080
Format video: mp4
Preview: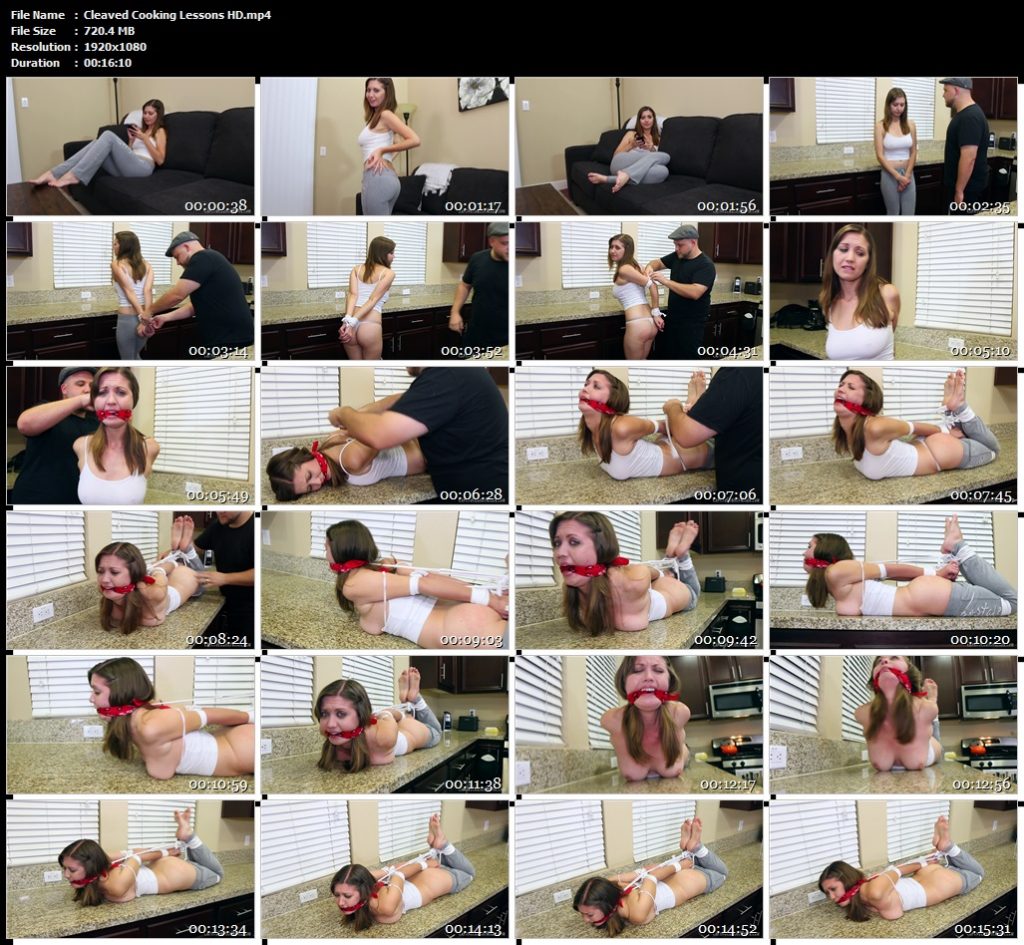 Download link:
https://florenfile.com/t5l38oxv9qxw/Cleaved_Cooking_Lessons_HD.mp4.html