Bella Rose & Lily Adams in Superbound Abductionist Compilation: Bondage Trials for the Rivals (CHALLENGINGLY DISCOUNTED) – Superbound
Bella Rose & Lily Adams in Superbound Abductionist Compilation: Bondage Trials for the Rivals (CHALLENGINGLY DISCOUNTED) – Superbound
Beautiful Lily (the sexy brunette) and Bella (the beautiful blonde) are carried in handcuffed and tapegagged by a creepy masked fellow who plops them down on a couch. The duo look around in confusion and see each other and aren't happy since they are rival seniors about to graduate. This masked mystery man informs them that they will be competing against each other in various trials and the winner will get what's coming to her! They are fondled as this is explained to them and then struggle for a while before they are ordered to stand up and take a walk. Their handcuffs are gone, but they remain tapegagged and hear their first contest: they will both strip and first one naked wins! Get ready, set, go and they try to get their clothes off with Bella winning handily (must have had more practice)! Then to amuse the perverted captor they have to fondle each other's perky young tits, spank each other and rub each other's clits. Then they get to take off their tapegags, but something worse awaits their mouths, their own panties! Both girls stuff their panties in-between their lips with Lily having some trouble due to her panties being a bit large. Then the villain tapegags each other girl with several pieces of tape. Fondled throughout they are then tied up, first wrists, then their boobs and finally crotch-ropes, which proves startling when applied! Both girls get groped and spanked as they prepare themselves for the next wacky bondage trial!
The beautiful pair of rivals stand nude, bound and gagged as they look on in despair and trepidation at their captor. He instructs them to walk to the couch and prepare for another 'contest'. Their next challenge is they must race to a table and run around it three time, run back and touch the coffee table and then sit down on the couch. Once he gives them the cue to go the girls race forward with Bella proving to be the swifter one at first as she gets ahead of Lily, but Lily catches up and manages to complete the race first! Panting the girls sit and wait for more instruction. Ordered to the mat on the ground they get on their knees and then sit down. The villain then binds their legs with A LOT of rope, groping their luscious bodies during and after they're all trussed up. After having his fun he stands up and leaves them to struggle for quite some time (in their time, hours apparently!). An opportunity to stare at these hot bound and gagged beauties with plenty of closeups and expansive full view perspective viewings proves most satisfactory. The villain returns and figures the ropes might be a little looser now that a lot of time has passed. He tells them that the first girl who can untie her limbs and stand up will win the next contest. The girls look at each other at this dubious and daunting challenge, but have no choice and get to it. Rolling about they strain hard against their bonds, focusing on their wrists until Lily manages to get free! Bella remains tied up and watches her with a little envy but resumes her struggling. Lily quickly unties her legs as Bella looks to be catching up! Before the tide can turn though, Lily stands up and wins. After declaring Lily the winner, the masked man tells her to help Bella untie herself. While Lily assists, he reaches out and squeezes and spanks her sexy and gropes her tits and then does the same to Bella. Once they're both free they stand up and listen as they are instructed to remove their hated gags at last. The tape is peeled off and then they wait until they are told to take out their soaking panties which they do so. Both girls appear relieved, but are fully aware that they'll end up back in bondage and having to participate in another challenge very soon!
Gorgeous bondagettes Bella and Lily now find themselves on the floor and continue to protest the bizarre 'bondage trials' their captor is putting them through. Their creepy captor doesn't wait long to silence them as he comes over and stuffs a ballgag in Lily's mouth and gropes her tits and ass. Bella is next and has a ballgag strapped into her mouth and is a bit. They finally learn what the purpose of the bowls in front of them, to collect their drool due to the ballgags that make them salivate. This next contest's winner will be declared when the bowls are examined and whoever has drooled the most will be declared the victor! After they learn this, the villain then hogties them so as to insure their participation! Both girls don't try to compete per se, but have to allow all the saliva to leave their mouths as a trail of drool goes down their chins. Eventually, their fiendish captor comes over to assess who has won and after a quick look it appears that Bella has won. With the score tied the helpless hotties will have to wait and see what the next trial will be and are left to struggle for a bit and roll about trying to get free.

Starring: Bella Rose, Lily Adams
Size: 1.34 GB
Duration: 00:12:57 min
Resolution: 1920×1080
Format video: mp4
Preview: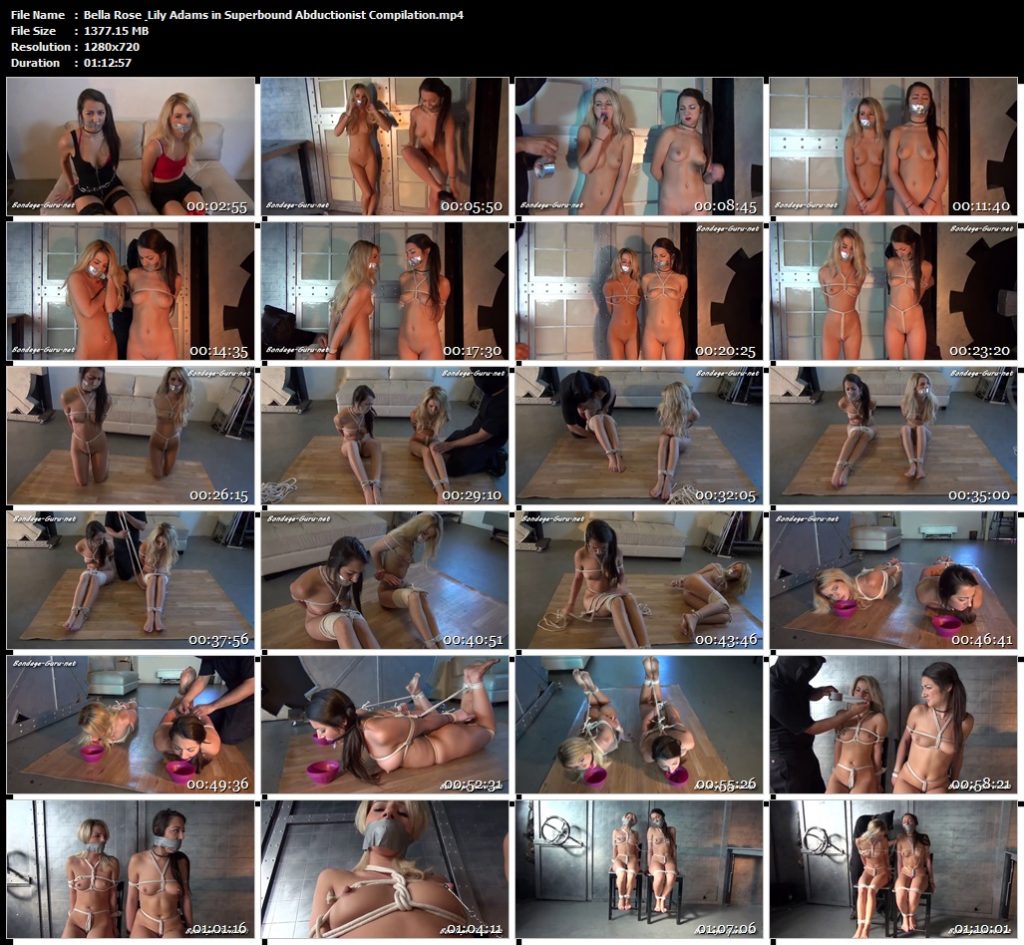 Download link:
Bella_Rose_&_Lily_Adams_in_Superbound_Abductionist_Compilation.mp4