Beauties in Bondage – The Legal Secretary – Monica Jade
Beauties in Bondage – The Legal Secretary – Monica Jade
1. The Legal Secretary
Monica works as a secretary for a law firm that deals with hundreds of clients. Every now and again, they get one who is just unhappy with their performance, and they make remarks in their documents that may be along to other companies upon request. In order to find out why he is having so much trouble getting representation, one particular client enters the office where Monica is doing overtime and is alone. He grabs her and ties her up. He then accesses her computer and demands to know where his file is located. When Monica insists that she doesn't know, the man gags her and goes to search the rest of the firm's offices. Monica struggles, trying to free herself, but she is securely tied and can't find any way to raise the alarm. When the man returns, annoyed because he has not found what he wanted, he drags Monica onto the floor and leaves her in a hogtie.
2. She Refused To Help A Thief
A thief has broken into Monica's house and restrained her with rope to control her and prevent her trying to summon help. Monica's wrists are bound together behind her back, and attached to a chest harness of sorts to further restrict her range of movement. The thief demands that Monica show him where valuables are stored but she keeps insisting she doesn't have any. Naturally, the thief does not believe her and marches her around with him as he searches drawers and cupboards. When he can't find anything, he decides to punish Monica further by tying her ankles together and making her hop around with him. Still unsatisfied, the thief decides to immobilize Monica so that he can conduct a thorough search of the house without her. He ties rope around her thighs before lowering her to the floor. Here, he connects up ropes to place Monica in a hogtie, one from which she will not be able to escape. He gags her with three layers of sticky duct tape to keep her quiet, and after her lifting her off the floor by the ropes connecting chest, wrists and ankles, he leaves her on her own while he goes off to search. Naturally, Monica struggles, but she is very well tied and soon realizes she cannot possibly escape. Exhausted, she finally lies still and waits for the thief to return, hoping that he will then let her go.

Featuring: Monica Jade
Size: 1.3 GB
Duration: 00:36:56 min
Resolution: 1920×1080
Format video: mp4
Preview: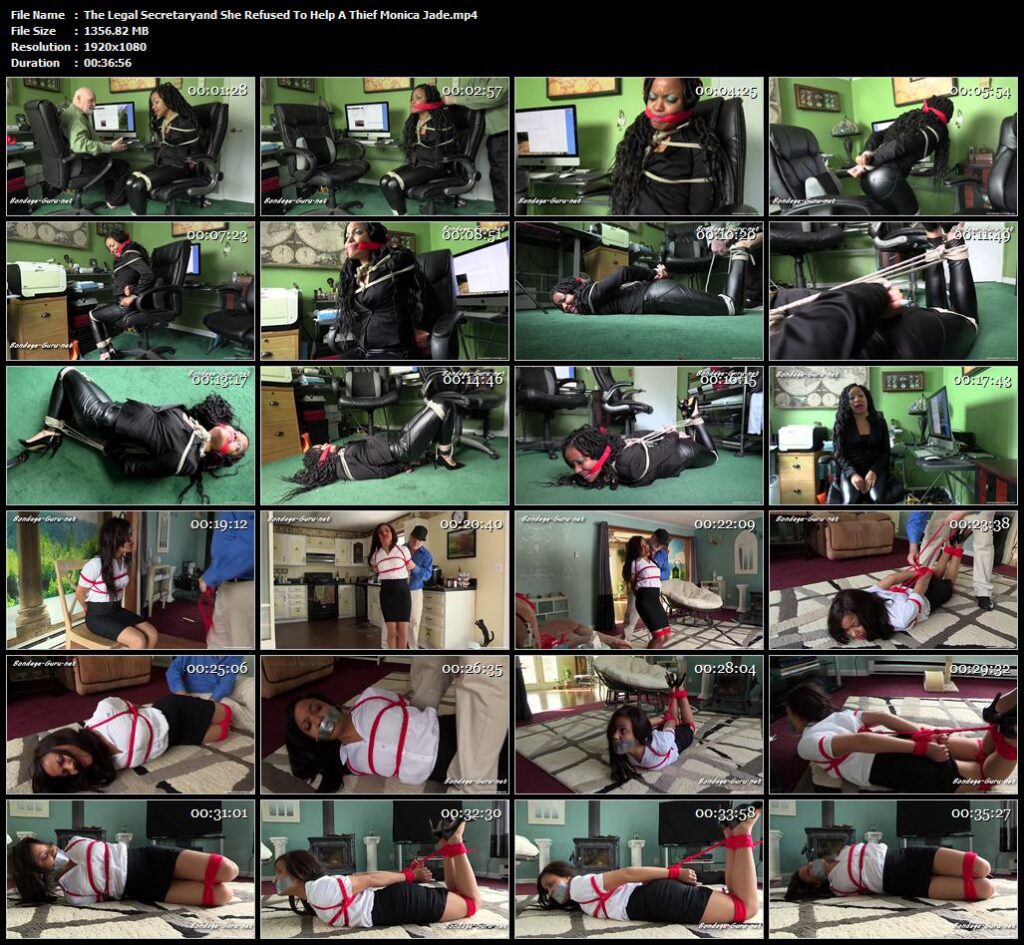 Download link:
The_Legal_Secretaryand_She_Refused_To_Help_A_Thief_Monica_Jade.mp4