Beauties in Bondage – The Katelyn Collection – 3 clips in one file – 44 minutes
Beauties in Bondage – The Katelyn Collection – 3 clips in one file – 44 minutes
1. Con Gone Wrong
Katelyn's is separating from her rich husband and it is likely that she won't get anything from him because he's a lawyer and knows how to turn things in his favor. So, to force his hand, Katelyn contacts a bad guy to simulate a robbery with the promise of later sharing the profits. She makes him tie her up in a tight hogtie. Obviously this won't be enough to convince the husband that she's not involved in the robbery, so to make the thing look even more realistic the bad guy placed a device on a timer in the house. The timer is set late enough to allow the husband to come back from work and deactivate it. Katelyn still would like that the timer is set as late as possible but the thief says her that it can't be set longer than 99 minutes. The husband should be back within the hour so there will be enough time for him to disarm the device and rescue her. Unfortunately, Katelyn receives a phone message from her husband saying that he has been delayed by an extra client and that she should have dinner without him.�Katelyn panics and tries to cry out through her gag, but no one can hear her. She begins struggling frantically to free herself before the house explodes. She makes her way to the kitchen, vaguely hoping she might reach a drawer with some knives, but because she is in a hogtie she can't reach anything and time is fast running out!
2. Insurance Thief
Katelyn is posing as an insurance agent to gain entry to peoples' homes where she steals precious items. She has been getting away with this for a while, but today she makes the mistake of quoting a premium which is unbelievably low, and the home owner grows suspicion. He shows Katelyn a piece of jewellery he has insured, asking if this is the kind of thing where she can offer him a better deal. He places the item back in a drawer and leaves the room to make her a cup of coffee, or so he says. In fact, he is watching Katelyn through a crack in the door, and when he sees her steal the item of jewellery, he re-enters the room and catches her read-handed. He threatens to call the police, but first he wants to make sure this faux insurance agent doesn't escape, so he binds her wrists and ankles with zip ties then binds her to a chair. He gags her with duct tape and then goes to call the police. Katelyn struggles in futility until the man returns to say the police are on their way. He asks the gagged girl how them might pass the time until the police arrive, and places a hand on her leg.
3. The Lure
Katelyn, handcuffed and tied to a chair, is being held for ransom. Her captor is about to go out and leave her for a while, and he thinks it might be fun to leave the key to Katelyn's handcuffs in a box on top of a stool, on the opposite side of the room. All she has to do is work her way over to the stool and retrieve the key, if she can. Alone, Katelyn tries hard to move the chair to which she is tied forward, but the way she is bound to it makes jolting the chair forward almost impossible. Badly tempted by the lure of freedom, Katelyn risks tipping the chair over so that she can wriggle her way along the floor towards the tantalizing stool. She rocks the chair and finally falls to the carpet with a heavy thump, then she does her best to propel herself forward. It takes her some time and a lot of effort, but she finally reaches the stool, only to discover that tipping it over to recover the box is also very hard to do. She repeatedly knocks against the stool until the box finally slides off it onto the floor. It opens on impact, and to Katelyn's dismay it is empty. Her captor lied. Now she must lay where she is until he returns. When he does come back, he laughs to see that she actually did make the effort to escape. He tips the chair over so that Katelyn is lying on her back, then puts through a call to her step-father. He removes Katelyn's gag just long enough to let her plead with her step-father to pay the money and rescue her, then he re-gags her and walks off with the phone, establishing payment details as he goes. Katelyn is left lying on her back, unable to get up without help.

Starring: Katelyn
Size: 1.6 GB
Duration: 00:44:31 min
Resolution: 1920×1080
Format video: mp4
Preview: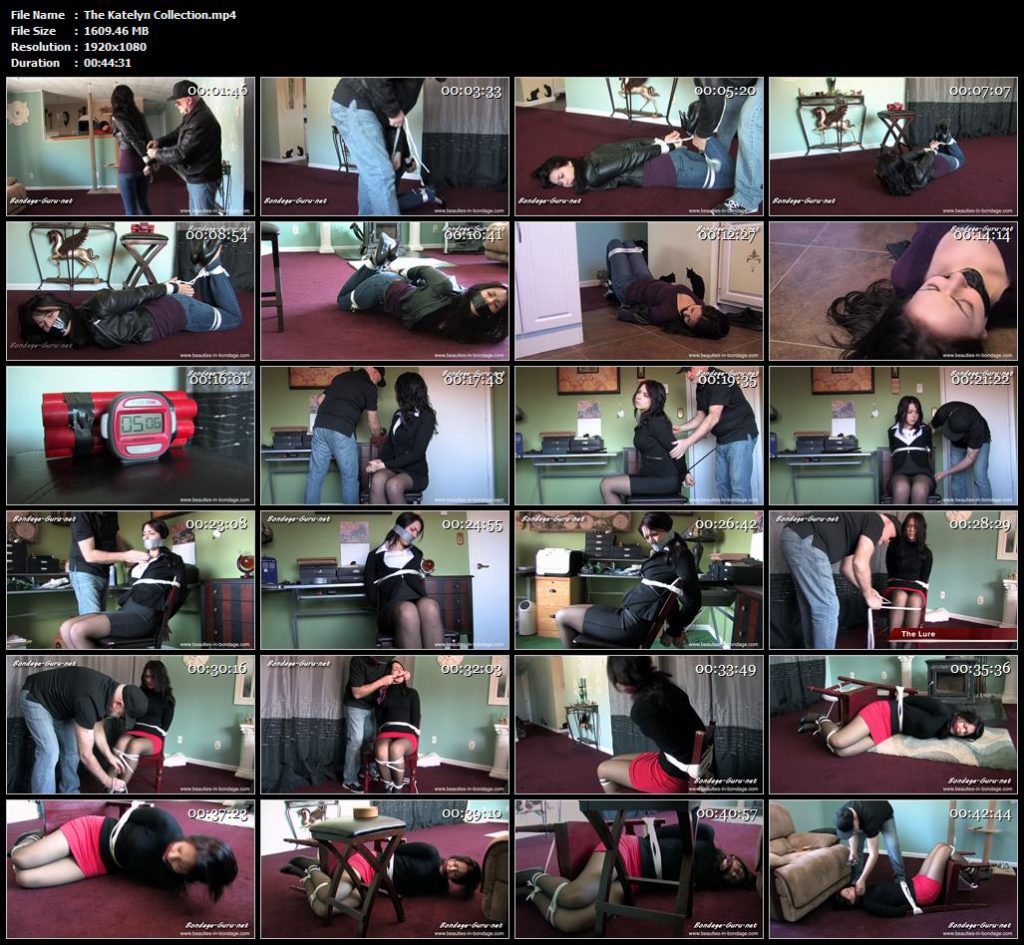 Download link:
The_Katelyn_Collection.mp4