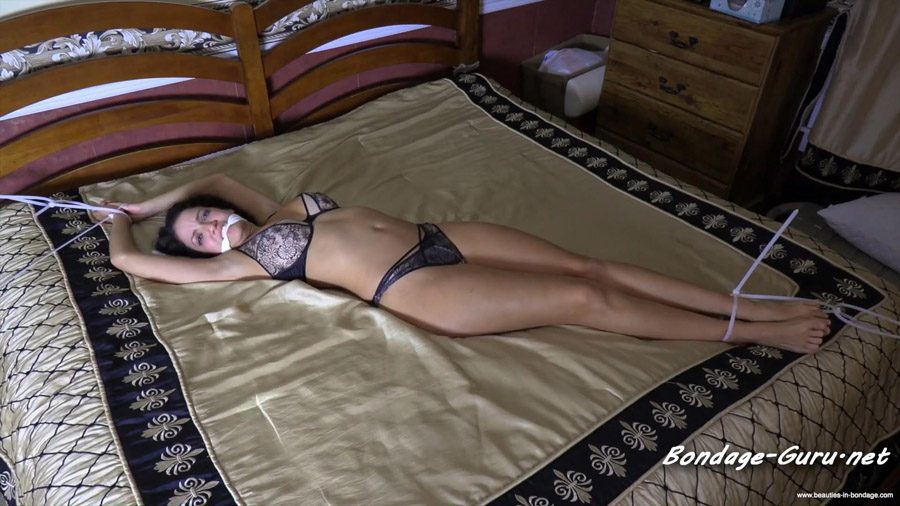 Beauties in Bondage – Her Only Option – Jasmine St James (with Vonka Romanov)
Beauties in Bondage – Her Only Option – Jasmine St James (with Vonka Romanov)
Jasmine is working from her home office, when she takes a call telling her that her friend Vonka has been taken and is being held prisoner. The villain is with Vonka during the call and allows Jasmine to hear her friend's muffles cries. Jasmine is told she must follow the instructions he will now give her in order to save her friend's life, starting by copying some sensitive information from her company's computers and taking it to an address she is given.
Upon arrival, Jasmine confronts the villain and demands to see Vonka. He refuses, threatening dire consequences if Jasmine doesn't cooperate. She is compelled to hand over the data, and is then tied up while he checks out the information she has given him. Her wrists and ankles are bound and she is taped to a chair. A cloth is pushed into her mouth and duct tape is wrapped around her head to fully gag her. Alone now, Jasmine struggles to escape, and while it may take a while, she manages to free her hands, break the tape and go in search of Vonka.
Just as she finds her friend, Jasmine is grabbed from behind and dragged into an adjacent room. Here, after being warned of what will happen to Vonka if she does not comply, Jasmine is made to strip down to her bra and panties before being secured to a bed with zip ties. It seems the flash drive she brought is password protected, and the villain demands to know what it is or Vonka will suffer the consequences. Realizing it is her only option, Jasmine surrenders the password and is then gagged.
After recovering the information he sought, the villain says he now plans to leave the girls bound and gagged rather than let them go, while he makes good his escape to a non-extradition country, from where he will sell the information and become a very rich man. Jasmine struggles desperately after he leaves, but faced with tight zipties, this time she cannot free herself. In the adjacent room, a hogtied Vonka also struggles with the ropes restraining her, but she is having no luck either. It seems the girls are trapped in bondage until someone finds them.

Starring: Jasmine St James, Vonka Romanov
Size: 1.5 GB
Duration: 00:35:09 min
Resolution: 1920×1080
Format video: mp4
Preview: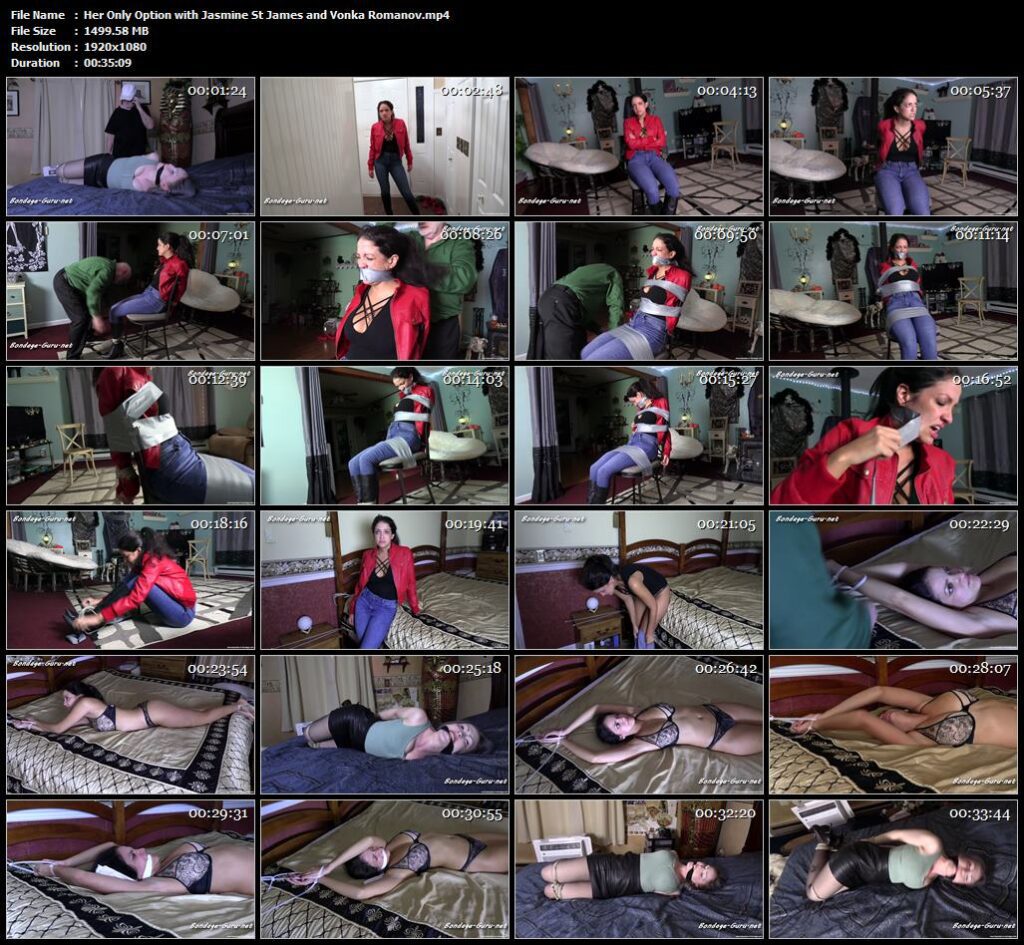 Download link:
Her_Only_Option_with_Jasmine_St_James_and_Vonka_Romanov.mp4