AMERICAN DAMSELS by Jon Woods – Bikini Bondage Party! – The Complete Video
AMERICAN DAMSELS by Jon Woods – Bikini Bondage Party! – The Complete Video
Now you can enjoy this bondage fantasy at a bargain price! Blonde beauties Ashley Lane and Gia Love are hopefuls in a beauty contest, but the bikini-clad babes suspect something's wrong when they notice their dressing room is far away from everything, including any other contestants. Just as they realize this, they're confronted by a masked intruder. He compels the stunning ladies to cleavegag and handcuff themselves (shown on-screen), and he leads them both away. When we next see the scantily-clad duo they're still cuffed and gagged in the back of an SUV, nervously wondering what will happen to them next. The villain then connects his leggy, high-heeled captives together with collars and leashes, and he takes them for a walk down the drive toward a decidedly uncertain fate.
The long-legged beauty contestants are next seen seated back-to-back, bound and ballgagged. Their ominous host informs Ashley and Gia that they're going to be auctioned to the highest online bidder, and that this is the swimsuit part of their show. Before long, the villain notes that the potential buyers would like to see a bit more of the bikini'd babes, and he pulls aside their swimsuit tops to expose their luscious breasts. The helpless beauties moan and squirm, but they can't escape!
For the talent portion of the show, both Ashley and Gia have been divested of their bikini tops, and they're buckled into leather single-sleeves, barefoot, kneeling and instructed to display their oral skills with dildo sucking. Realizing they have no choice and their future depends on their performance, the bound blondes both do their best to show off their prowess. Ashley performs with a more submissive acquiescence to her plight, while Gia displays more copious saliva and a tendency to choke on the phallus. When the competition concludes, their black-clad host returns to divulge the fate of the captive contestants. What's next for Gia and Ashley?
The story is followed with "Office Hostages." In this continuation of the "Escape Class" tale, the lovely employees of Sly Private Investigations have been systematically overpowered by a masked burglar in search of some mysterious information. As the scene opens, sexy secretary Lauren Phillips has been taken captive by the dark intruder. The busty redhead is cleavegagged and chair-tied at her desk. She struggles against her bonds, but all her escape efforts are in vain. Before long, the villain returns and exposes Lauren's considerable breasts and layers a detective gag over her bandana gag. Ms. Phillips tries her best to escape this knotty situation, but the auburn-haired beauty only manages to knock her chair over, making for a more embarrassing dilemma (including a panty-peek) when she's discovered later.
Meanwhile in the office waiting room, Action Lady (Carissa Montgomery) is anticipating a meeting with one of the investigators. When she's confronted by the masked miscreant, she recognizes him and tells him he's way out of his depth with this caper. The villain scoffs at her assessment, and promptly binds and ballgags the busty champion of justice (all shown on-screen). He takes advantage of Action Lady's defenseless position and unbuttons her blouse to bare her huge breasts. The burglar then leaves the gorgeous blonde alone to struggle, but all her efforts to free herself are in vain!
The burglar then returns to his professional rival, Skylar Snow, whom he'd left tied and tapegagged back in the storage room. He informs the buxom agent that he'd found his mysterious objective, and he has time for a little gratuitous pay-back for the helpless mole. When we next see Skylar she's thoroughly tied down to a bare mattress, silenced with a microfoam tape gag and her skirt and panties have been removed and are placed nearby. Not only that, there's a powerful vibrator snugged up against her most private area. The villain tells Ms. Snow she should be discovered before too long, and he'll leave it to her to explain why she received special treatment. He then activates the vibrator and makes his escape. Skylar tries her best to resist the one-note siren song of the device, but she soon surrenders to a helpless orgasm.

Starring: Ashley Lane, Gia Love, Lauren Philips, Carissa Montgomery, Skylar Snow
Size: 1.7 GB
Duration: 00:47:09 min
Resolution: 1920×1080
Format video: mp4
Preview: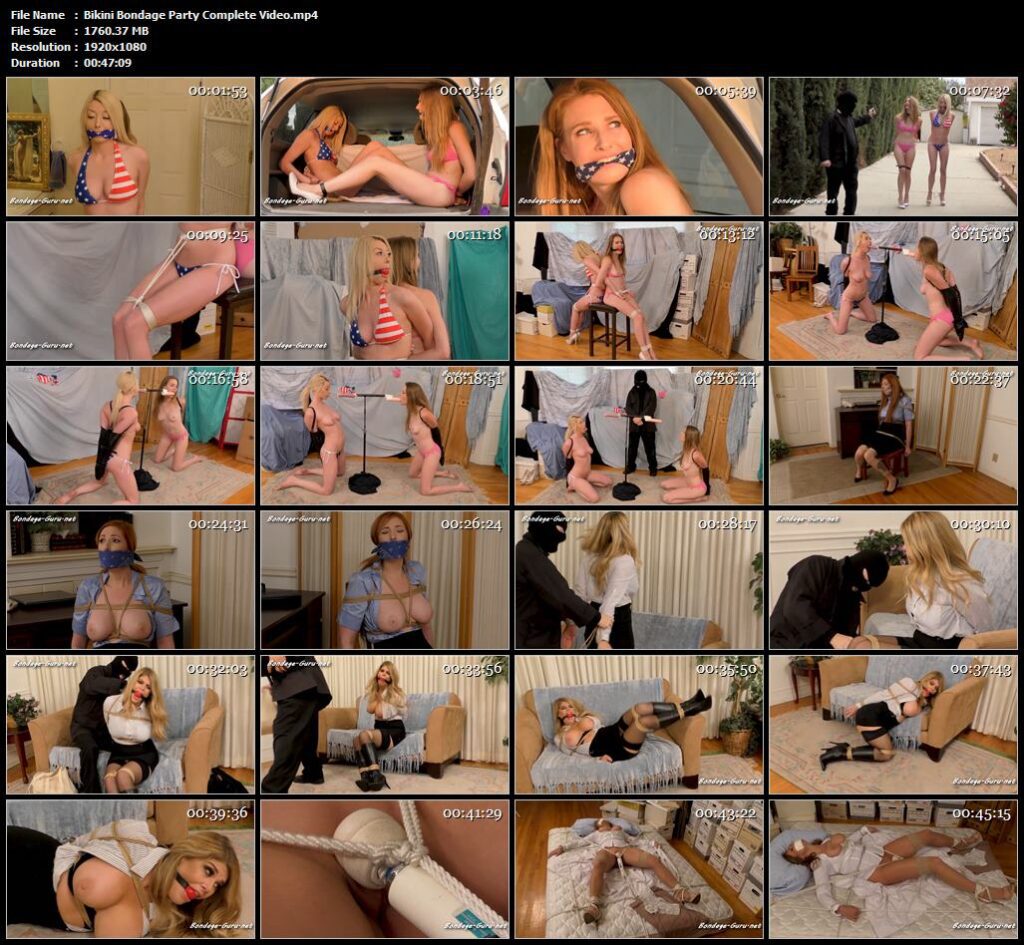 Download link:
Bikini_Bondage_Party_Complete_Video.mp4