0129 – AJ Marion & David Andrews – ajmarion . com
0129 – AJ Marion & David Andrews – ajmarion . com
David drops several bundles of rope on the couch
"I've got some rope for you." he states rather flatly.
"Do you now?" I query.
"I do."
"Well thank you." I smile back.
"Here. Turn around. Receive it." David instructs me, and I burst into laughter. He finishes binding my wrists and quietly moves on to my elbows. It's not long before I begin wiggling and shifting. Next, a pink ballgag is strapped into place. I walk back and forth as I watch David retrieve more rope. A chest rope is added further compressing and constricting my torso, and I sigh as I attempt to adjust. A quick swat on the ass, and David leaves me to endure and explore my bondage.
I settle down on the shiny sofa and shimmy my shoulders. I lean back on my hands briefly before standing back up. My miniature moans come with nearly every breath as maneuver my shoulders around searching for some relief. I bend and flex my body and arms.
I decide to sit down once more. If I can find no release for my upper body, I can at least give my feet some relief from standing in stilettos. I twist and stetch.
David returns and begins tying my crossed ankles, using the cinch to latch my heels to my feet. I spread my knees and lift my legs trying to be helpful. All the while wriggling and constantly cooing.
"Hmm." David scans my body considering where to place rope next.
"Hmm." I repeat.
"Hmmm." He counters.
"Hmmmm." I mimic, locking eyes and leaning in.
Rope is lashed around my upper knees, and cinched down tightly. The tie complete, David leaves me once more.
I lay down on the sofa and slide my pantyhose over the shiny surface. David returns briefly to torment me, evoking sharp cries. I writhe around on the couch for a few moments. Sitting up, I flip my hair over my head and out of my face. I scooch my ass to the edge of the couch with great effort, and get my feet back on the floor. A little leg lift and kick, and I'm upright again. I squirm and struggle in my restraints. I whimper through my gag, my discomfort apparent and growing.

Starring: AJ Marion, David Andrews
Size: 536.06 MB
Duration: 00:12:44 min
Resolution: 1920×1080
Format video: mp4
Preview: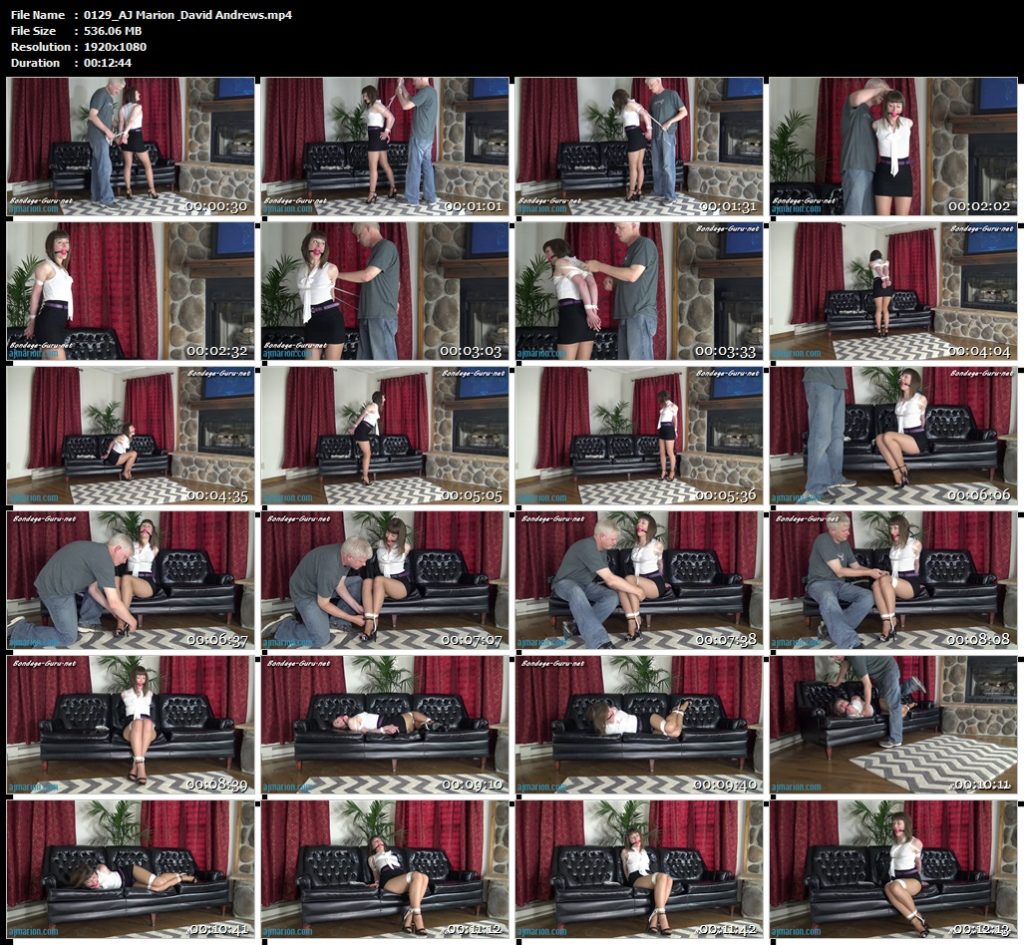 Download link:
0129_AJ_Marion_&_David_Andrews.mp4