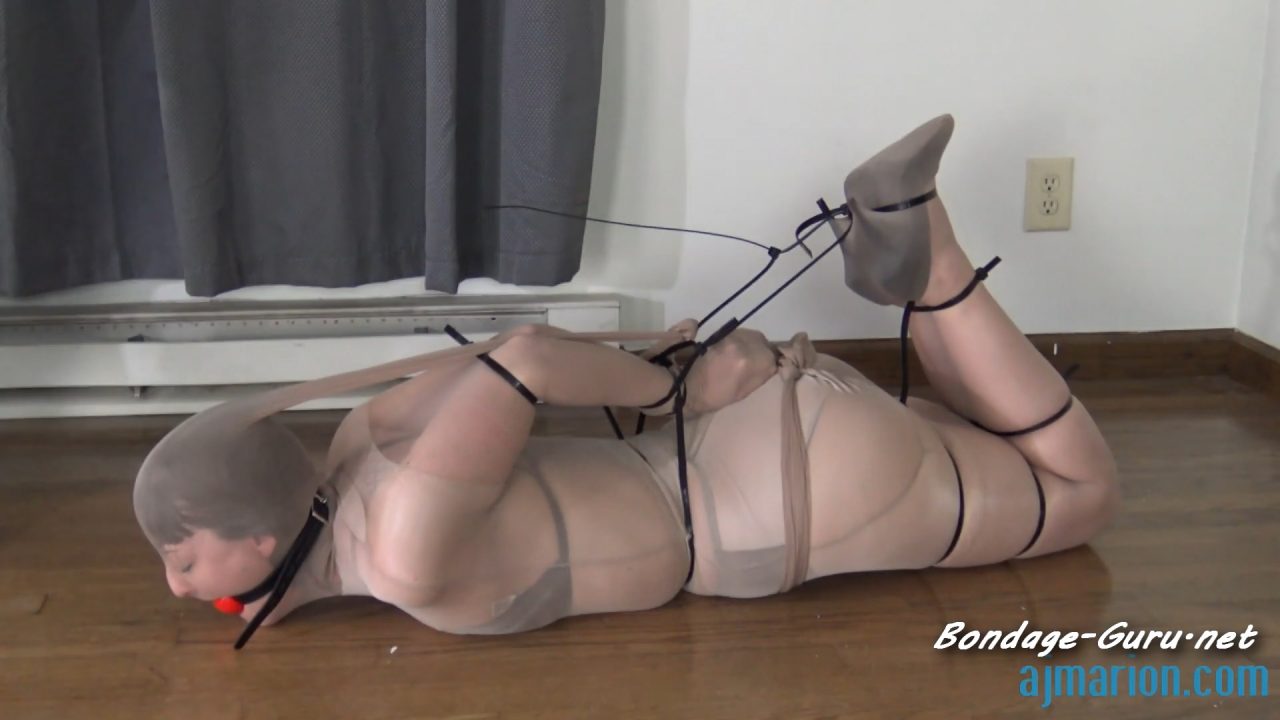 0124 – AJ Marion & David Andrews – ajmarion . com
0124 – AJ Marion & David Andrews – ajmarion . com
My heels click distinctly on the hardwood floor as I wander to the corner of the room and casually swing a pair of pantyhose back and forth. I sit down, kicking my feet in the air as I do. I gather up one leg of the pantyhose, and pull it around both of my pumps. It catches on the stiletto of one, and I question if I'll be able to work it over the heel. I carefully stretch and shift it up my ankles and calves until pausing just over my knees. I reach down and adjust the alignment at the toe and glide my hands down my nylon covered legs. Satisfied with the placement, I maneuver around to continue shimmying my body into the nylon sheath. Upon reaching my waist, I playfully pop the top of the pantyhose. Finally, a little shifting of weight, and I gingerly stand up.
Mr. Andrews approaches me with another pair of pantyhose in hand. I turn around and bring my hands together behind me. He starts to slide the hose up my forearms.
"This is the best part right here." David mutters as he continues to work the nylon up my arms.
"Right over the shoulders?" I question, knowing how challenging that area is.
"No. The part where I get to pull it over your head." he responds, and I laugh in acknowledgment. "That's the part that's the best." he continues. "Okay. Here we go. Whee."
I crane my head back as the control top is stretched and slipped over my head. A few ridiculous noises escape me. I find myself in a fit of giggles as the leg is pushed farther down. I moan and coo as the pantyhose squeeze and compress me.
"Oh thank you." I politely peep as David smooths my hair from my face beneath the nylon.
I open my mouth stretching the hose and rub my tongue over the texture. Mr. Andrews retrieves a ballgag and straps it into place over the pantyhose, permanently pressing the fine netting against my tongue.
Finally, zip ties are applied to my arms further welding them together. As a lower elbow tie is tightened, the upper strap slips off.
"You know this just means…your elbows could have gone tighter this whole time." David observes.
"Noooooo.." I bemoan through the ballgag.
"Yeeeessss." David imitates.
"That's right. You can protest verbally. Comply physically." Mr. Andrews notifies me.
I start sighing nearly rhythmically with my breathing.
"Yeah, the rest of this is just going to suck."
My arms are cinched to my body at the waist, the zip tie cutting in under my ribcage. My vocalizations increase in volume, and I focus intently on maintaining my balance as more ties are added to my thighs and down my legs. I find myself overwhelmed with sensations, the even compression of the pantyhose encasing my body, the tight weave touching my tongue, the sharp straps cutting into my skin. Mr. Andrews helps lower me to the floor, and fixes the zip ties my movement has mussed. The rhythmic speed of my whining increases.
"There could be more suffering here. There could." Mr. Andrews states even as my pathetic whimpers fill his ears. A couple more tweaks, and I find myself in a hogtie and left to endure.

Starring: AJ Marion
Size: 426.86 MB
Duration: 00:11:54 min
Resolution: 1920×1080
Format video: mp4
Preview:


Download link:
0124_AJ_Marion_and_David_Andrews.mp4