Ultragirl Ambushed At Home HD – Captive Chrissy Marie
Ultragirl Ambushed At Home HD – Captive Chrissy Marie
Ultragirl lands outside in her backyard, tired after a long day of superheroine work. She walks inside, pours herself a glass of wine and drinks it. Then she walks into the bathroom and starts running the water so she can take a bath. While waiting for her bath to be ready she walks into her bedroom, removes her power belt and says "I won't be needing this for the rest of the night." She then sits down and slowly removes her boots. She rubs her stockinged feet for a while, sore from the long days work.
Ultragirl then heads back to the bathroom to check on the water. Not quite ready. So she goes back to the bedroom and as she is pulling some night clothes out of a dresser she is ambushed from behind by a villain that has been hiding out in her home waiting for her. He clamps a white cloth over her mouth and nose and she struggles furiously but eventually the chemicals overcome ultragirl and she slumps to the floor. The villain briefly gropes and fondles her limp body before tossing her over his shoulder and carrying her out of the room.
Later Ultragirl wakes up in her empty tub. Her power belt is draped over the side of the tub, in view but out of reach in bound predicament. Her wrists and elbows are pinned together behind her back and she is in a tight hogtie. She protests defiantly to the villain until he decides to ballgag her. He then re-starts the water which begins to fill up the tub. Ultragirl struggles desperately and continues to protest defiantly as the water slowly gets higher and higher. Despite all her efforts she is ultimately powerless without her power belt and can escape her perilous fate. You can see the fear and distress in her eyes as the water reaches her gagged mouth and the scene ends as the water reaches her nose. Will this be Ultragirl's ultimate demise or will she be saved just in time?

Starring: Chrissy Marie
Size: 713.75 MB
Duration: 00:16:25 min
Resolution: 1920×1080
Format video: mp4
Preview: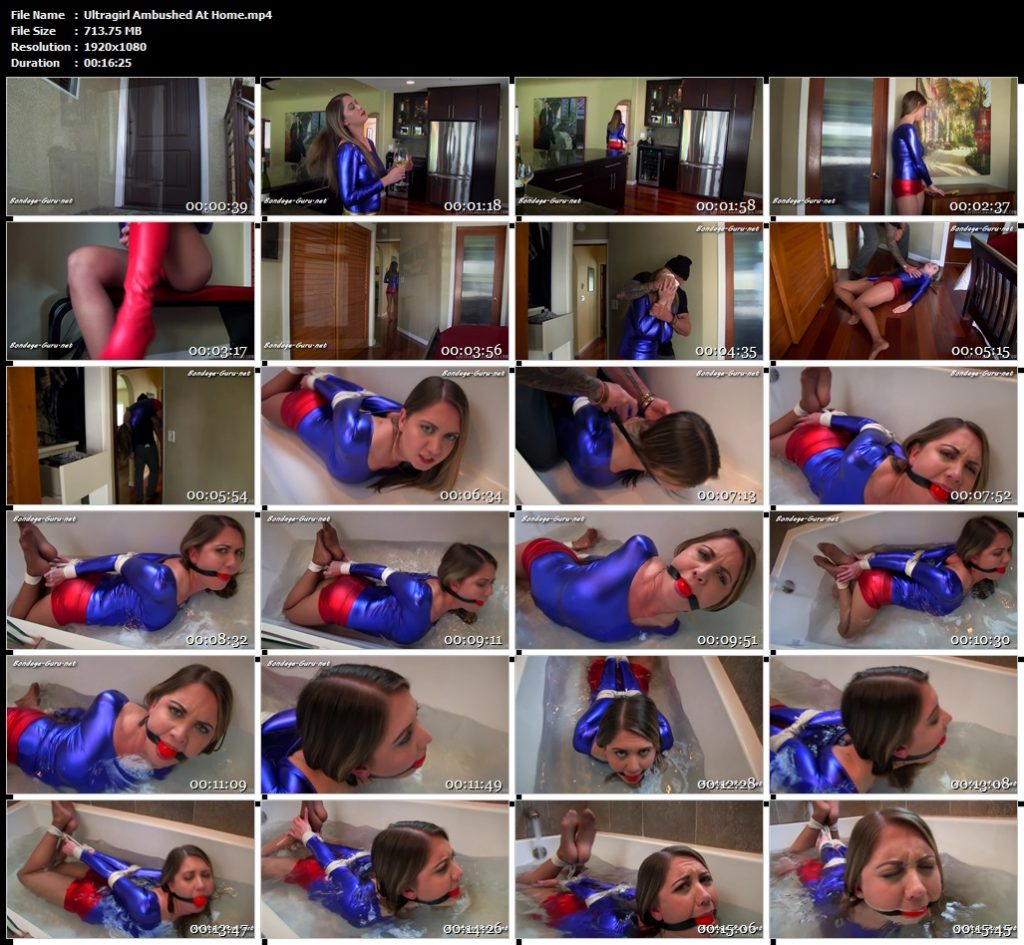 Download link:
Ultragirl_Ambushed_At_Home.mp4