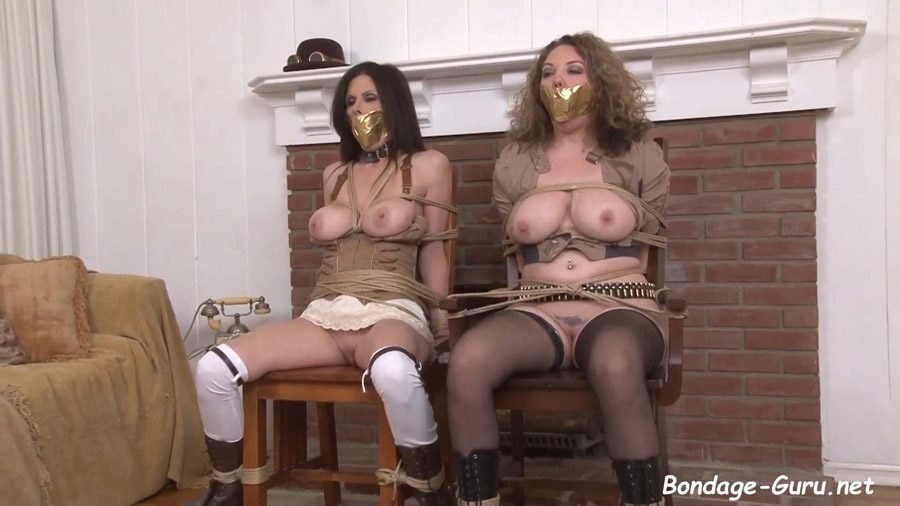 Steampunk Spies – The Complete Story – AMERICAN DAMSELS by Jon Woods
Steampunk Spies – The Complete Story – AMERICAN DAMSELS by Jon Woods
The star-studded feature is now bargain priced! As the story begins, international lady of mystery Ashley Renee has agreed to an intimate rendezvous with Colonel Jackman with the intent of charming some valuable military secrets from him. She agrees to be bound and gagged by him, but no sooner is the busty beauty helpless then he turns his luscious captive over to rival adventuress Kiki D'Aire! Kiki uses a powerful vibrator in an attempt to pry Ashley's own secrets from her… but the interrogation doesn't go as she planned!
The dark-haired beauty gets the upper hand and uses Kiki's own device on her, trying to pry the secrets from her busty captive. Kiki squirms and moans, but ultimately must surrender to a helpless orgasm. Yet the bedbound prisoner has a surprise for the unsuspecting Ashley!
Adventuress Kiki D'Aire's henchman unexpectedly turns on his buxom boss, and both she and her rival Ashley Renee are bound side-by-side. The turncoat uses an unusual type of ball to silence the busty captives, leaving them in big trouble! Will these rivals be able to escape from this diabolical trap, or are they doomed?
The story is followed with a deleted scene from "The Damsel Network" video, tied up hostess Mary Jane Green introduces a clip from the series "Hollywood Bondage Stories." Lady Monroe portrays a (literally) struggling starlet in an iconic white dress and heels. The sexy, all natural blonde is ballgagged and roped up on the bed in several positions, ending in a crossed-ankle hogtie.
Then in a bonus story from "The Damsel Network" video, Loren Chance stars in an extra episode of "Go Hostagettes!" The Coach has discovered that his choreography director has been betraying him, and that Loren is the one who's been secretly helping some of the captives escape. The aqua-haired lovely is chairtied and cleavegagged, and before long her perky, all natural breasts are exposed. But the Coach has more planned for the tied-up traitor!
As the story continues,the Coach decides to humiliate the aqua-haired saboteuse by making her perform for the secret Hostagettes webcam site. Loren is forced to wear a kinky outfit, ballgagged and roped into a standing hands-over-head position. The forced orgasm belt is buckled around her waist, and soon the relentless buzz of the powerful vibrator causes the captive, drooling cheerleader to experience a helpless orgasm for the online audience.
The feature continues with vignettes of "Three Secretaries In Bondage." We begin with Constance. The slender beauty is silenced with a knotted cleavegag and securely roped to a chair. Soon a detective gag is layered over the cloth gag, and her minidress is pulled up so we can sneak a peek at her pantyhose. Constance struggles and squirms, but the ropes hold tight!
Buxom Leah J. is the next secretary in bondage. The busty babe is cleavegagged with a scarf and chairtied with her hands overhead. She's then re-tied in a kneeling position on the chair, and her captor enters briefly to open up her white blouse. Next her bra is pulled down and her huge, all natural breasts are bared. Leah struggles and moans, but she can't get away!
The last secretary in bondage of the feature is Arielle Lane. The gorgeous brunette is cleavegagged with a bandana and roped into a classic tie on the sofa. When she's caught as she tries to hop away more rope is added and the luscious captive is bound into a snug fold-tie. Our feisty damsel struggles for all she's worth (her miniskirt rides up, exposing her stocking-tops and panties) and Arielle manages to get off the sofa, but when she falls onto her side she's complete helpless.

Starring: Ashley Renee, Kiki D'Aire, Loren Chance, Constance, Mary Jane Green, Arielle Lane, Leah J
Size: 2.7 GB
Duration: 01:00:35 min
Resolution: 1920×1080
Format video: mp4
Preview: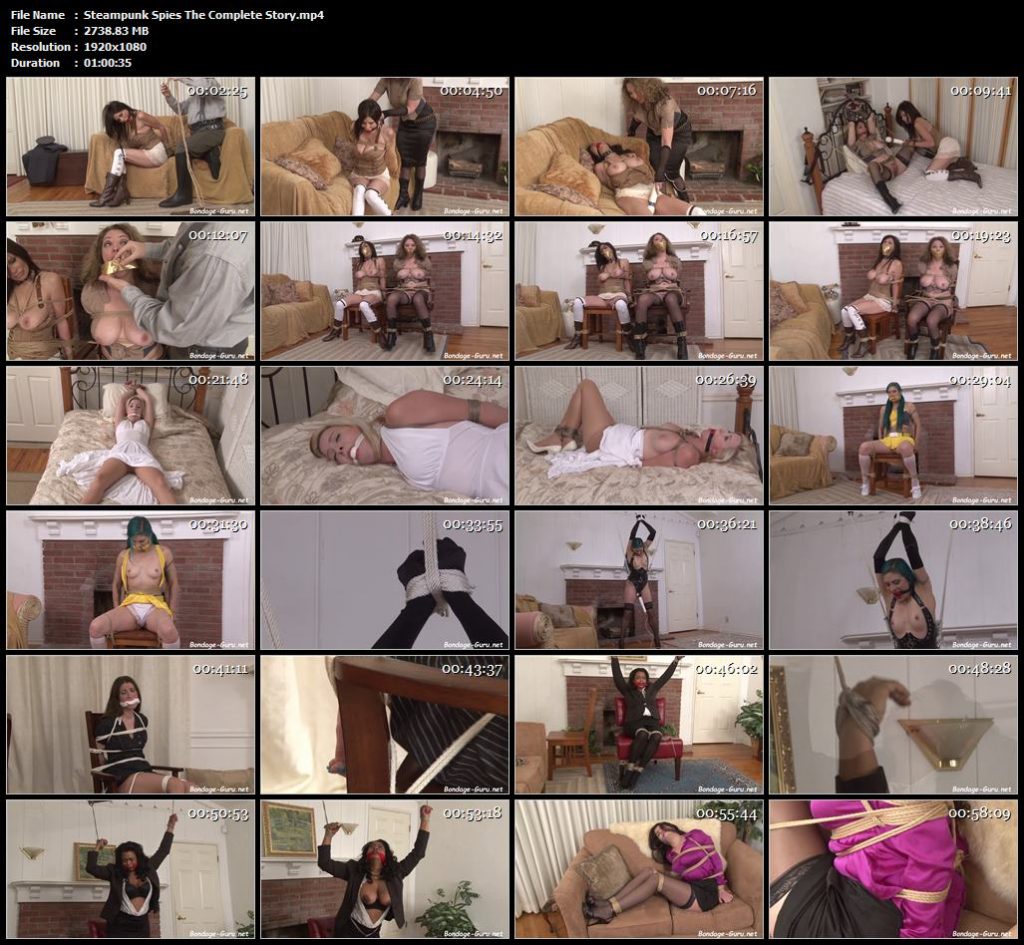 Download link:
Steampunk_Spies_The_Complete_Story.mp4