St Mackenzie's – Sexy School Girl Lauren Wants You Jerk Off While You Watch Her Strict Elbow Bondage
St Mackenzie's – Sexy School Girl Lauren Wants You Jerk Off While You Watch Her Strict Elbow Bondage
Lauren has been left alone in her detention; she is wearing her gorgeous tight uniform with black sheer stockings and her Louboutin stiletto high heels. As she sits at her desk with her feet up you can see in her eyes she is having very lustful thoughts racing around her head, mainly fuelled by her recent exploration into rope bondage. She feels so naughty she lets herself drift into a very intense day dream.
**You are in Lauren's detention with her as she stands at the front of the class, and she is admiring what she sees. She tells you how handsome you are and how your big cock is just the perfect size for her. As you stand in front of her with your fat cock out she teases you with her sexy stocking legs and heels, she wants to see your cock grow even more. Now your cock is rock hard and straining she tells you how she wants to see you jerk it for her, she wants you to play while you watch her perfect body in its tight uniform. She tells you how to jerk your fat cock as she runs her hands over her stocking covered legs, making sure you follow her instructions so you to not cum too quickly, because now she want you to do something for her! Lauren wants you to put her in strict elbow bondage; she wants to feel her arms bound tightly together as she watches you jerking off your big cock. She tells you how much it would turn her on so you will of course indulge her.
Now Lauren is in her tight elbow bondage with pretty pink rope while still wearing her tight uniform, sheer stockings and Louboutin heels, and she looks incredible! You feel like you might burst but she wants you to follow her jerk off instruction so you cum on her command. She wants to know that the bound perfection in front of you excites you beyond belief but your cock is still completely in her control. She teases you, telling you just how turned on she is now her arms are bound while telling you to stroke your cock faster, and sooner than you think she orders you to cum, and you blow your load for her on command. However she is not finished yet, she wants you to cum again, but not just once more, or twice more, but another three times more!**
.Lauren comes around from her day dream, how annoying, she is actually still in her detention and not tightly bound watching you play with your perfect fat dick! She strokes her lovely stocking legs, at least her detention will be over soon, and then she can go back to her dormitory and practise her bondage while she thinks of you!

Featuring: Lauren
Size: 461.2 MB
Duration: 00:12:33 min
Resolution: 1280×720
Format video: mp4
Preview: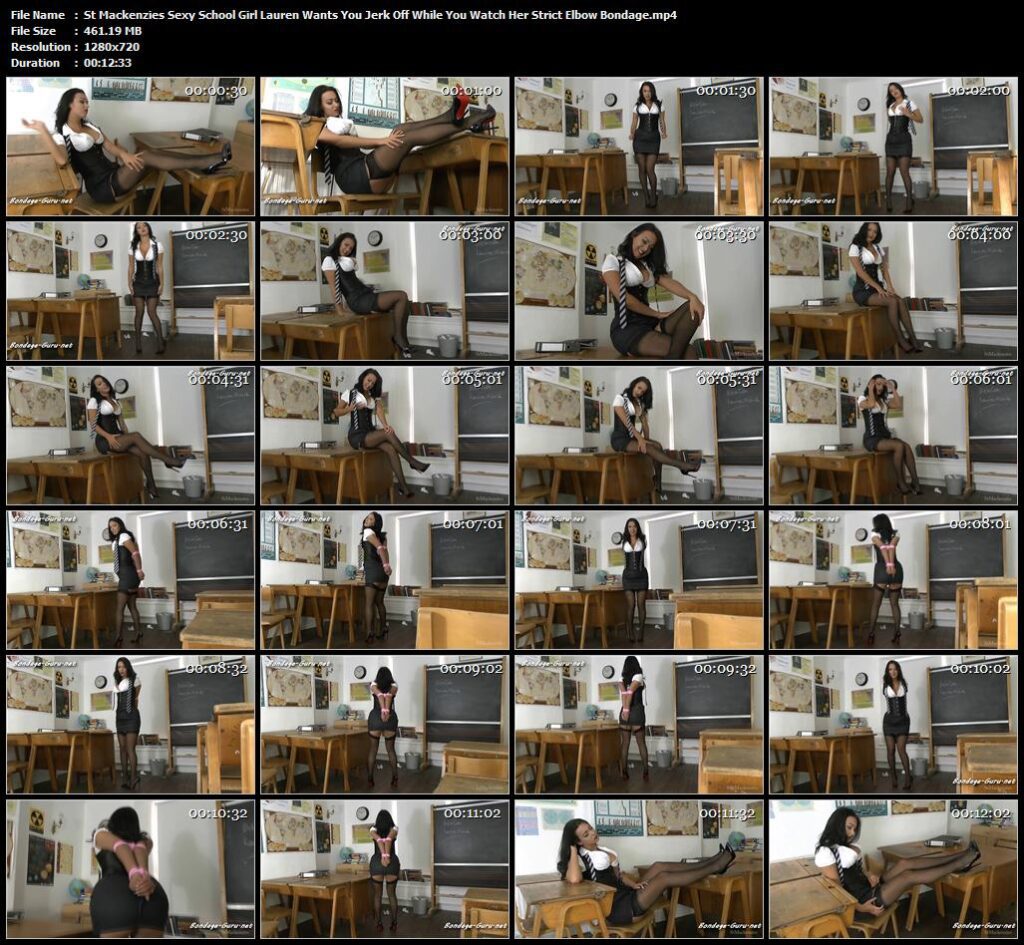 Download link:
St_Mackenzies_Sexy_School_Girl_Lauren_Wants_You_Jerk_Off_While_You_Watch_Her_Strict_Elbow_Bondage.mp4