Spider Hahn Becomes Crook's Prized Booty – Ludella Hahns Fetish Adventures
Spider Hahn Becomes Crook's Prized Booty – Ludella Hahns Fetish Adventures
A Thief (POV) is about to leave with his pillowcase of valuables when the lights flick on and he hears, "Freeze meatbag! Now turn around slowly." He turns to discover Spider Hahn in a defensive stance, which she immediately drops when she recognizes the thief. "Henry!? What are you doing here?!! You promised me the last time I caught you that you were giving up thieving for good… So what's your excuse this time? An orphanage needs a new roof? Or are you trying to raise money for your 11 ?"
POV Gestures and grunts.
"Ah. I see. So you need money for throat surgery because you lost your voice. Hahaha. That's a new one."
POV nods in agreement.
"Ok. Since you made me laugh, I'll take it easy on you. If you put that stuff you stole back where you found it, I'll tell the judge to take it easy on you. Now put that stuff back. You got 2 minutes and if I have to come after you, you'll be sorry. Go!" She points up the stairs. POV climbs away begrudgingly.
A disappointed Spider Hahn let's the countdown begin, tapping her foot, pacing, looking at her watch. She seems very impatient as she waits (in the sped up 2 minutes). Finally she calls out to him, "Time's up! You'll be sorry!" She climbs the stairs and enters the bedroom, not noticing the wire trap POV set for her. She trips and flies through the air, landing face down on the bed. "Henry! What do you think–" MMMph! A white rag covers her nose and mouth and soon she's fast asleep. POV caresses and looks over his limp ragdoll Spider Hahn. She'll be a perfect score.
He brings over some rope and ties her ankles together, then her thighs, then her wrists, first removing her web shooters, and lifting and dropping her limbs to test that she's out, and of course making sure to squeeze her big shiny booty. Then he hogties her and cleavegags her. He might as well grab some more goods while she's bound and out, so he leaves her alone to collect more treasures.
Spider Hahn is groggy when she finally wakes. She's furious at Henry for doing this to her after she was giving him another chance. She struggles to free herself, but she's still a bit weak, so all she's really accomplishing is wiggling around in her shiny suit and pantyhose and talking through a gag. She ends up kicking off he high heels in the struggling, exposing her pantyhose feet.
When POV re-enters, she yells at him through the gag. "Henry! Untie me at once!" (well, that's what she's trying to say, but of course it's quite muffled.) Rather than untying her, Henry comes at her with a syringe. "What are you doing, Henry?" GASP. He pokes her right in the butt. Her eyes flutter and she collapses in sleep. POV pans over his prize. Bet he'll fetch a pretty penny for a lifesize superheroine doll…if he decides to sell, of course.

Starring: Ludella Hahn
Size: 741.57 MB
Duration: 00:19:33 min
Resolution: 1280×720
Format video: mp4
Preview: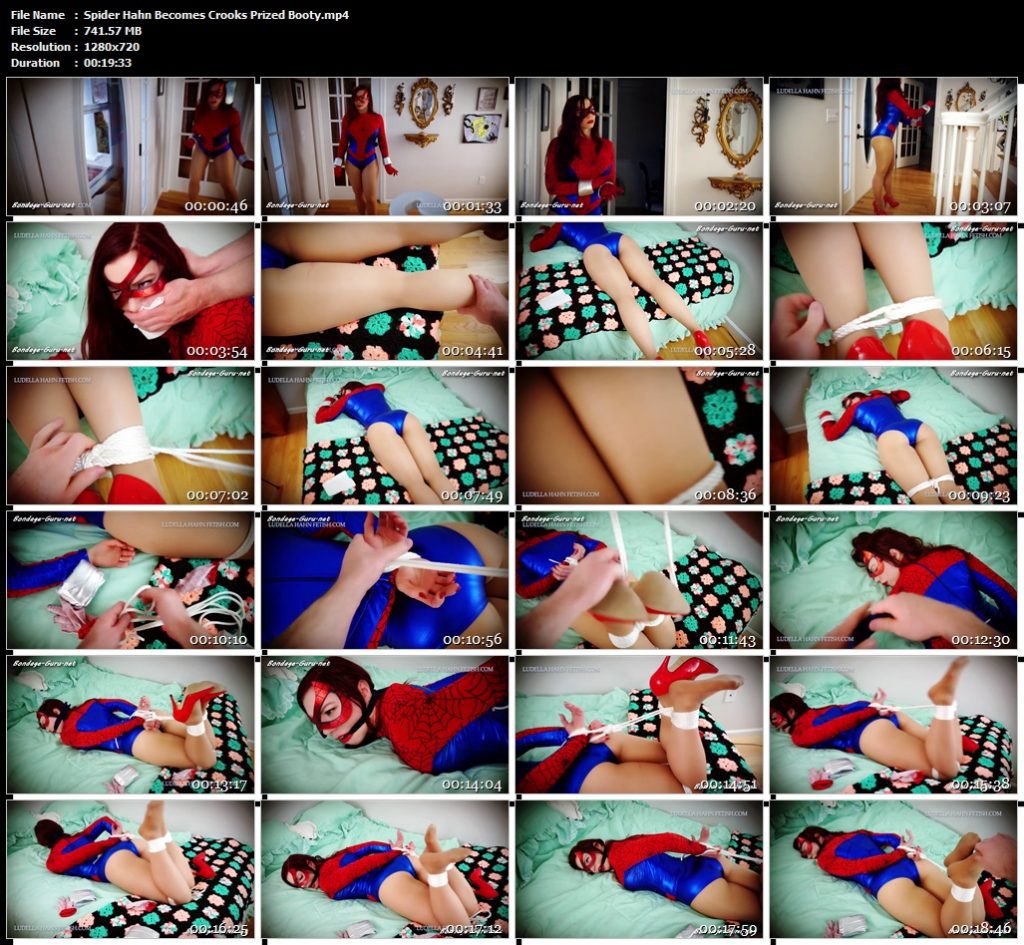 Download link:
Spider_Hahn_Becomes_Crooks_Prized_Booty.mp4