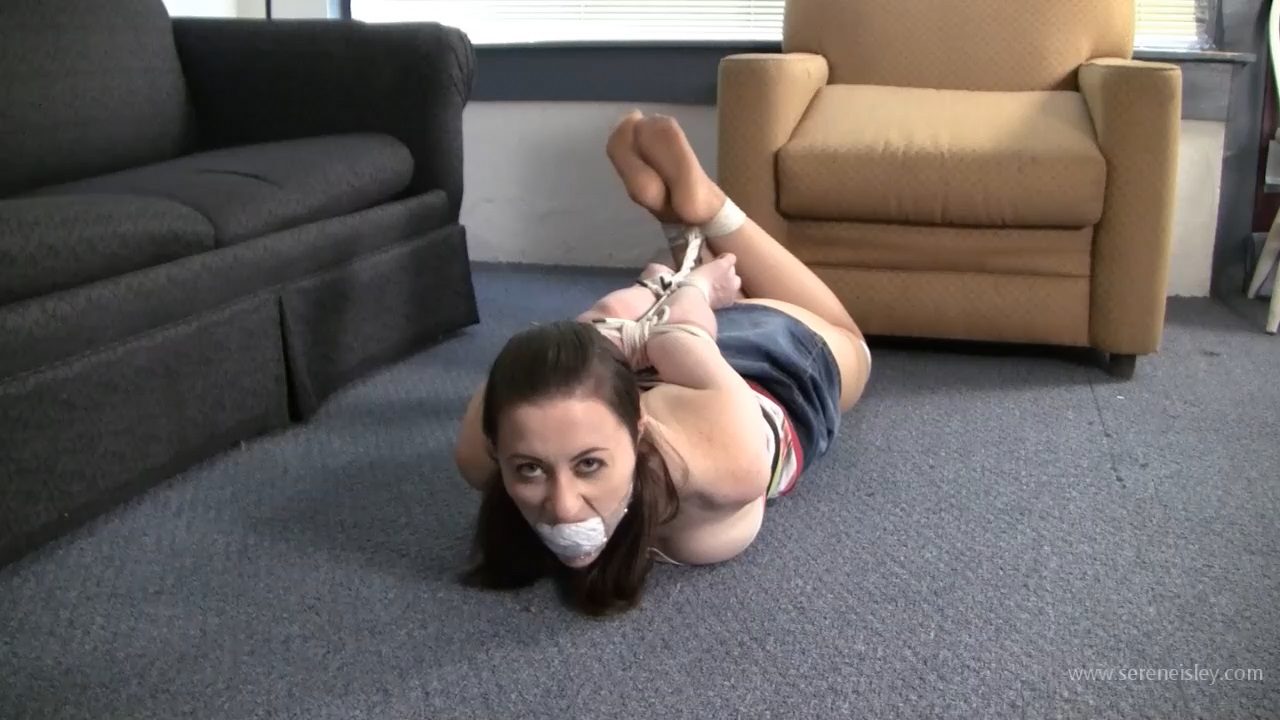 Serene Isley – Babysitting Job Gets Out of Hand – Serene Isley's Bound Beauties
I was babysitting, wearing a cute halter top, jean skirt, pantyhose, and socks. Despite how nice I asked them, they just wouldn't go to bed. Finally, I agreed to play one more round of cops and robbers and made them promise that they'd then go to bed. They pulled out some rope and tied up my arms and legs. I tried to wiggle out of it but I couldn't! I tell them that it's too tight and to untie me this instant. When that doesn't work, I try to bribe them saying that I'll give them ice cream if they let me out. It was no use. The ropes on my wrists and elbows were really starting to dig in and I was getting really angry. They run off to another room, leaving me on the couch tightly bound.
I wiggle and squirm, desperate to get the ropes off and get them in bed ASAP. The ropes won't budge. I yell at the brats to get back here and untie me. I try to reach around with my bound arms to untie my leg rope but I just can't reach it. When they finally come back, they pull my dirty socks off my bound feet and imply they plan to shove them in my mouth. I tell them with what little authority I can muster that they are not going to do that.
Moments later, I am yelling at them through a pair of socks stuffed in my mouth and clear tape wrapped tightly around my head keeping the huge mouth packing in place. I demand that they get over here right now and untie me! I am beyond angry now and curse into the gag. I wiggle my nylon covered feet and toes trying to slide off the ankle rope. I swear that I am never working for these people again, they couldn't pay me enough to deal with their evil spawn again!
I lay on the couch and try arching back to reach my ankles but they are just out of reach. It seems no matter what I do I can't seem to reach any of the knots. I eventually end up on the floor and they add one more rope putting me in a hogtie. I continue to yell through the gag, pulling hard against the rope and bowing my back. In my struggles, my skirt ride up exposing my blue lacey underwear and ass cheeks, and to make matter worse, one of my breasts falls free from my shirt, and I can't reach around to adjust my top.
Finally, the father arrives home and I am horrified when he finds me like this and I expect him to apologize profusely for his little hellions, instead, he lectures me on how inappropriate it is for me to be so exposed. He says he's going to have to have a talk with his guys to get to the bottom of this and ignores me trying to explain through my sock gag. He walks off to have his chat, leaving me on the living room floor, bound, gagged, and exposed.

Starring: Serene Isley
Size: 393.96 MB
Duration: 00:11:42 min
Resolution: 1280×720
Format video: mp4
Preview:


Download link:
Babysitting_Job_Gets_Out_of_Hand.mp4 – 393.96 MB