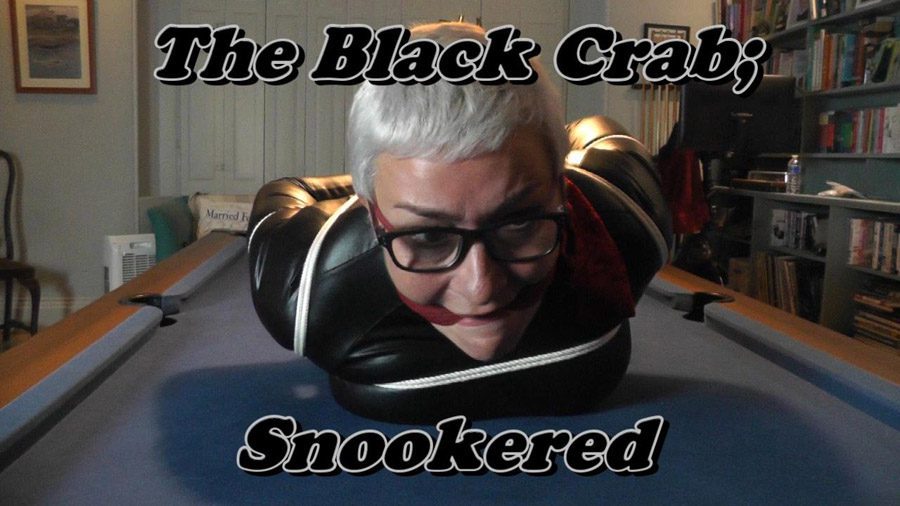 Roped Prose Productions – The Black Crab; Snookered!
Roped Prose Productions – The Black Crab; Snookered!
The awesome DevonDweller returns as the superheroine Black Crab but this time around she's going undercover to smoke out the villainous Lord Twunt who captured her previously…
Turning up at a job interview for a secretary at the offices of his lordship's vast country estate, the Black Crab, in her true identity as not-so-mild-mannered private detective Darcia Decapoda, intends to sneak out of her meeting with Twunt's executives and snoop about to get some information that could finally put the beastly baron behind bars!!!
Striding up the front driveway towards the offices, the delectable detective looks incredibly sexy in a black, figure-hugging, leather-like dress that shows off her shapely body and her huge breasts. Wearing a pair of spectacles to further mask her real identity, Darcia climbs the front steps, her high heels tapping loudly on the concrete and rings the doorbell.
However, as she is greeted and invited inside, one of Twunt's goons working on the estate as a gardener instantly recognises the private eye from a previous encounter! He quickly runs off to inform his boss and poor Darcia is therefore completely unaware that her presence has been noted…
Watching the gorgeous gumshoe through a, Lord Twunt chuckles as the short-haired heroine goes through the interview process totally oblivious that her every move is being observed. The vile fiend studies her closely, her long legs, her shapely hips, her jutting breasts, making him lick his lips in anticipation of capturing the poor wench and making her his helpless prisoner!!!
After concluding the meeting, Darcia is told to wait outside while her interviewers deliberate. Spying a filing cabinet in the corner of the waiting room where she has been sitting, the detective realises this could be her big chance to garner the evidence she needs and immediately walks over to it, pulling out several draws and inspecting the contents inside.
But unbeknownst to the sultry snooper, someone has entered the room behind her through a secret panel and with one swift strike of a heavy object to the back of her noggin, poor Darcia is off into dreamland…
Awakening a short time later, Darcia is horrified to discover she has been bound and gagged on top of Lord Twunt's pool table in the middle of his personal games room. It seems the devilish duke wants to have a few frames with the meddling private eye and thus, has made the ropes binding her extra tight so the bound beauty can do nothing but roll around helplessly on the blue baize.
With an equally tight cleave gag cutting through her luscious lips, Darcia can only groan as she struggles feebly on top of the pool table, virtually unable to move and certainly unable to escape!
Wondering how on earth is she going to get out of this predicament, the undercover detective continues to grind her beautiful body against the tight ropes that squeeze into her but it is simply no use, she cannot budge a single knot!
A short time later, one of Twunt's men comes to restrict her movements even more by lashing her ankles to her wrists, thus putting poor Darcia into a hopeless hogtie.
Now completely powerless to do anything, the defeated detective glares helplessly around the room, perched up on the pool table and wondering what cruel fate awaits her next?
Is this finally the last frame for her alter-ego The Black Crab? It certainly looks like this snooper has been well and truly snookered!!!

Featuring: Devon Dweller
Size: 374.0 MB
Duration: 00:10:37 min
Resolution: 1280×720
Format video: mp4
Preview: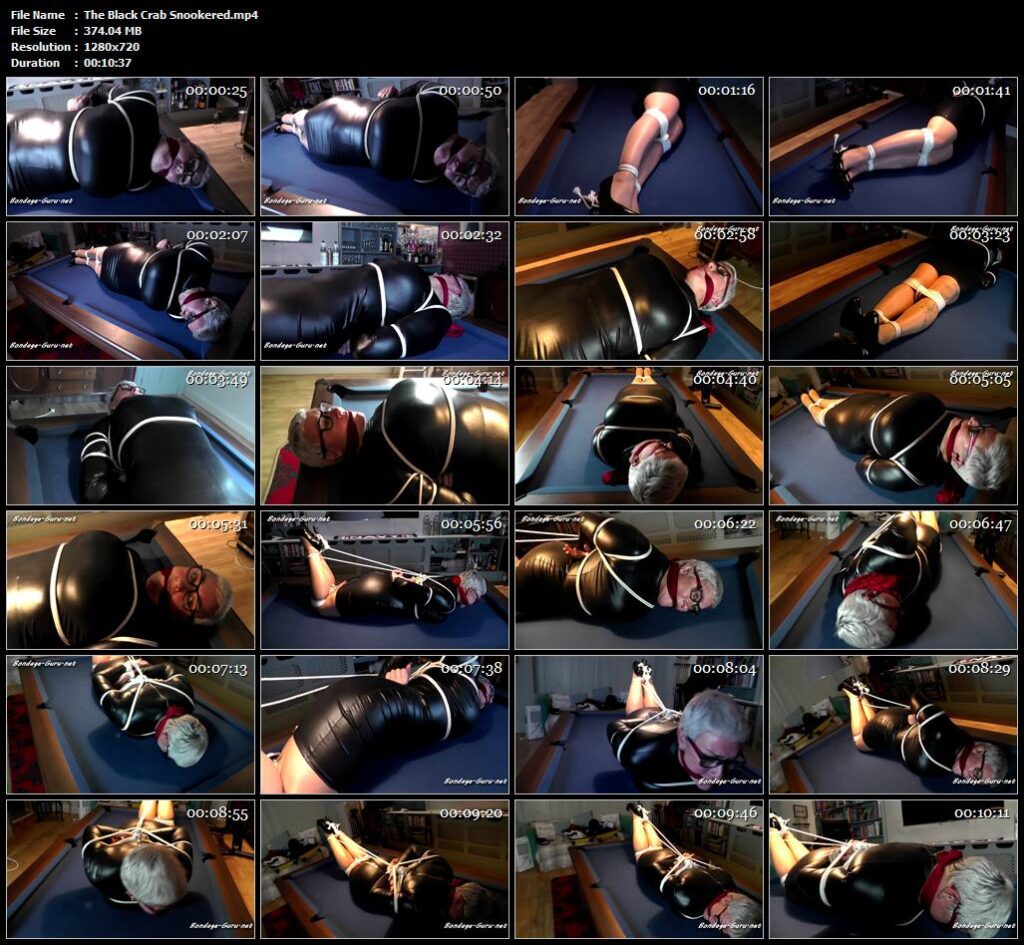 Download link:
The_Black_Crab_Snookered.mp4