Pepper & Serene – Where's The Necklace? – Serene Isley's Bound Beauties
Serene and Pepper are hogtied tightly in the back of a moving truck. Serene red ballgagged and rope bound with black hose and Pepper rope bound with tan. They work back and forth trying desperately to find a way to free themselves or the other one but can't manage to find a handhold on the knots. Serene is red ballgagged and Pepper has a black cover leather gag with mouth packing. The struggling eventually starts riding each lady's skirt upwards and before too long their panties are visible and the strain begins to manifest itself as sweat on each lady's brow. Eventually the truck gets to where they are going and Serene is gagging an already bound Pepper. We realize what the man is after when he sends Serene after the necklace he's been looking for. Pepper starts gag talking at the man fiercely before the camera centers on a clock and time passes.
Pepper is now topless and her hair is down and Serene returns with the necklace. Thinking she's going to be getting Pepper and leaving she gives the man what he wants only to find he's double crossing them and Serene ends up bound and gagged on Pepper's lap with her breasts pulled out as well. They are again locked in the game of struggling but this time at a far less able to help each other angle. They curse the man and the situation repeatedly while struggling face to face with each other but cursing him is about all they can do relative to their situation.
Eventually they are both moved to a couch in another room where they are relieved of their skirts and blouses and retied with gauze tape gags and blindfolds. Eventually they manage to work each other's blindfold off and at least at that point they can see what they are doing. The man who tied them is adept enough at knots that all they are really able to see at this point is that the man has done a very thorough job of binding and gagging them. Finally after a while they work their way to the floor and try to struggle free from a new angle which of course only takes them from helpless on the couch to helpless and laying on the floor. A cell phone which they hadn't prior noticed starts to ring on the floro and both women make a beeline for it hoping that it might contain their salvation but they can't manage to get to it and answer it before it stops ringing. Both women keep going though as that is probably the only thing that lies between them and being bound and gagged helplessly for hours and hours.

Starring: Pepper, Serene
Size: 853.31 Mb
Duration: 00:29:37 min
Resolution: 1440×1080
Format video: mp4
Preview: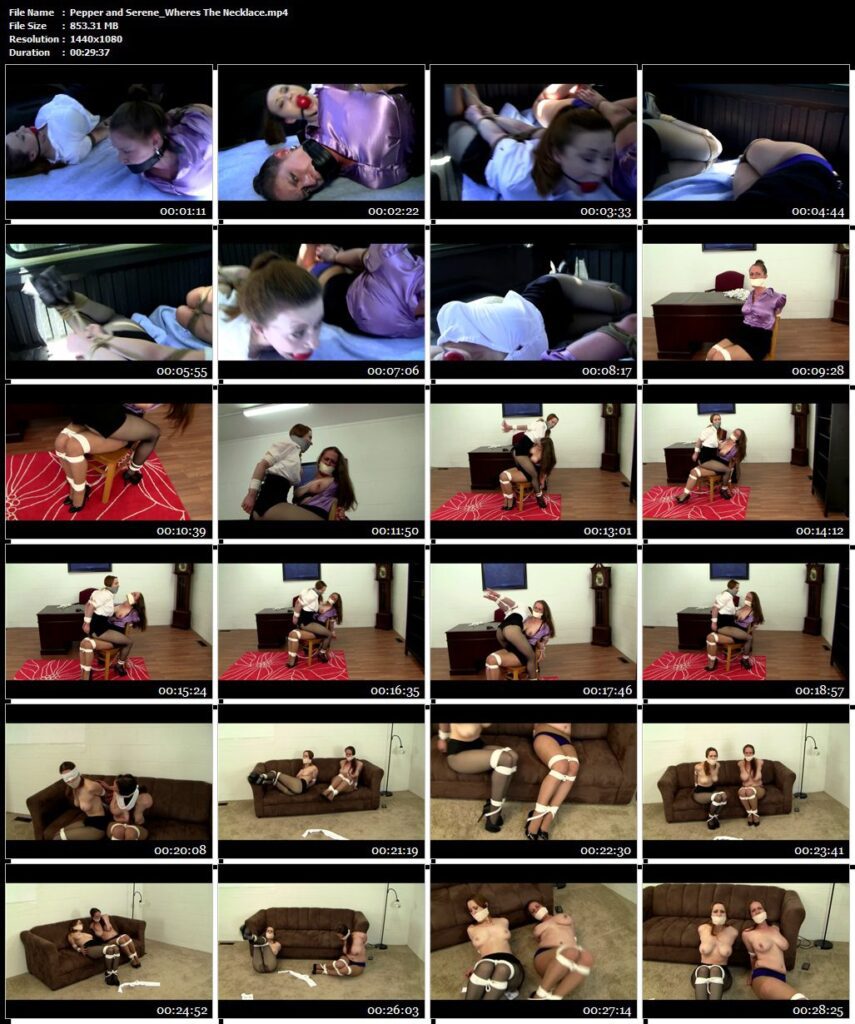 Download link:
https://wayshare.cc/qiz3exeon87b/Pepper_and_Serene_Wheres_The_Necklace.mp4.html