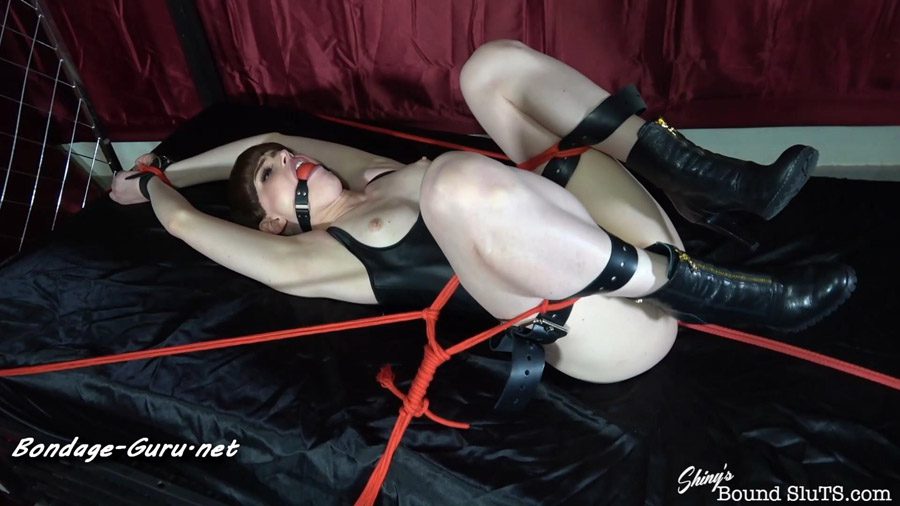 Natalie Mars – Caught and Punished – Shinys Bound Slu Ts
Natalie Mars – Caught and Punished – Shinys Bound Slu Ts
Natalie comes home from shopping in plenty of time before her Dom Daddy gets home from work. She has been at the mall and just bought herself an adorable pink and white leotard. She she tries it on and models it in the mirror. She looks so good.. Maybe she has time to play with herself for a minute or two before Daddy comes home..
She sits on the couch and strokes her lady cock through the silky crotch of the leotard. The spandex feels so good against her sensitive skin as she runs her nails over it. She slowly build herself towards an orgasm. A little too slowly..
A large hand falls over Natalie's nose and mouth, holding her head firmly against the back of the couch and cutting off her air. "This is the second time this week I have caught you touching yourself without permission. I guess Ill have to teach you a hard lesson today.." Natalie collapses.
When she opens her eyes again, she is strapped down in the dungeon and ballgagged. Her arms are tied over her head and her legs are frogtied and pulled up and back, leaving her asshole completely exposed. Her cock had been strapped to her belly in inhibit any growth, and her gorgeous leotard has been removed by Daddy and replaced with a satin boned corset that is laced so tightly, she can only take shallow breaths.
She glances frantically around the room. In a few moments Daddy is standing over her. He has a riding crop and some giant freshly lubed anal beads in his hands. He hits her about the inner thighs and ass. She winces as the crop finds its mark again and again on her tender exposed skin. He inserts the beads. Slowly. One at a time. As each one passes up into her tight asshole, she pulls at her bonds and bite down hard on her gag. Once the evil plug is all the way inserted, Daddy stands up and begins hitting her with the crop again. All over her inner legs and around her ass, but also her ripe exposed nipples as well.
After a few moments of this torture, Daddy pulls the beads out quickly. Natalie sighs in relief. "Don't get too comfortable little one. I was just priming you for what comes next.." he smiles.
Natalie's eyes get wide when she sees him fastening the biggest dildo she has onto the arm of the fucking machine. She has never taken that entire thing with any kind of comfort before. She struggles to move up on the bed or to dodge it, but Daddy has done a very good job of securing her in the perfect spot and position to be ass fucked by this huge rubber dick.
He smiles again as he squirts lube all over the head and shaft of the monster dildo. She tries to dodge or move again. Surely the punishment does not fit the crime here! All she did was get a little carried away trying on her dance wear!
He inserts it into her ass and turns it on slowly. The shaft presses in deep and she feels as if she will rip in half. She bites down hard on the ball. He turns it off and on a few times, whipping and toying with her sensitive parts. Then he turns it on and turns it up to 7 out of 10 on the meter. It starts slamming into her rapidly. Now up to 8.. Natalie is now warmed up and getting very excited. rushes to her poor strapped cock, but the strap over the top prevents her from erection. She can feel herself leaking on her belly.
9 out of 10! Natalie's head is spinning. She is about to cum hard. When Daddy sees this he tells her not to cum without permission. She immediately blurts out through her gag "CAN I CUM?!" Daddy tells her "YOU HOLD IT!!"
She is on fire now, trying to hold it back with everything she has. Daddy turns the machine up all the way and begins fiercely whipping her with the crop. "Now CUM!" Natalie explodes with the biggest orgasms she has ever had!
As the machine slows and then stops.. Waves wash over Natalie. She melts into the bed and embraces her bondage. She breathes through her nose as she sucks on her gag. "Goodnight little one. See you in the morning." Daddy leaves her strapped there and shuts the sound proof door behind him.

Starring: Natalie Mars
Size: 1.30 GB
Duration: 00:36:44 min
Resolution: 1920×1080
Format video: mp4
Preview:


Download link:
Natalie_Mars_Caught_and_Punished.mp4