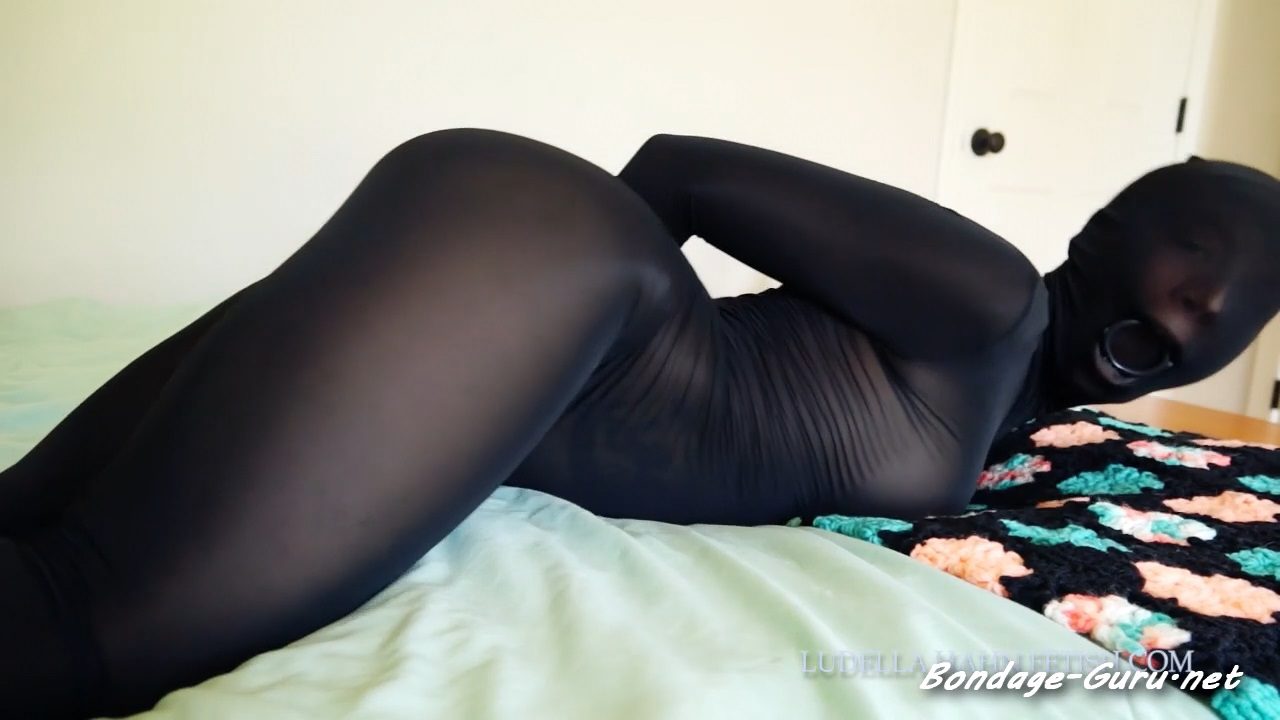 Ludella Hahns Fetish Adventures – Trapped In Tightening Tights – Zentai Bondage Encasement: The More She Struggles, the Tighter the Bondage
Ludella Hahns Fetish Adventures – Trapped In Tightening Tights – Zentai Bondage Encasement: The More She Struggles, the Tighter the Bondage
Ludella receives a mysterious gift from a "secret admirer." She's very excited about it, though finds it odd that it was left on her doorstep rather than shipped. She opens it to find a some sort of zentai bodysuit. "What…is…this?" She looks at it, confused. "Well, I might as weel try it on, I guess." She takes off her robe and puts on the suit. It hugs her every curve. "Wow…who would send me something so kinky? It feels so smooth…" She checks herself out in her mirror. "It's actually kind of sexy…" She looks at herself from all angles, smoothing her encased hands over the shiny surface of the suit. But then it tightens against her and she cringes. "Hmm…it actually feels a little tight…maybe it's too small. Oh well…" She goes to remove the suit, but she can't find the zipper. It's gone!
"Where's the zipper? Why can't I find the zipper?" Suddenly the threads of the suit pull her wrists together behind her back. She struggles against it, but her wrists just snap back together. "What's going on? I can't get my arms free…why can't I get my arms free?" She's starting to panic a bit. "I can't be imagining this…" The threads from her backside attach to her wrists and pull her wrists back down. The suit continues to tighten around her and bind her. "This can't be happening! Who would send this???" She then remembers she left her phone on the trunk at the foot of her bed and she decides she needs to call for help since the suit is getting tighter and tighter, but when she starts to walk toward it, the threads of the suit move across her thighs and bind them together. She struggle against the binds, but they continue to move down her legs and wrap around her ankles till she loses her balance and falls back on her bed. "What is happening?!"
She continues to wiggle around and struggle against the self-tightening suit encased around her, but it continues to bind her together and tighten. When she starts to yell for help, it enters her mouth and gags her. She gasps and coughs, her mmmphing and trying to talk through her gag, but everything is muffled. She remembers her phone and starts to wiggle her way around on the bed to reach it. She kicks the box off the chest and it crashes to the floor. Then the threads move across her butt and tighten in her rear. She squeals. After a breath, she starts to move again, struggling to maneuver herself when the threads move down around her crotch and tighten there. She squeals even louder, gasping for breath. After a minute of heavy breathing, she begins to wiggle her way around and begins inching her way closer and closer to her phone. In the struggle, she bends her knees…and the threads of the suit attach her wrists to her ankles so that she's now bound in a hogtie. "Oh no…." She mmmphs. Now moving forward is seemingly impossible. A tape recorder she didn't notice in the box begins to play a tape recording from a villain known as TRAPease. He tells her that he's testing out a new diabolical suit he plans to use on superheroines. The more she struggles, the tighter it gets, but if she can stay completely still for 12 hours, it will release her from her binds. "I can't be stuck like this for that long!" She whines through her gag. She fights hard a bit more, but as the suit continues to tighten, she finally gives in, breathing out in exasperation. The message ends…and then a repeat loop recording of elevator music begins. "No…not this song! I hate this song!" Unfortunately for her, it's looped to play all 12 hours…no one can hear her screams through the gag (the suit will gag her further if she tries) and if she tries to escape, the suit gets tighter and binds her further…and resets the clock. She's stuck in quite the bind…as you may see… 😉 Oh, villains!

Starring: Ludella Hahn
Size: 728.61 MB
Duration: 00:19:17 min
Resolution: 1280×720
Format video: mp4
Preview:


Download link:
Trapped_In_Tightening_Tights_Zentai_Bondage_Encasement.mp4