Kobe Lee's Fetish Paradise – Seat Belt Bondage with Jacquelyn Velvets and Kobe Lee
Kobe Lee's Fetish Paradise – Seat Belt Bondage with Jacquelyn Velvets and Kobe Lee
Kobe and Jacquelyn are lovers that are into bondage. The movie starts with Jacquelyn walking Kobe around a parking lot while Kobe is tied up. She is grabbing her arm tightly. Both are wearing business jackets, tight tops, and pants. Jacquelyn put her hand over Kobe's mouth. She loves the bondage experience she gets with Kobe.
Jacquelyn then sits Kobe down in the back seat of the car. She now ties her ankles. Kobe can't help but to smile and enjoy her predicament. After a few more hand gags and breast gropes, Jacquelyn decides to add a seat belt to secure Kobe. Jacquelyn gets into the car with Kobe and gropes and kisses her. It's a sexy bondage play scene.
Suddenly the two look up and say, "HEY?!" and now Jacquelyn is tied up next to Kobe with a seat belt also added. The two are also now cleave gagged. The struggle in the back seat restrained for a while.
The movie ends with Kobe pushing her gag out and revealing that she had the neighbor show up to tie Jacquelyn and it was all just for fun so that the two of them could be tied in the backseat together. The two end the movie by kissing.
THE END
this movie was a custom request

Featuring: Kobe Lee, Jacquelyn Velvets
Size: 2.9 GB
Duration: 00:26:52 min
Resolution: 1920×1080
Format video: mp4
Preview: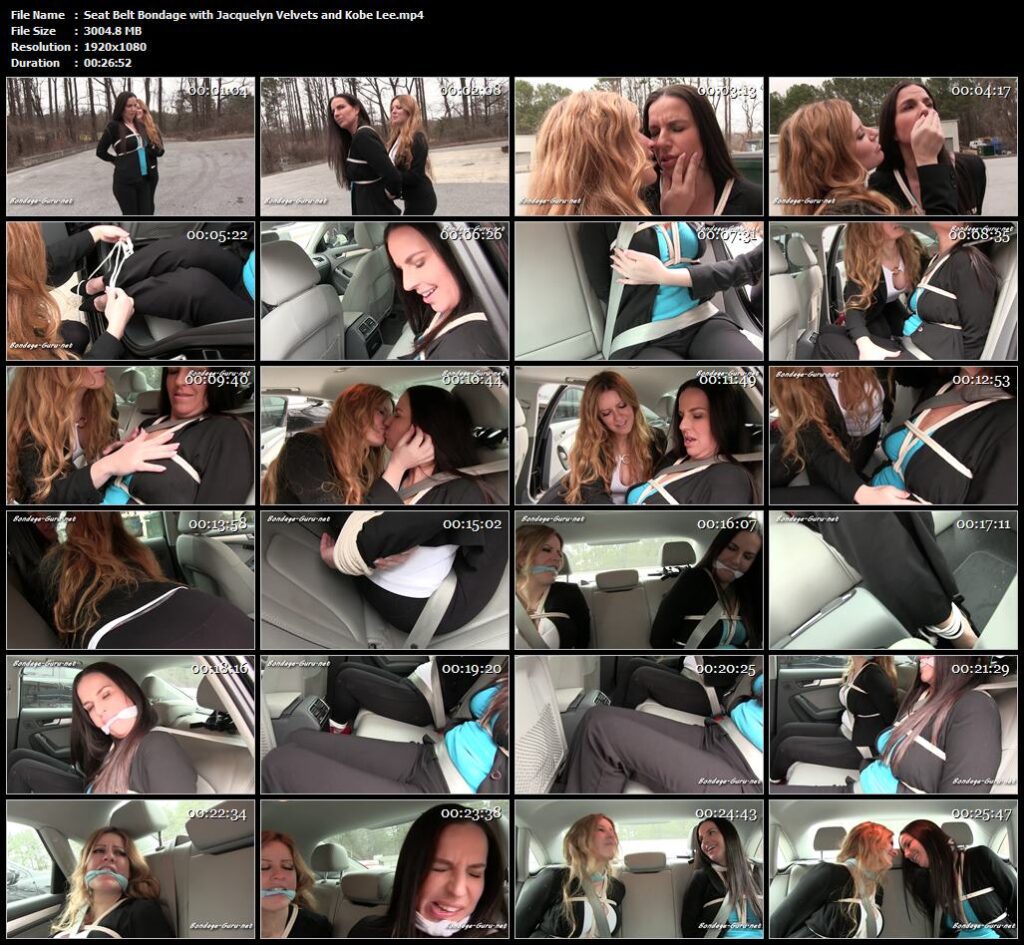 Download link:
Seat_Belt_Bondage_with_Jacquelyn_Velvets_and_Kobe_Lee.mp4