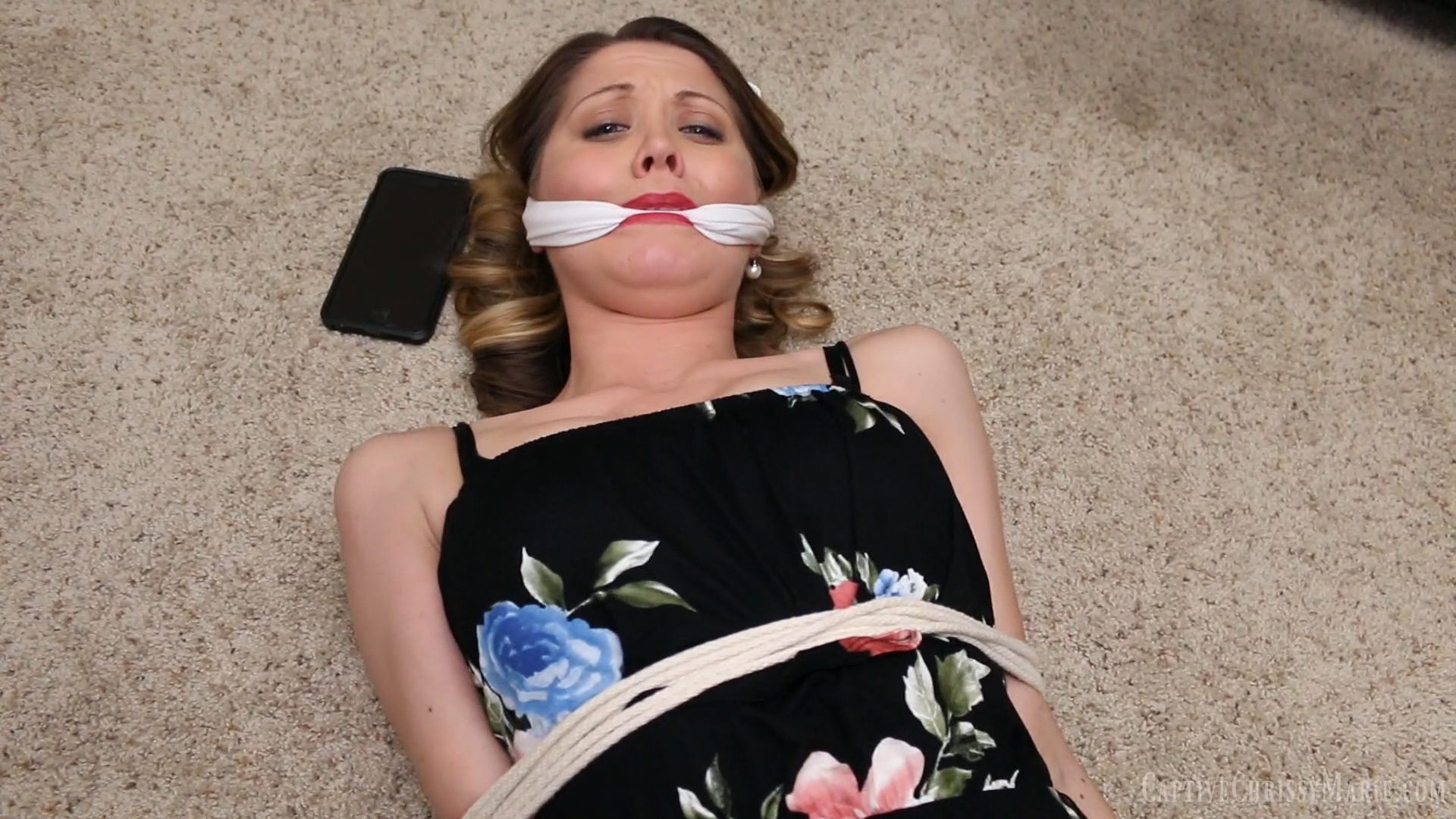 Babysitter Roped Into Role Play – Captive Chrissy Marie
Chrissy is babysitting and is on the phone with her girlfriend while they are getting ready for bed. She tells her friend that they just finished watching an old movie where a woman was captured by robbers and tied to railroad tracks, and now they are trying to convince her to role play the scene out with her being tied up! She tell her friend she is just going to amuse them and play the game and then she will send them to bed and call her back.
She starts by telling them a story about how she was captured by the robbers to set the scene, also hoping maybe they will fall asleep during the story and she won't have to go through with the whole getting tied up part! She tells them that two robbers grabbed her in the train station and that she struggled and tried to yell for help but he put his hand over her mouth! She then puts her hand over her mouth and tries to call for help to demonstrate. She then says she kicked one of the robbers in the leg twice and he jumped back, and shows them by making the kicking motion with her legs. As one robber was holding her from behind the robber she kicked grabbed her beautiful legs tight in his arms and they carried her to the train tracks to tie her up!
At the end of the story the little rascals are even more excited about tying her up! She tells them ok, but just for a little while, it's already past their bedtime! Next we see Chrissy tightly bound with her arms pinned at her sides and her ankles tied tight around her long skirt. Her phone is on the floor next to her and she manages to call her friend and tell her that she let them tie her up but then they left her there helplessly bound on the floor! She softly yell for help and for them to come back and untie you!
Now Chrissy is tightly cleave gagged with a thin cloth, struggling to get free from the restrictive ropes. Eventually she realizes it's hopeless and needs to call for help. She struggles her way to her phone to call her friend back. When her friend asks why she sounds funny, she tells her it's because they gagged her! She tells her friend that she needs to come over right away to untie her. She hangs up and continues to squirm helplessly on the floor, hoping her friend makes it there in time to untie her before the parents come home and find their babysitter bound and gagged on the living room floor!

Starring: Chrissy Marie
Size: 392.6 Mb
Duration: 00:09:04 min
Resolution: 1920×1080
Format video: mp4
Preview:


Download link:
https://florenfile.com/mmnf96tyuuh0/Babysitter_Roped_Into_Role_Play.mp4.html