Uptight Bitch Encased & Fucked – Dee Williams & Dixie Comet – That Bondage Girl
Uptight Bitch Encased & Fucked – Dee Williams & Dixie Comet – That Bondage Girl
Dee is burning the midnight oil when all of a sudden Dixie storms into her office, grabs her and places her hand over her mouth until Dee is out like a light. Dee had finally reported Dixie to HR for always creeping on her at work. Dixie isn't about to loose her job or let Dee off for being so uptight about her coming into her. Dixie kneels down and rubs her face on Dee's nylon covered legs…which is what got her in trouble in the first place. She quickly snaps out of it and decides it time to take Dee home to get what she's been wanting for as long as she can remember.
When Dee awakens she is fully encased in pantyhose, ballgagged and tied up some. She struggles in her binds until Dixie comes in who is also fully encased. She knew Dixie was crazy but this takes the cake. She sits Dee up and begins tying a chest harness as she explains to her that she really fucked up by reporting her to HR. Dee pleads through the gag and drool that she will redact her statement. But Dixie insists that it is ton late for that…she's already got her where she's wanted her all along. Dixie puts on her strap-on and tells Dee that it;s time to play. She gets on the bed, lifts her legs to the sky and penetrates the hole in the hole of her pantyhose. Dixie loves on Dee's nylon legs as she fucks her until Dee explodes with an orgasm. Dixie slaps her pussy with the dildo, kisses her pantyhose soles and tells Dee she thinks she actually likes this.
Dixie removes the big ball gag from Dee's mouth, leaving a ton of spit behind on the nylons. Dixie cuts a hole in the mask and gags her with a penis gag. Dixie pulls up her mask and sucks on the dildo, teasing Dee, then crawls on top and fucks Dee's face, essentially, until she gets herself off. Dixie then throws some more rope onto Dee's lovely, long legs as she tells her that she knows some pretty shady people that might find Dee and her holes very useful. She take out the penis gag and Dee tries to bargain with her to let her go. But Dixie shoves some panties in her mouth and further gags her with tape. Dixie decides that she may actually take Dee up on her offer on throwing out the sexual harassment claim but she needs some time to think about it. So in the meantime, she's going to leave Dee bound, gagged and encased until she's made up her mind.

Starring: Dee Williams, Dixie Comet
Size: 845.98 MB
Duration: 00:21:51 min
Resolution: 1920×1080
Format video: mp4
Preview: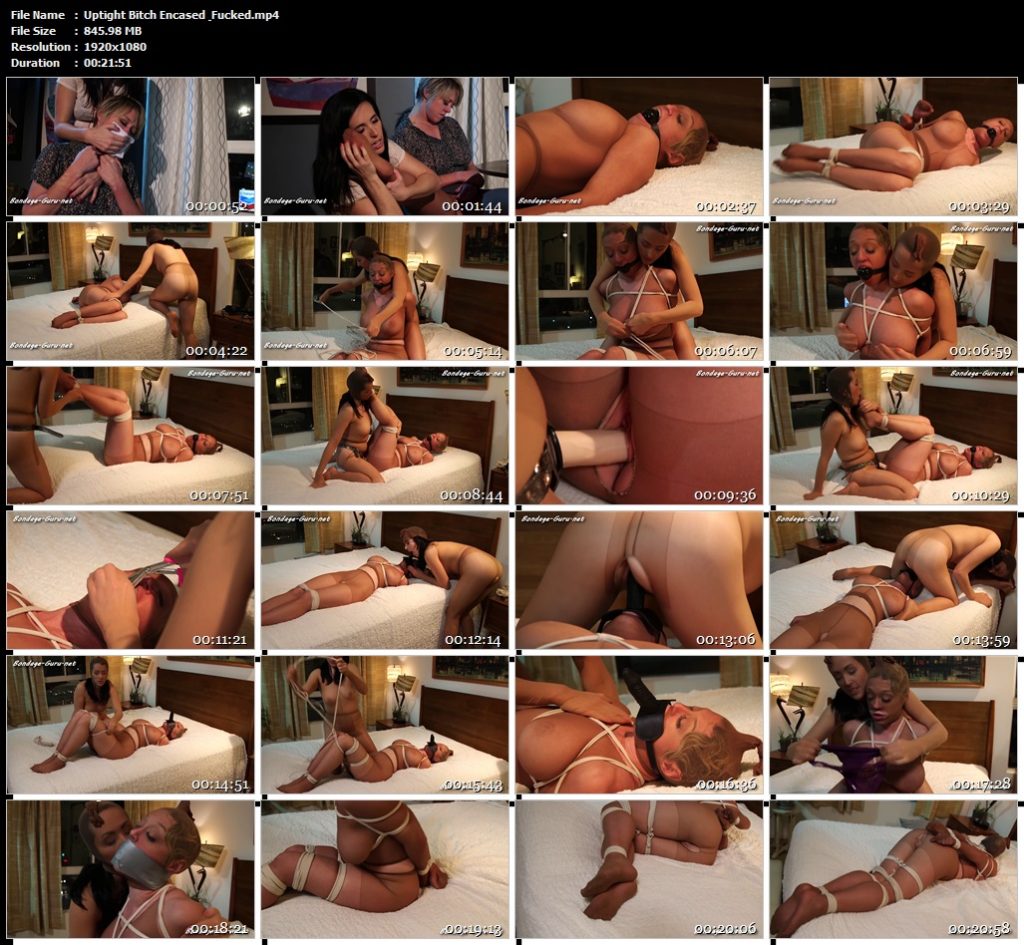 Download link:
Uptight_Bitch_Encased_&_Fucked.mp4