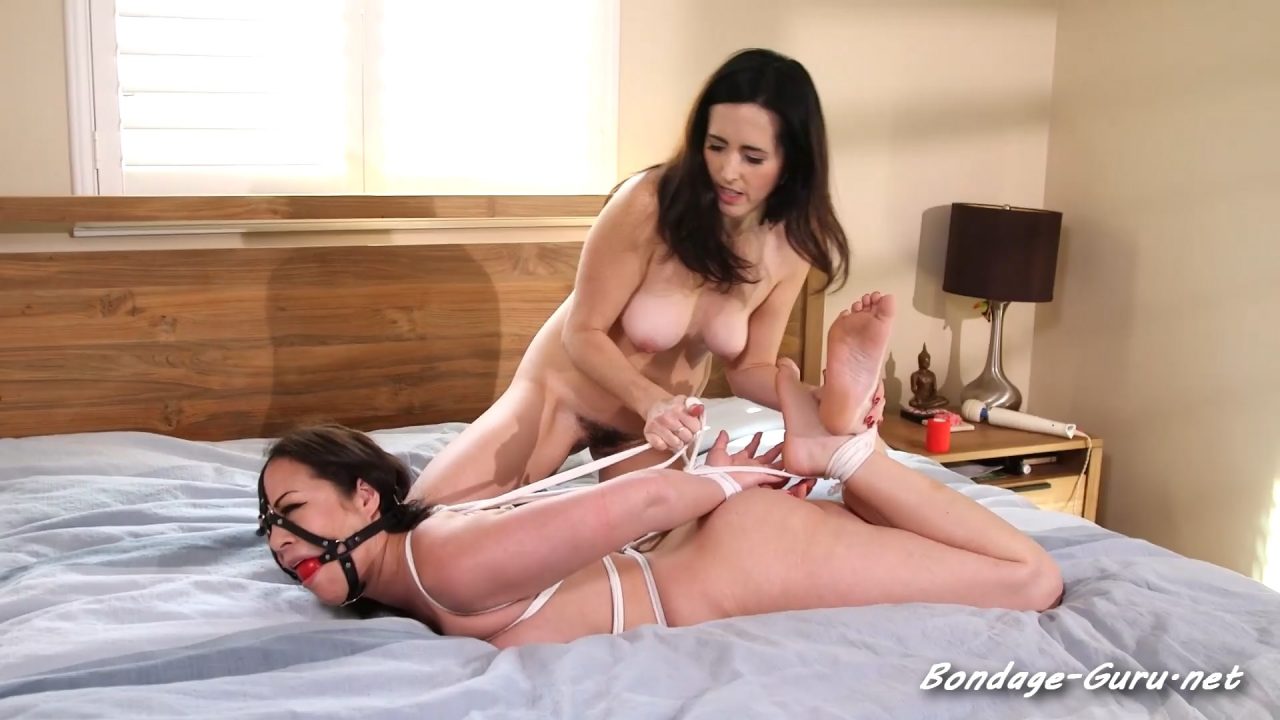 Tricked Into Servitude – Nyssa Nevers & Dixie Comet – That Bondage Girl
Tricked Into Servitude – Nyssa Nevers & Dixie Comet – That Bondage Girl
Dixie is an experienced dominatrix who is introducing an inexperienced girl, Nyssa, to the wonderful world of bondage. Dixie leads Nyssa by the hand into the bedroom. Dixie begins to undress Nyssa and she seems a little hesitant so Dixie promises it'll be fun. Once Nyssa is naked, Dixie brings out some rope and ties her wrists behind her back and a chest harness. Dixie then shoves a nice, big ball gag into Nyssa's mouth. She sensually kisses and teases Nyssa's then takes off her clothes. Dixie gags herself with a ball gag as well and puts handcuffs on. She gag kisses Nyssa and grinds her pussy against Nyssa's leg until both girls are aroused. Dixie has a surprise for Nyssa…a pretty jeweled butt plug that Dixie puts in her asshole. She brings out the hitachi and vibes Nyssa's juicy spot until she has a mind blowing orgasm.
Dixie now has Nyssa tied her spread eagle to the bed and she's wearing a strap-on. She replaces Nyssa's ball gag with a bit gag and her ball gag with a ring gag. Dixie rubs Nyssa's stretched out body and licks her through the ring gag. Dixie assumes the positions and fucks Nyssa's pussy with the strap-on. Nyssa cums for Dixie and Dixie wants to have an orgasm too. Dixie swaps out the bit for a penis gag. She uses her drool from the ring gag to make the dildo wet and slides her pussy on the cock. She rides Nyssa's dick face until she has an orgasm herself. Dixie climbs off and straddles Nyssa's body whispering her dirty little secret into her ear-Dixie reveals that she's a slaver who uses being a dominatrix as a facade to lure innocent women to a life of servitude to cruel masters. Nyssa struggles and screams into the penis gag but it's no use, she's fallen into Dixie's trap.
Nyssa is now on her knees on the bed and has calmed down a bit. Dixie gets her gagged pretty quickly with a harness gag. She then ties her into a tight hogtie with a crotch rope to match. Dixie gives Nyssa's big tits a few smacks before rolling her onto her belly to get to those ass cheeks. Dixie tells Nyssa that her new life will be filled with pain if she does not get accept her fate as she spanks her. But if she behaves they'll be pure pleasure instead. With that she wraps Nyssa's head in vet wrap and brings out the hitachi again. Dixie vibes Nyssa's pussy through the crotch rope until she makes her cum again. Dixie leaves her new slave struggling and contemplating her fate.

Starring: Nyssa Nevers, Dixie Comet
Size: 1.52 GB
Duration: 00:40:20 min
Resolution: 1920×1080
Format video: mp4
Preview:


Download link:
Tricked_Into_Servitude.mp4