TILLYTOWN – HEROINES HUMILIATED (PART 2 ) (HD): Tilly McReese and Zoey Chanel
TILLYTOWN – HEROINES HUMILIATED (PART 2 ) (HD): Tilly McReese and Zoey Chanel
This sexy and sensual video picks up exactly where Part 1 left off! Both Zoey Chanel and Tilly McReese played the sultry evil villains and helpless Wonder Woman in a sexy swap between a few scenes and both of them were able to get the other to be under their complete and utter control!
Part 2 opens with Evil Zoey talking to the audience about how much of a good submissive and humiliated heroine Wonder Tilly is, as she gives Wonder Tilly commands to strip, bend down and call on all fours, and give the viewers a perfect slow view of Wonder Tilly's curvy and sexy body! Wonder Tilly just wants to be released from this evil presence, but Evil Zoey gives her one last command which is to get herself off! Wonder Tilly has a bit of reluctance, but realizes it's the only way for her to break free! Wonder Tilly starts to rub herself on the floor, hating every moment of it but then is able to release herself into an orgasm that satisfies Evil Zoey enough to leave her alone for now.
Zoey leaves only to come back with a large strap on and places Wonder Tilly onto a table where she starts to ram her strap on hard into Tilly and gives her some rough love and makes her orgasm over and over again until it completely wears them both out! Both ladies completely spent and satisfied, Evil Zoey leaves Wonder Tilly on the floor to allow her to rest up before their next sexy encounter as the first scene ends!
The conclusion of scene two has Wonder Zoey lying on the floor when Evil Tilly comes around to start fondling her while letting her know this entire process is being streamed by her henchmen for all of Wonder Zoey's fans to see! As Wonder Zoey comes to, Evil Tilly sits her up and starts to strip her corset and boots off, leaving Wonder Zoey completely naked and helpless against Evil Tilly's fondling and rubbing of her gorgeous body! Evil Tilly has some plans to bond Wonder Zoey up really good and uses some rope to secure Wonder Zoey down! Wonder Zoey starts to moan and writhe as Evil Tilly ties her down and rubs her all over, making this a sexy and sensual experience of a sideshow that Wonder Zoey will never forget as long as she's under Evil Tilly's control! Evil Tilly tells Wonder Zoey that while she almost feels bad for securing her like this, the real fun is just ahead and leaves Wonder Zoey alone tied up in the room naked as this sexy scene ends!

Featuring: Tilly McReese, Zoey Chanel
Size: 653.0 MB
Duration: 00:17:57 min
Resolution: 1920×1080
Format video: mp4
Preview: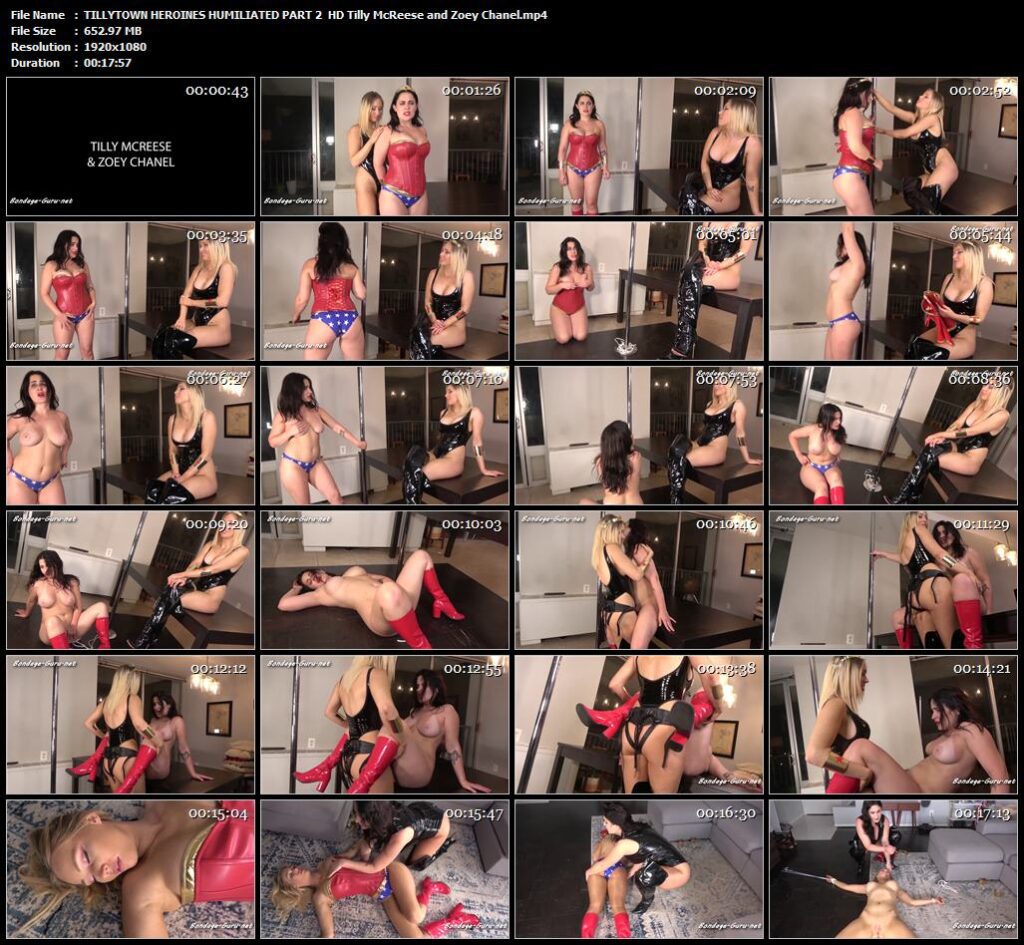 Download link:
TILLYTOWN_HEROINES_HUMILIATED_PART_2_HD_Tilly_McReese_and_Zoey_Chanel.mp4