TILLYTOWN – "False Allegiance": Tilly McReese and Jacquelyn Velvet
TILLYTOWN – "False Allegiance": Tilly McReese and Jacquelyn Velvet
Sexy international spies Tilly and Jacquelyn are ready to spring into their next heist: robbing the newest tenant of a smuggling hideout. All they need is their chic tech and their honely trained skills to pull it off, and they'll be the richest thieves in the East Coast! As both of them discuss snapping pictures of evidence to take from the newest target, the thought of them getting away with such a huge payout gets them all excited as they discuss their roles and cover ids. Jacquelyn is set off to scope out the place, as Tilly sets up her laptop up to wait for further clarification and the mission is on!
A few moments later, Tilly gets a text message from Jacquelyn saying she found the evidence and needs Tilly to come to the target right away! Tilly feels it's a bit odd since it's only been a few moments but decides to go anyway. In reality, Jaqueline has made it to the target but is now bondage and mouth gagged to a fixture inside the target building. Struggling in her leopard bikini, Jacquelyn squirms and writhes against the ropes to no avail as whatever seemed to tie her up did a pretty good job of securing her binds! The ropes are digging into her soft skin, making her skin red in some areas and she can barely let out a scream through the cloth pressed against her mouth! Tilly arrives and sees Jacquelyn bound up and can't figure out what just happened! She gets something to untie Jacquelyn, and then Tilly's world comes tumbling down..
Turns out Jacquelyn was hired by the smugglers to help them transport all their expensive cargo. She knew Tilly would be easy to fool and captures Tilly instead, now tying Tilly to the same fixture she was once tied to, and leaves Tilly alone in her blue bikini to struggle and squirm! Tilly can't move a muscle as Jacqueline really binded her good! Her blue bikini is stretching along with her tits underneath it as she fights in vein to get free.
It's no use! Tilly is trapped good and Jaqueline only does more sensual insult to the situation by tying Tilly down to a table and rips off Tilly's blue bikini, leaving Tilly completely naked and vulnerable. Against Tilly's constraint, Jacquelyn rubs Tilly's breasts and pussy while letting her know that while Tilly had a great plan to pull this heist off, it's all for naught! She continues to rub Tilly's pussy until Tilly can no longer control herself and lets out a bound orgasm that echoes throughout the entire building!
Satisfied with how Tilly fell for this false alliance and how easy it was to trap her all tied up like this, Jacquelyn smiles and leaves the room, leaving Tilly to wonder about what's going to happen next when the rest of the crew get back.

Featuring: Tilly Mcreese, Jacquelyn Velvet
Size: 2.6 GB
Duration: 00:20:39 min
Resolution: 1920×1080
Format video: mp4
Preview: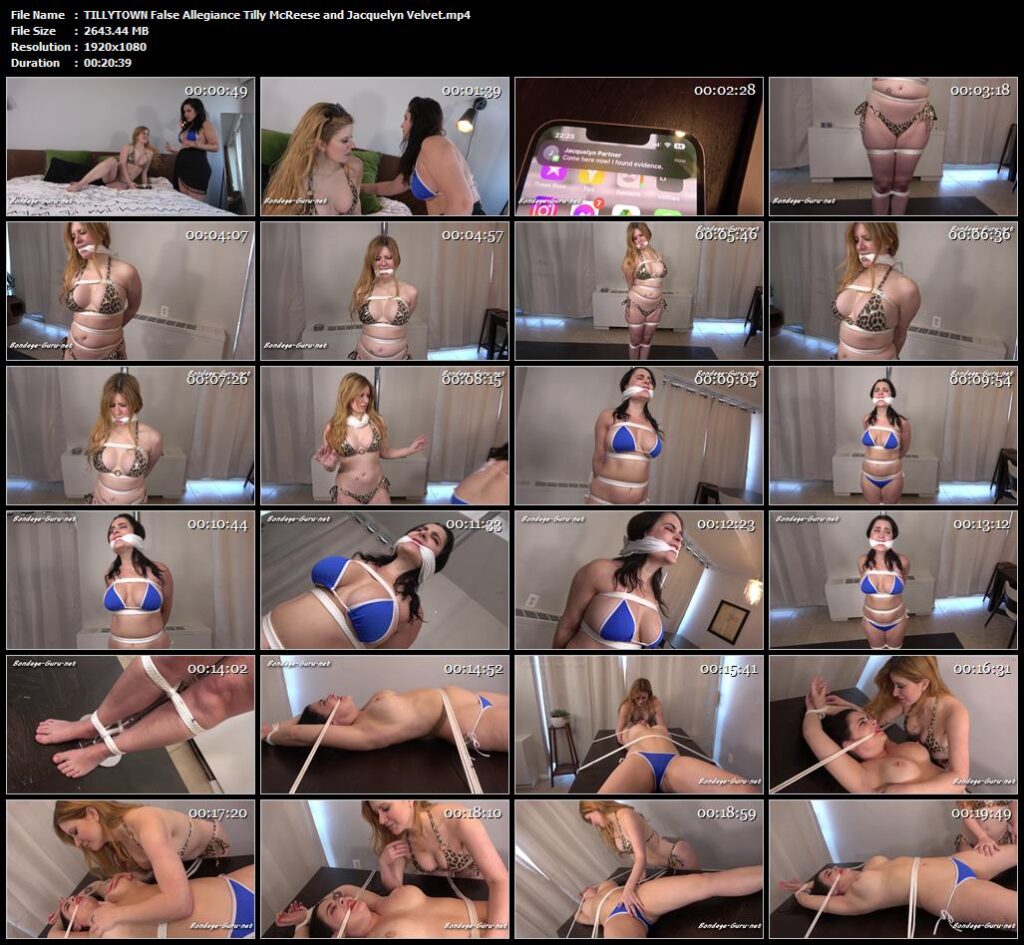 Download link:
TILLYTOWN_False_Allegiance_Tilly_McReese_and_Jacquelyn_Velvet.mp4