Three Teachers Have Fun in Bondage, Smelling Socks, and Pantyhoods
Three Teachers Have Fun in Bondage, Smelling Socks, and Pantyhoods
Arielle, Kobe, and Dakota are all teachers.
Arielle is bored during their Summer break and decides to call Kobe over to be tied up. She also decides to give Dakota a call to see if she wants to join in the fun.
Kobe and Dakota come over to Arielle's house. Kobe is wearing thigh high white leather boots because she has just felt like turning up the heat this Summer. She and Dakota slip off their boots/shoes before starting on all the bondage fun.
Arielle strips into her bra and panties and Kobe starts to tie her up. They even put tape over the rope to make sure it is very secure. A tape gag is placed over her mouth and then Kobe reveals that she brought over a pair of worn panties to place across Arielle's face. Kobe leaves to go serach through Arielle's dirty laundry and leaves the two girls alone to have some fun.
Dakota watches Arielle squirm on the ground and decides to give her socks a deep smell. Dakota has explored bondage before but never with her coworkers.
Kobe has found some super smelly socks in Arielle's tennis shoes. She can't wait to use them as a gag! Kobe reenters to Dakota smelling Arielle's feet. She removes Arielle's tape gag and puts the stinky sock into her mouth. She adds a pantyhood over her face too.
Dakota has been begging to be tied up, so now it's her turn! Dakota is tied and excited to wiggle in her ropes. Kobe stuffs one of the stinky socks in her mouth and places a piece of tape over it. A pantyhood is of course also added.
Kobe decides to places her stinky boot socks in both Dakota and Arielle's face before leaving the room. The two girls struggle in their binds while smelling each others. feet.

Featuring: Kobe Lee, Dakota Charm, Arielle Lane
Size: 2.6 GB
Duration: 00:24:05 min
Resolution: 1920×1080
Format video: mp4
Preview: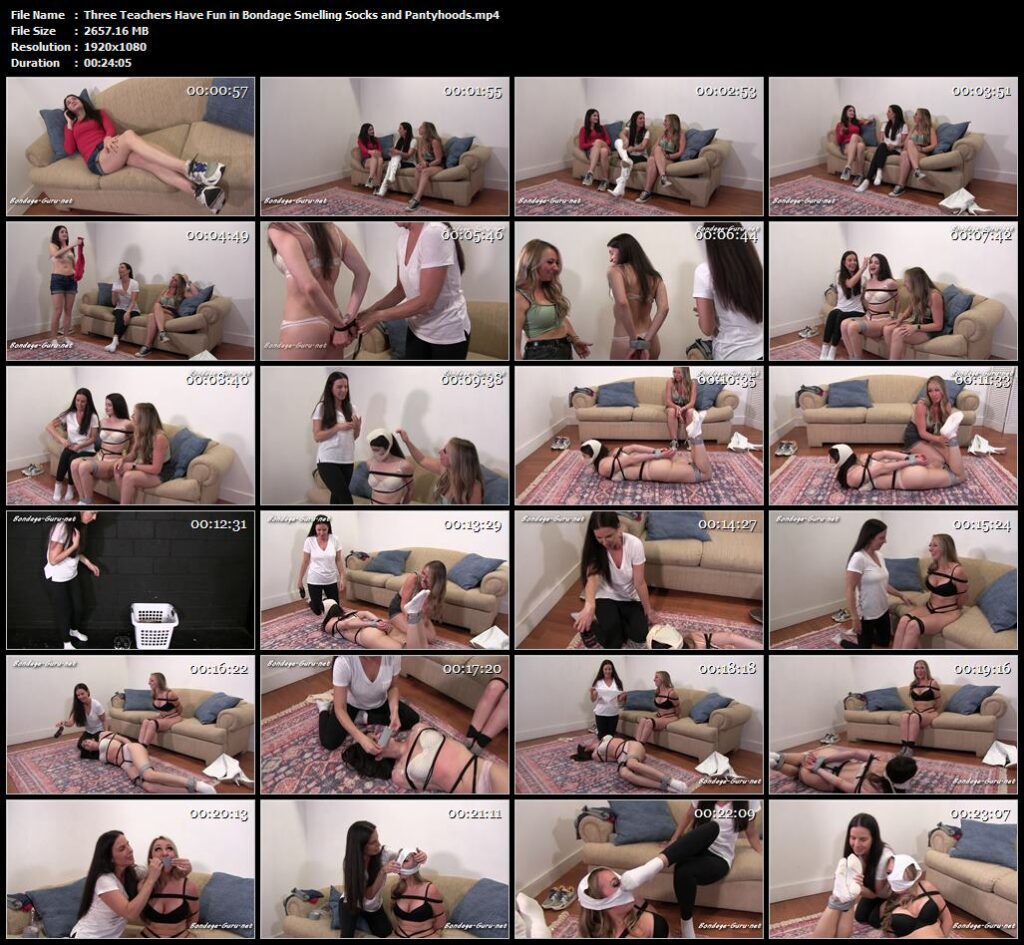 Download link:
Three_Teachers_Have_Fun_in_Bondage_Smelling_Socks_and_Pantyhoods.mp4