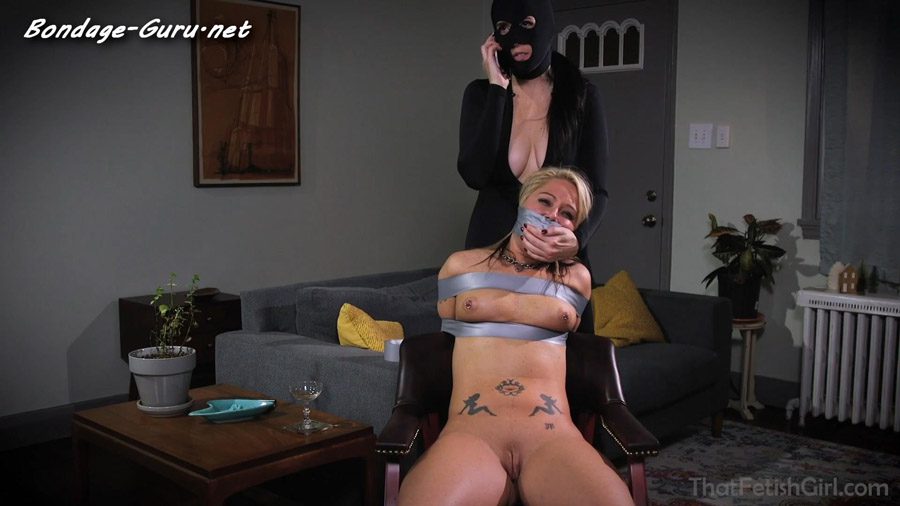 That Bondage Girl – Rich Bitch Tied & Sold – Adara Jordin, Dixie Comet
That Bondage Girl – Rich Bitch Tied & Sold – Adara Jordin, Dixie Comet
A masked women has broken into Adara's house to hold her for ransom. Adara has a rich daddy so the robber is expecting to get a big pay day. The robber is hiding behind the couch when Adara walks into the room with a cocktail. Adara sits on the couch and the robber grabs her from behind and hand over mouth gags her until she is out. She gropes her limp darling but the effects don't last long and Adara is wakes up. The ribber quickly stuffs her mouth with panties to gag her and wraps her head with vet wrap. She then pulls out a piece and tells Adara that she's holding her hostage and to hope that her daddy loves her enough to pay the hefty ransom. She tells her to strip out of her clothes down to her pantyhose then brings out rope and ties Adara's wrists, ankles and chest. The robber decides she might as well have some fun with Adara. She unzips her catsuit and puts on a strap-on as Adara struggles. She makes Adara get on her knees and removes the gag. She begins face fucking Adara. The woman picks up her phone and makes the ransom call to daddy as his daughter chokes on her cock. She then shoves Adara's worn panties in her mouth and wraps them in but this time with duct tape. She unties her ankles and makes her get in doggy on the couch. The robber rips her pantyhose and fucks her until she cums all over her cock. The woman grabs the rag and places it tightly over Adara's mouth until she goes out again.
When Adara wakes up, she's now completely naked and the robber is taping her to a chair. Once she has her taped up, the robber takes off the tape gag and removes the spit soaked panties from her mouth. Adara begs to be let go and assures the woman that her dad will pay. The woman says he better as she stuff the pantyhose Adara was wearing into her mouth. She seals her stuffed mouth with tape, then gets a call. The ransom has gone through. To celebrate, the woman adds nipple clamps to torture her money maker but then decides she really wants to taste that pussy that in front of her face. After Adara cums, the robber has a better plan. She whips out her phone and calls her dyke friend, Dixie. She tells her that she has a tasty treat to sell her. The robber hangs up and snaps some pics to send to her friend. A few minutes later, the dyke friend says wants Adara. Not only does the robber get the ransom from daddy but she's sold Adara off too. The robber leaves Adara taped up and gagged as she goes off to collect the ransom money from daddy.
Adara is being walked into the bedroom by leash by her new dyke owner, Dixie. Adara is gagged with a dildo gag, her wrists are tied and she's hobbled. She's told to kneel on the ground and her new mistress ties a chest harness on her. The mistress gets on the bed and instructs her new slave to fuck her with the dildo gag until Mistress cums. Mistress Dixie takes off the gag and stuffs a rag in her mouth. Dixie connects a rope to her collar and ties Adara off to the bed. Mistress lays on the bed, takes the rag from Adara's mouth and makes her eat her pussy and asshole until she cums. Dixie shoves the rag back in Adara's mouth and then does a tight microfoam gag. Dixie ties her ankles then puts Adara in a hogtie, barely allowing her to move. She struggles a bit but then Mistress comes back in with a rag promising that she needs a good night's sleep for tomorrow's slave training festivities.

Starring: Adara Jordin, Dixie Comet
Size: 2.30 GB
Duration: 00:48:07 min
Resolution: 1920×1080
Format video: mp4
Preview:


Download link:
Rich_Bitch_Tied_&_Sold.mp4