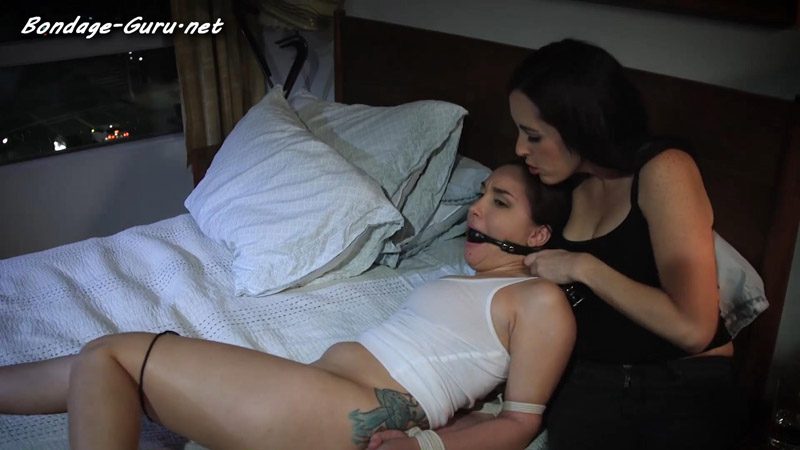 That Bondage Girl – Eating Her Prey: Gabi Paltrova, Dixie Comet
That Bondage Girl – Eating Her Prey: Gabi Paltrova, Dixie Comet
Dixie, a burglar, is rummaging around an empty apartment when suddenly she hears a key being inserted into the door. She quickly hides in a closet as a girl comes into the apartment. Dixie checks out the girl's big booty popping out of her tight shorts from a crack in the closet door. The girl wonders into her apartment where she shimmies out of her clothes and heads up the stairs-Dixie comes out of the closet and follows shortly behind.
The girl is getting herself ready for bed-she takes a small sleeping pill with a tiny sip of water and lays herself down for the night. Shortly thereafter, Dixie creeps into the bedroom; she drools at the site of the sleeping booty but continues to case the apartment since she hadn't made it upstairs yet. Dixie scans the room and finds what she needs-some rope. She then opens a drawer to find some of the girl's panties, that she inhales. She also finds a ballgag as well as a bondage collar and leash.looks like this girl is down with the kinky stuff.lucky Dixie.
Returning to her prey, she cautiously and carefully ties the girl's wrists behind her back and binds her elbows together. The girl stirs, but continues to sleep-all Dixie wants is a taste of that asshole. She pulls the thong down and starts licking her pussy, spreads the ass cheeks and hungrily licks and laps the tangy, sweet asshole. Suddenly, the girl stirs again. Alarmed that she's waking up, Dixie grabs the ballgag and thrusts it into the waking girl's mouth. Dixie collars and leashes her prey as the girl becomes fully awake and realizes she's helpless in the hands of an intruder. She insists that if she does what she says, she won't hurt her. The girl has no choice but to do as she is told and with that the intruder tugs on her leash and leads her down to the living room.
Dixie is moaning with pleasure as the bound girl kneels before her eating her out. Dixie gets her orgasm-as she pulls away from the girl begs if she can be let go now. Dixie answers her question by shoving the ballgag back into her pussy soaked mouth. Dixie pulls out her phone from her bag and makes a phone call..a business phone call of sorts. When she hangs up, she informs the girl that she's going on an adventure to meet a woman who will take good care of her. Dixie drags her to her feet with the leash and begins leading her away towards the door.

Starring: Gabi Paltrova, Dixie Comet
Size: 864.07 MB
Duration: 00:22:15 min
Resolution: 1920×1080
Format video: mp4
Preview:


Download link:
Eating_Her_Prey_Gabi_Paltrova.mp4