Star Nine – Candle Boxxx's Gag-Talk Challenge With Star Nine Gone Wrong
Star Nine – Candle Boxxx's Gag-Talk Challenge With Star Nine Gone Wrong
Star Nine and Candle Boxxx are doing a Gag Talk Challenge on their social media channel. A game of rock scissors paper decides who will start the handgagging challenge. Candle chatters through the HOM gagging and Star wads a hanky inside Candle's mouth before hand gagging again. She continues chattering as Star pulls out the soggy mouthstuffing.
Candle presents Star with a sock stuffing, but Star says they have to play the roshambo to see who's next. Annoyed at losing, Candle's red nails shove in the self gagging. Star adds three pieces of duct tape for muffled speech, so Candle tries to pantomime her words. That's cheating in the Gag Talk challenge and she's rope bound!
Star has rigged the game,and starts teasing Candle's duct tape gagging off, only to leave it on. As Candle gets more frustrated, Star pulls the silver gag off and runs off for a surprise panty stuffing. Candle spits them out before Star secures them with vet wrapping.
They have a butt shaking contest to get viewers engaged. Star pulls Candle's thong down under the guise that it's the fans want. Pussy spreading is humiliating, but the pussy play makes her moan until she's begging for the Hitachi Magic Wand! Her wrinkled soles alternate with her pointed toes as she's bucking in orgasms.
As Star removes the vet wrap gag, Candle tells people to subscribe to their channel!

Featuring: Star Nine, Candle Boxxx
Size: 889.5 MB
Duration: 00:23:26 min
Resolution: 1920×1080
Format video: mp4
Preview: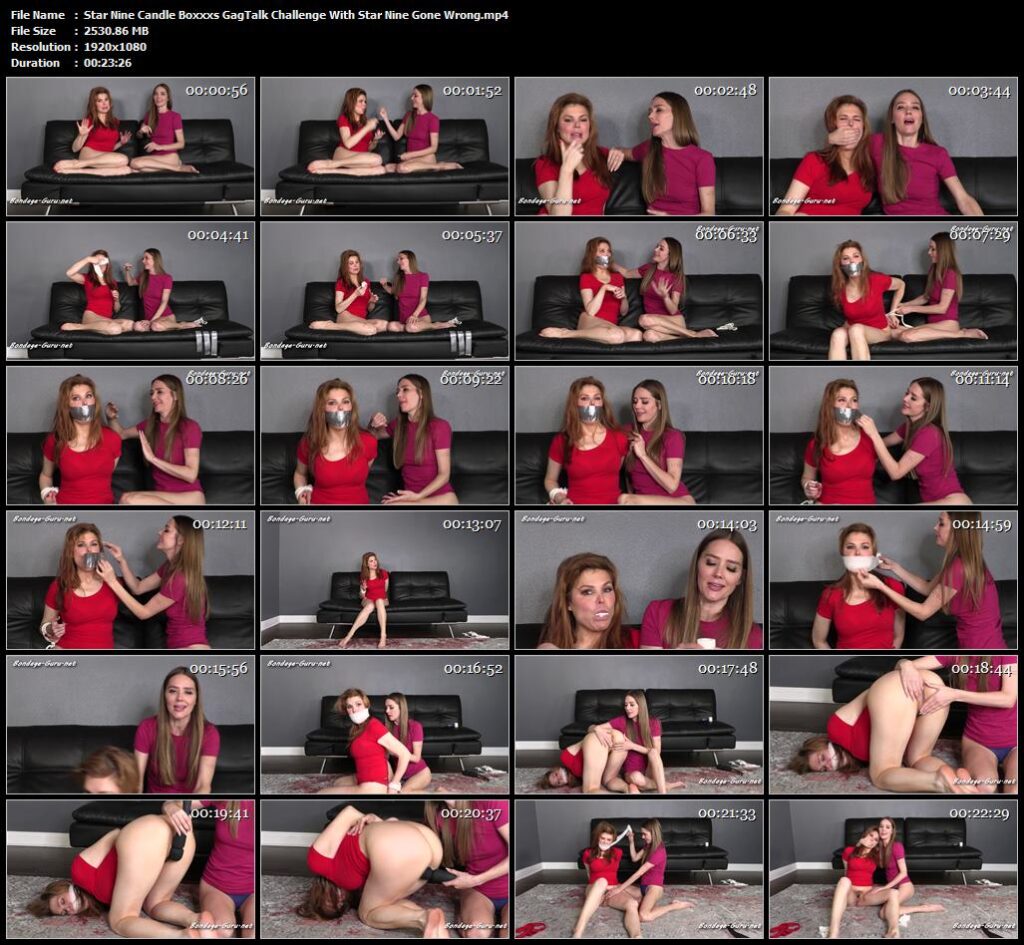 Download link:
Star_Nine_Candle_Boxxxs_GagTalk_Challenge_With_Star_Nine_Gone_Wrong.mp4