Purse Stealing Liar Gets Tied Up – That Bondage Girl
Purse Stealing Liar Gets Tied Up – That Bondage Girl
Constance is home from work early and is talking to a friend on the phone about it. Her co-worker, Dixie, is a bitch who thinks Constance stole her purse from her desk. Constance does confess to her friend that she did take Dixie's purse but only because the she wanted Dixie's tube of lipstick. But she's sure she'll never know and can will just deal with whatever Dixie throws at her. She finishes up her phone conversation and walk away to take a bath to de-stress.
Seconds later, she screams and Dixie is ushering Constance back into the living room with her hand over her Constance's mouth. She throws Constance down on the couch. Dixie heard the phone conversation yet Constance denies that she stole the purse. Dixie grabs a chair that is sitting off to the side and drags Constance by the hair over to it. She ties her wrists behind her back and ties her ankles together and off to the chair. Constance keeps making up all these bullshit lies and is finding the whole situation to be comical. So, Dixie pulls Constance's skirt up and cuts her panties off. As Constance is getting a brief taste of her panties, Dixie steps out of her own pantyhose. She stuffs the ripped panties in Constance's mouth and cleave gags her with the well worn pantyhose. Dixie leaves the lying, and now pouting, bitch to struggle to go look for her purse.
Dixie comes back with the stolen purse and with Constance's purse as well. As a fuck you, Dixie is stealing her purse but Dixie isn't done with Constance yet. She adds more rope to her legs then gets Constance on to the floor. She pulls her tits out from her bra, as Constance squeals through her gag, and ties a chest harness. Dixie decides that she's going to leave Constance tied up on her floor for awhile as a bit of a punishment but feels like she's not quite quiet enough. So, Dixie wraps microfoam around the pantyhose cleave to keep the noise to a minimum. Dixie throws Constance into a hogtie and tells her she'll back back after she goes and has a nice expensive lunch, Constance's treat of course. Dixie grabs her purse(s) and walks out as Constance is left struggling in the tight hogtie.

Starring: Constance, Dixie Comet
Size:595.61 MB
Duration: 00:15:32 min
Resolution: 1920×1080
Format video: mp4
Preview: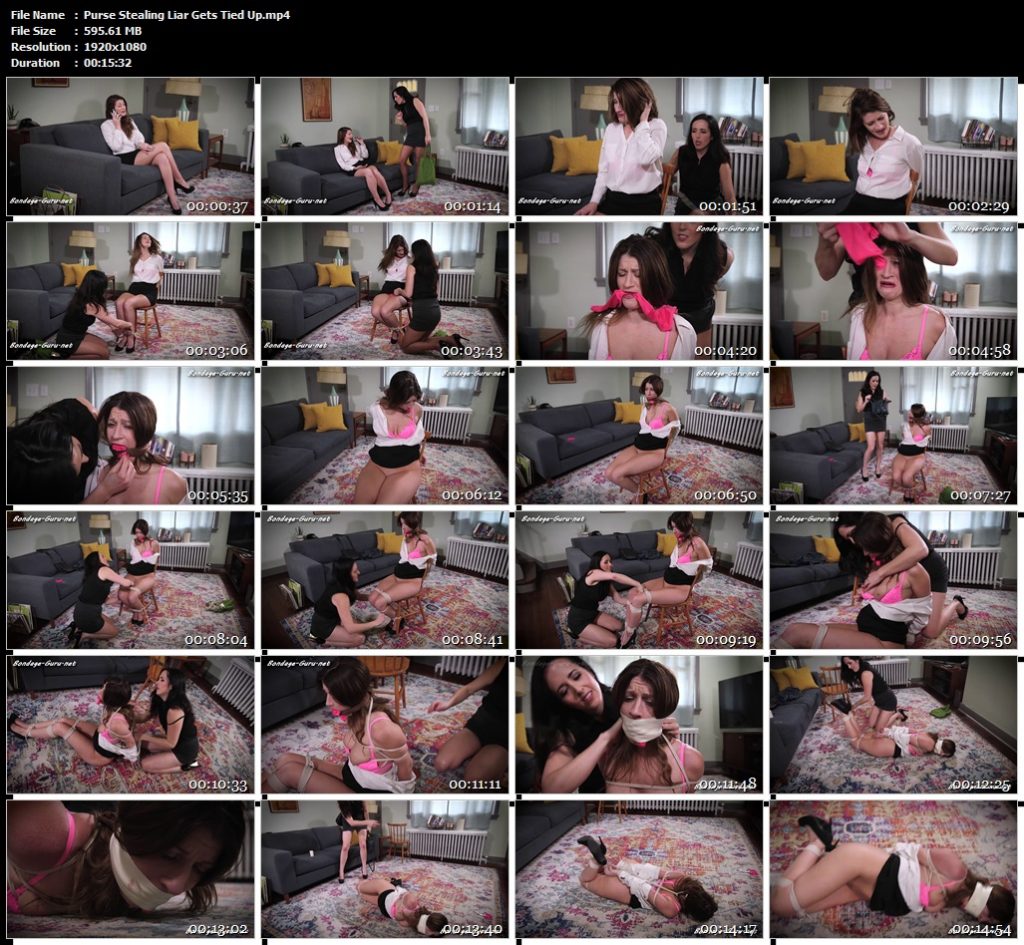 Download link:
Purse_Stealing_Liar_Gets_Tied_Up.mp4