Nyxons Bondage Files – Ally May Desperate Coed Answers Wrong Want Ad HD
Nyxons Bondage Files – Ally May Desperate Coed Answers Wrong Want Ad HD
College freshman Ally May is looking to make some extra book money, so she turns to the want ads to see if there's anything available. She comes across an ad looking for amateur models, so she decides to try her luck & sends them an email. She immediately gets a response with an address & a time.
The scene opens up with Ally siting on the couch & the woman (Nyxon) vaguely explaining things to her. She tells Ally that her client has some "interesting" tastes, and then asks her to put her hands behind back palm to palm. Obediently, Ally does what she's told, but begins to grow suspicious when Nyxon ties her hands together with rope. Ally tells Nyxon that she doesn't think that the job is for her & that she wants to leave. Nyxon grabs Ally & places her hand over her mouth, restricting her breath. Ally squeals & struggles as she tries to break free, but soon she goes limp on the couch & Nyxon quickly gets to work.
When Ally comes to, she finds herself tied tightly on the couch. Nyxon explains to her that there are cameras watching her, and soon the bidding war will start. Ally's eyes go wide when she realizes that she's going to be auctioned off into the black market. She begs Nyxon to let her go, but Nyxon laughs in her face. She grabs a purple ballgag, shoves it into Ally's mouth & pulls the strap nice & tight. As she's leaving the room, Nyxon tells Ally to put up a good struggle to give the men watching her a good show.

Starring: Nyxon, Ally May
Size: 1.1 GB
Duration: 00:15:35 min
Resolution: 1920×1080
Format video: mp4
Preview: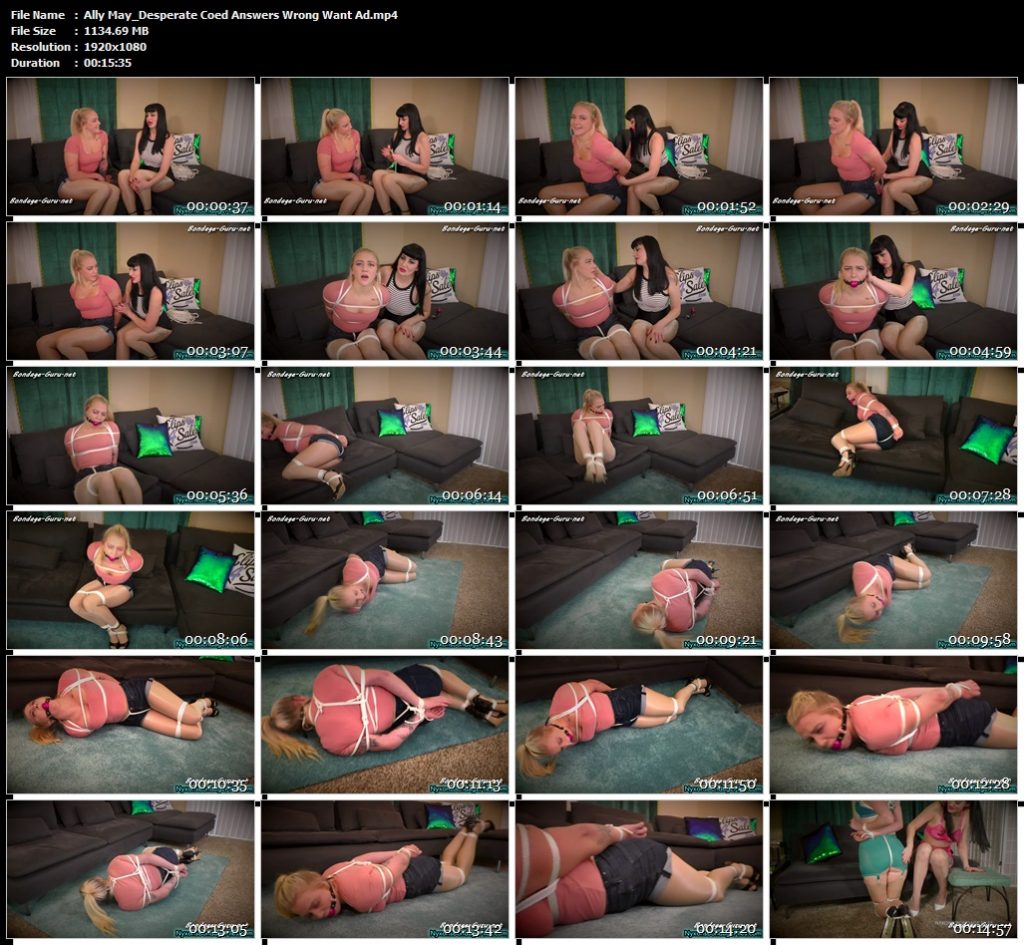 Download link:
Ally_May_Desperate_Coed_Answers_Wrong_Want_Ad.mp4