Nyxon & Slyyy The Lady Bandit Strikes HD – Nyxons Bondage Files
Nyxon & Slyyy The Lady Bandit Strikes HD – Nyxons Bondage Files
*this is a custom clip
Slyyy is in her home on the phone with a friend talking about a recent string of robberies in the area. She mentions she is scared to pieces of getting robbed especially since she lives alone. She says she feels safe but she'll call her if she anything crazy happens. When she hangs up The Lady Bandit (Nyxon) sneaks up on her from behind and handgags her and tells her to "ssshhhhh." She uses tape to tie the Slyyy's wrists together behind her back then sits her down on the floor. Slyyy screams and calls for help. Nyxon uses a cloth and gives her a cleave gag, then uses tape to tie the rest of her body. When she's finished, Nyxon give the damsel a big kiss on her lips, squeezes one of her boobs, then leaves her to struggle.
Slyyy energetically struggles on the floor. She calls for help, rolls around, and tries to break free. In the background Nyxon walks around taking things from the Slyyy's place and putting them in a bag. Slyyy stops and sees her phone on the floor. She lays on her side and scoots towards the phone. Slyyy gets to phone but the Nyxon takes it from her before she can use it. Nyxon sits down next to the damsel and takes some selfies with her. Nyxon puts the phone away and starts to fondle Slyyy, spending lots of time on her boobs, sides, thighs, and butt. The Lady Bandit leaves and comes back with rope (fade out).
Slyyy is now fully tied with rope to a chair, but she is not gagged. Slyyy talks to the Nyxon saying things like 'why are you robbing ME?' and 'please just leave" and 'please say something!" but Nyxon just silently ignores her while she continues to put random things from her house in a bag. Nyxon gets behind Slyyy and stuffs her mouth. She gags her with one piece of tape. She checks to make sure the gag is secure, then uses colored vetwrap and gives Slyyy a wraparound gag on top of her tapegag, completely covering it up. Slyyy constantly fights and calls for help the entire time. After gagging her, Nyxon reaches inside the Slyyy's dress to grope her boobs. She pulls just one of her boobs out of her dress and plays with it. She stops, handgags her, tells her to 'sshhhh' and goes right back to robbing her.
Slyyy wildly struggles in the chair. She tries to break free, bucks/kicks, and constantly calls for help. She moves around chairtied, sometimes just moving the chair, sometimes heading towards a door/window or looking for something to free herself. In the background Nyxon continues to take things from Slyyy's house and put them in her bag. Nyxon decides she's done and goes to Slyyy. She starts sensually fondling her all over, spending lots of time on her thighs, sides, and boobs. Nyxon holds the Slyyy's face and gives her one last long kiss on the cheek. She takes Slyyy's phone, puts it in her bag, then leaves for good. Slyyy continues to struggle and call for help. She says "can it get any worse?" (fade out)

Featuring: Nyxon, Slyyy
Size: 1.7 GB
Duration: 00:21:24 min
Resolution: 1920×1080
Format video: mp4
Preview: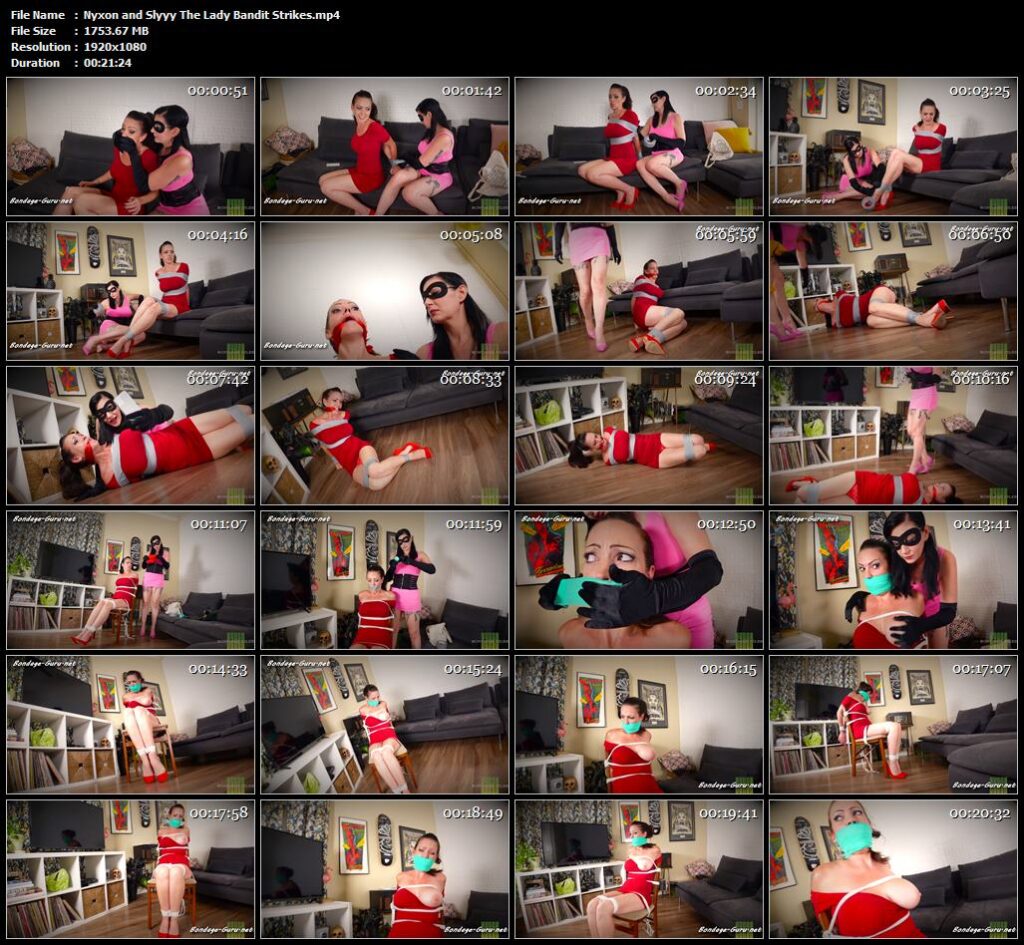 Download link:
Nyxon_and_Slyyy_The_Lady_Bandit_Strikes.mp4