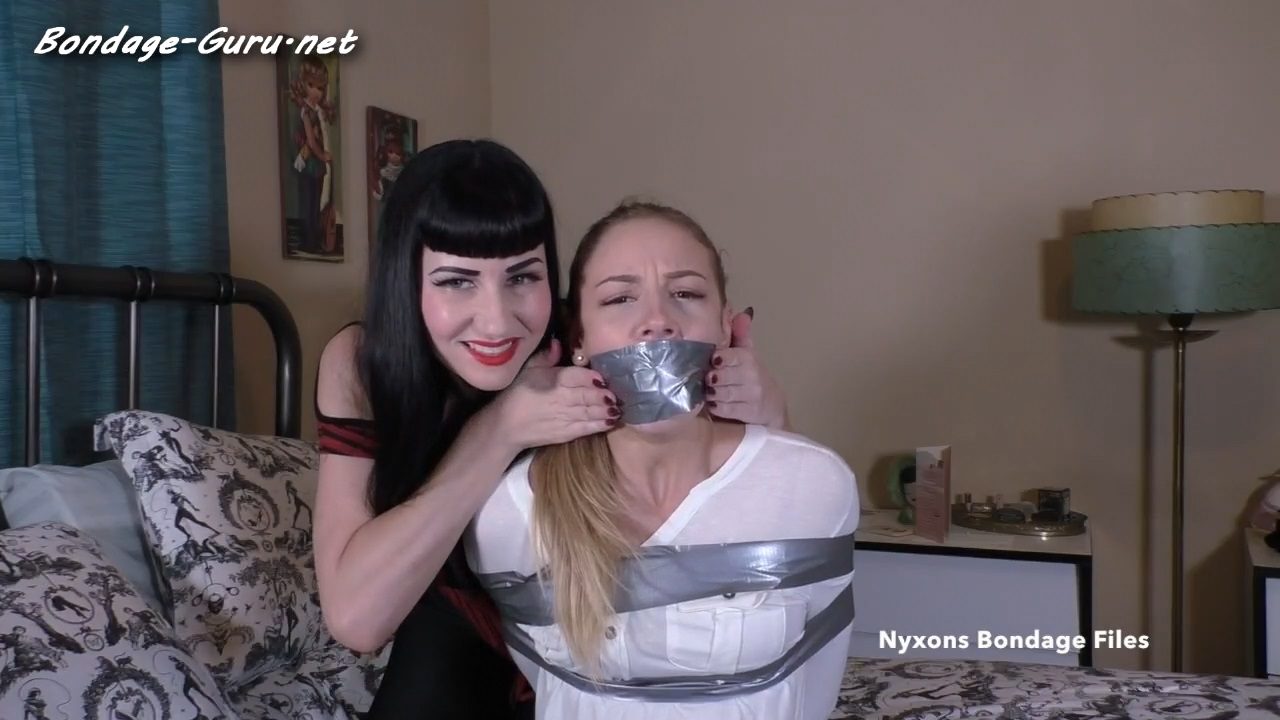 Naomi Swann… YouTube Challenge Gone Wrong – Nyxons Bondage Files
Naomi Swann… YouTube Challenge Gone Wrong – Nyxons Bondage Files
Nyxon & Naomi are filming a "What's In My Mouth" challenge for YouTube. Naomi explains to the viewers that she's going to be blindfolded, then Nyxon is going to choose random objects to stuff in her mouth, and Naomi will have to guess what the objects are. Nyxon places the blindfold over Naomi's eyes, then decides to tape her wrists behind her back, just in case. Then, Nyxon picks up a white sock, and places it all the way into Naomi's mouth. She clamps her hand over Naomi's mouth & then asks her what she thinks is inside. Naomi gives her response, but of course it's muffled & Nyxon can't understand what she's saying. Nyxon decides to keep the sock in Naomi's mouth a little while longer, and places a piece of duct tape over her mouth. Naomi struggles while trying to scream, "It's a sock!" through her tapegag, and finally Nyxon ungags her & removes the sock.
Nyxon notices some movement on the laptop, and leans over to read a new comment from a viewer, "Tape her whole body up & make her escape!". Nyxon laughs & agrees while Naomi frantically begins protesting, but Nyxon clamps her hand over Naomi's mouth silencing her. Nyxon then tells the viewers that they'll be right back.
The next scene opens up with Naomi completely taped, wrists, arms, upper body, legs & ankles. She struggles on the bed while protesting, and Nyxon takes a large pair of pink satin panties, and shoves them into Naomi's mouth. Next, she takes the duct tape & wraps it around Naomi's head a few times to secure the gag. Finally, Nyxon leaves Naomi to struggle on the bed & try to get free while the viewers get to watch through the webcam on the laptop.

Starring: Naomi Swann, Nyxon
Size: 525.79 MB
Duration: 00:15:01 min
Resolution: 1280×720
Format video: mp4
Preview:


Download link:
Naomi_Swann_YouTube_Challenge_Gone_Wrong.mp4