Mummified girl 1 hour real and dominated by Lex – ENGLISH – Bondage Kitties
Mummified girl 1 hour real and dominated by Lex – ENGLISH – Bondage Kitties
In this custom video…
Aly is a submissive looking for a dominant girl, she goes to Lex's place, one of the most famous dominas in town, she introduces herself, she tells Lex that she would like to be his domina, Lex laughs at her telling her – who are you? Aly pleads with him that she wants to be his slave, and Lex replies that she only has lifetime slaves, if she accepts she will have to pass a first test, Aly accepts her lifetime slavery and agrees to the test.
Lex takes rolls of yellow duct tape and asks Aly to be very still and quiet, he is going to mummify her, Aly excited by this opportunity, agrees and stays still, Lex starts tying her by the ankles, and tying all her legs tightly with duct tape, Lex gags her with tape to keep her quiet and continues tying her up, mummifying her whole body and her arms in mummy position, so that she is more restrained.
Aly stretched out on the stretcher, Lex takes off Aly's socks and puts them over her mouth so that she remains very quiet and cannot speak, she doesn't even want to be understood and gags her mouth with several turns of tape, he ties her whole body, from head to toe, only leaving her nose free so that she can breathe.
Your test has just begun, here we will see Aly's endurance with mummification and if she is ready, the video lasts approximately 1 hour of real mummification. While Aly is unable to move a muscle of her body, Lex takes the opportunity to do things with his new slave, he smokes while he watches her and thinks what he can do, he plays with a hitachi and his orgasm control, he plays with her feet caressing her mummified body…
Once the test is over, Lex wants Aly to continue with her bondage, starting with a punishment, he leaves her mummified on the stretcher, with a hitachi tied between her legs and pressed to her pussy at maximum power for Aly to be distracted while she is tied up.
Aly es una sumisa en busca de una chica dominante, va al local de Lex, una de las dominas más famosas de la ciudad, ella se presenta, le dice a Lex que le gustaría ser su domina, Lex se ríe de ella diciéndole – quién eres tú? Aly le suplica que quiere ser su esclava, y Lex le responde que ella solo tiene esclavas de por vida, si acepta tendrá que superar una primera prueba, Aly acepta su esclavitud de por vida y accede a la prueba.
Lex coge rollos de cinta adhesiva amarilla y le pide a Aly que se esté muy quieta y callada, la va a momificar, Aly excitada por esta oportunidad, accede y se queda quieta, Lex empieza atarla por los tobillos, y atando todas las piernas fuerte con cinta adhesiva, momificando entera de piernas, mientras Aly no puede con la excitación del momento y no se calla, Lex la amordaza con cinta para que se quede callada y sigue atandola, le momifica todo el cuerpo entero y los brazos en posición de momia, para que esté más restringida.
Estirada Aly en la camilla, Lex le quita a Aly sus calcetines y se los pone en la boca para que se quede muy callada y no pueda hablar, no quiere ni que se le entienda y le amordaza la boca con varias vueltas de cinta, le ata de cuerpo entero, de la cabeza a los pies, solo deja libre la nariz para que pueda respirar.
Tu prueba acaba de empezar, aquí veremos el aguante de Aly con la momificación y si está preparada, el video dura aproximadamente 1 hora real de momificación. Mientras Aly está sin poder mover ni un músculo de su cuerpo, Lex aprovecha para hacer cosas con su nueva esclava, fuma mientras le observa y piensa que puede hacer, juega con un hitachi y su control del orgasmo, juega con sus pies acariciándole el cuerpo momificado.
Una vez terminada la prueba, Lex quiere que Aly siga con su esclavitud, empezando por un castigo, le deja momficada en la camilla, con un hitachi atado entre las piernas y apretado a su coño a maxima potencia para Aly que se distraiga mientras este atada.

Starring: Aly, Lex
Size: 2.7 GB
Duration: 00:58:08 min
Resolution: 1920×1080
Format video: mp4
Preview: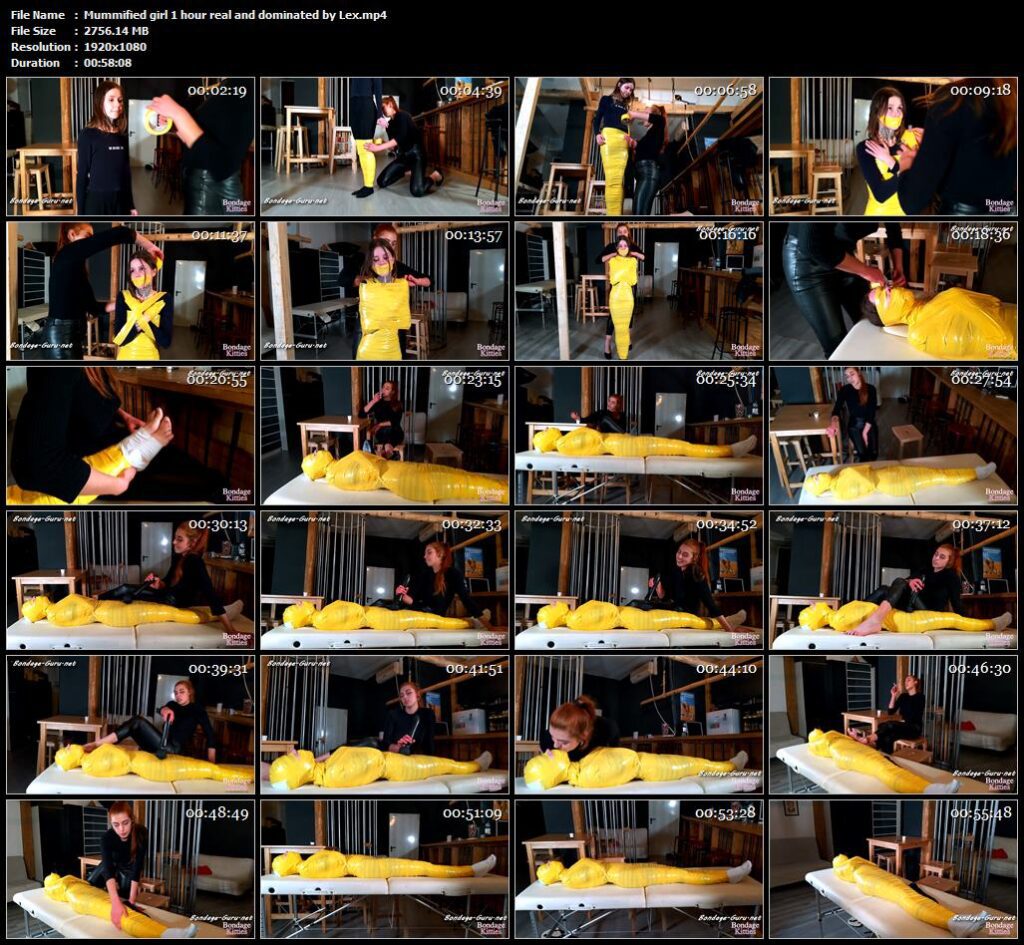 Download link:
Mummified_girl_1_hour_real_and_dominated_by_Lex.mp4