Kobe Lee's Fetish Paradise – The Plan: a bondage silk story with four women
Kobe Lee's Fetish Paradise – The Plan: a bondage silk story with four women
Jacquelyn Velvets cleavegags a chair bound Kobe Lee with a silk scarf. The baddie runs off when Bliss Dulce and Arielle Lane enter but they don't notice her in chair bondage as they're flirting. Kobe mmphs and does bondage struggling but they can't hear her over their giggles.
Bliss runs her fingers over Arielle's shiny knee boots as she asks if she wants to do some bondage play. It sounds exciting and they finally see Kobe. Removing her scarf cleavegag, they get distracted by each others knee boots unaware that Jackie Velvets is there.
The sexy blonde has them regag Kobe before Arielle's ordered to bind Bliss. With onscreen tying, she does tight bondage to prevent angering Jacquelyn. As Bliss tries to escape, Jacquelyn catches and shoves her to the couch. The curvy blonde ties Arielle's wrists behind her back. The satin cleavegags muffle their speech as they're ushered away and Kobe is left alone.
Bondage struggling allows Kobe to break free of her wrist bondage and she reaches down to remove her boot bondage. Jacquelyn returns with the backtalking damsels and reveals her true identity by pulling down her silky scarf. Kobe runs in and is in on the ruse! The backstabber helps do onscreen rigging so the two damsels are bound back to back. Backstabbing Jacquelyn, Kobe pushes her to the floor and gives a black rope hogtie. Mouth stuffing her silk scarf, she adds a silk scarf blindfold for sensory deprivation! Scolding Arielle, Kobe confronts her about stealing from work. She gropes Arielle's cleavage and grabs the password for her laptop.
Leaving them, it's a race to have the first bondage escape. Hogtied and helpless, Jacquelyn is not going anywhere as the other two run off.
Kobe grabs a needed memory stick from Arielle's room, unaware that they are sneaking up behind her. Arm holding her back to the living room, Kobe's gagged and bound for being a double crosser.
Arielle hides when hearing Jacquelyn enter. Kobe is bondage hopping in boots, begging for release. At the right moment Arielle and Bliss jump up, armholding Jacquelyn and pushing her down to be rope bound in a chair. Jacquelyn gag talks through her tight gag but goes quiet when Arielle and Bliss hogties and blindfolds Kobe.
Watching the bondage struggles of Jacquelyn and Kobe, Bliss and Arielle want to go back to their rope bunny games! It's fun until Bliss ties Arielle too tightly around her shiny black boots. Angry to be pulled into this predicament, Bliss gives Arielle a scarf mouth packing with a cleavegag before scolding all of these two timing bitches and leaving.
The three bondage babes struggle and wonder how they will get free from this strict bondage.

Featuring: Kobe Lee, Jacquelyn Velvets, Arielle Lane, Bliss Dulce
Size: 3.2 GB
Duration: 00:05:54 min
Resolution: 1920×1080
Format video: mp4
Preview: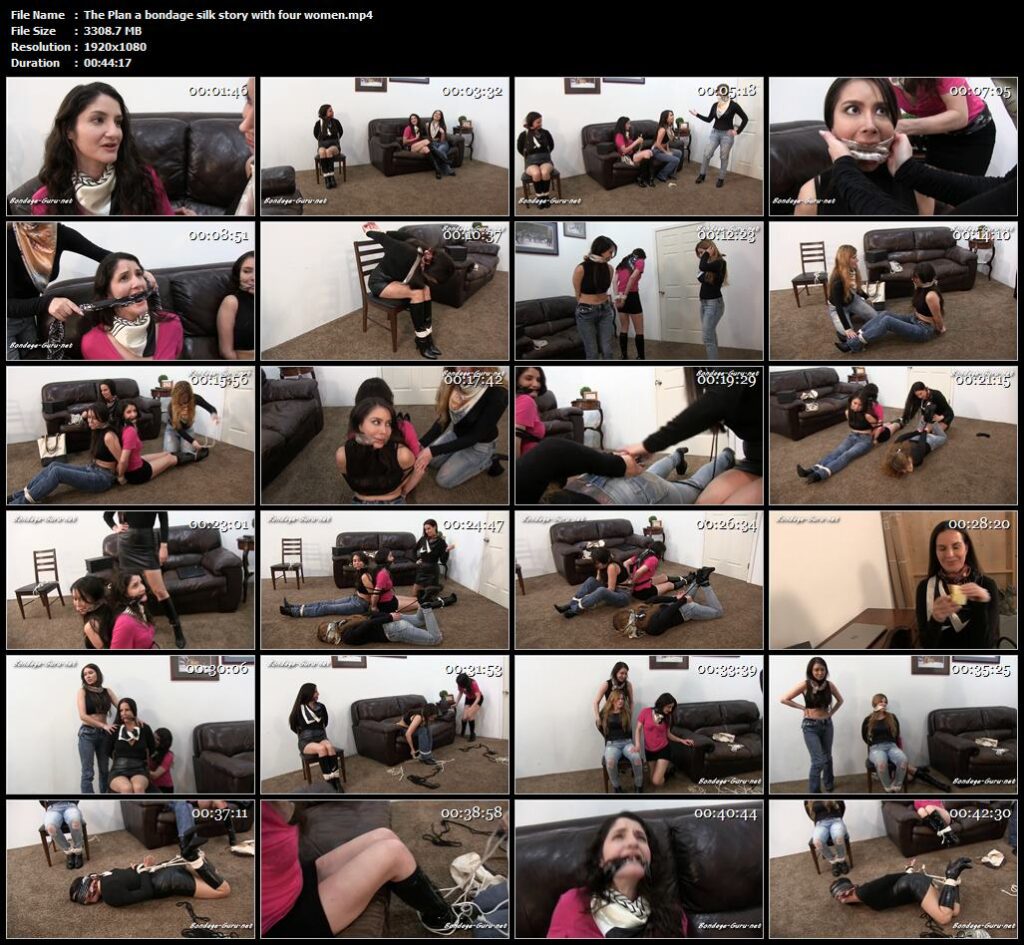 Download link:
The_Plan_a_bondage_silk_story_with_four_women.mp4