Kobe Lee's Fetish Paradise – Silk Scarf Bondage with Anabelle and Kobe
Kobe Lee's Fetish Paradise – Silk Scarf Bondage with Anabelle and Kobe
The movie begins with Anabelle tying a scarf to her head, she then sits down and reads her tablet. Kobe is also shown putting a scarf around her neck and waist.
Kobe enters the room and is talking to Anabelle but Anabelle seems very interested in what she is reading. Finally she tells Kobe what she is reading about. "It's an online detective story. The heroine is trouble and has been captured by the bad guy. She's been tied and gagged." Suddenly Kobe gets and idea, she wants act out the story and she wants to play the bad guy. Kobe takes the scarf that is around her neck and pulls it over nose in bandit-style. She hand gags Anabelle. Anabelle removes her hand and asks why. Kobe explains she recently lost an acting job because she was hesitant in a DID scene, and she wants more practice so she can secure more acting jobs. Anabelle agrees to help.
Kobe then gets some rope and ties up Anabelle. During the tying Anabelle tells Kobe if she wants to gag her with her scarf that would be okay. Kobe takes off Anabelle's scarf and cleave gags her with it. Kobe then takes Anabelle's second scarf and layers it over the mouth. Anabelle has a double layer gag. Anabelle struggles in her bonds.
Now it's Kobe's turn! Anabelle ties and gags Kobe. Anabelle leaves and returns with a bandanna. She removes Kobe's scarfs and stuffs the bandanna in her mouth. She cleave gags her with a scarf and puts a OTM silk scarf. Kobe struggles in her binds. She gets loose and then Anabelle hands the scarfs to Kobe and says, "now it's time to wash them"
THE END

Featuring: Anabelle, Kobe Lee
Size: 3.7 GB
Duration: 00:38:08 min
Resolution: 1920×1080
Format video: mp4
Preview: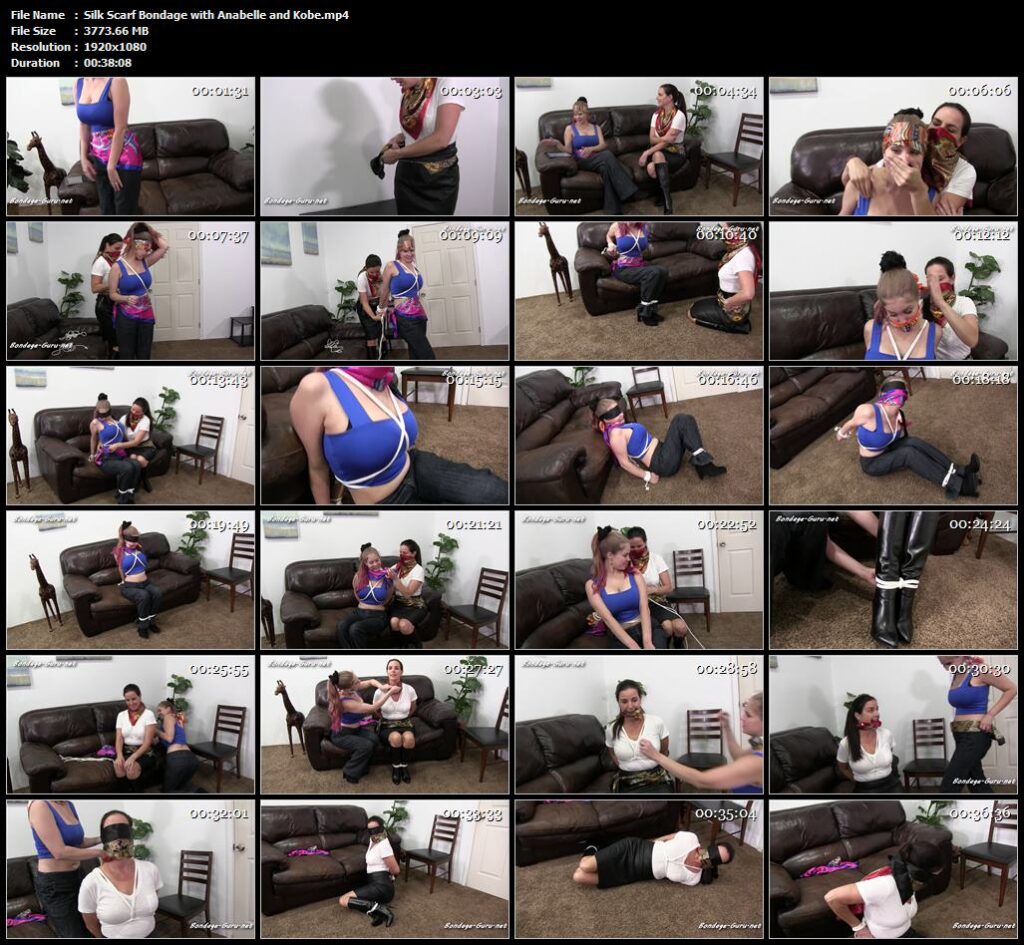 Download link:
Silk_Scarf_Bondage_with_Anabelle_and_Kobe.mp4