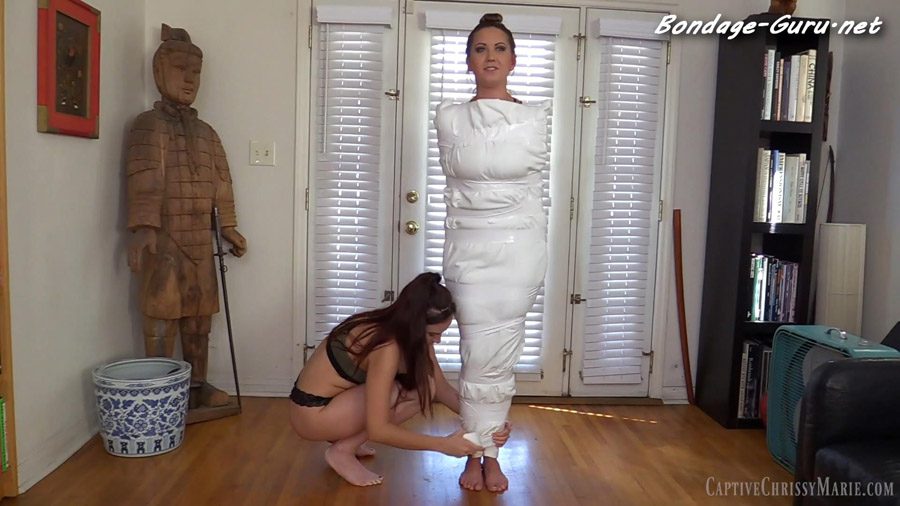 Captive Chrissy Marie – Rival Fitness Instructors HD
Captive Chrissy Marie – Rival Fitness Instructors HD
Chrissy and Lola are rival health club owners vying for dominance of LA's competitive fitness industry. Lola owns a larger gym while Chrissy just opened a new one, which is still very small. The scene opens with Lola just returning home from a meeting with Chrissy who wanted to merge their two clubs. Lola, who is very self-confident, declined the offer. She's thinking to herself (out loud) as she arrives that it was a smart move to reject Chrissy's offer. Suddenly Chrissy sneaks up behind her and clamps a white rag over Lola's mouth and nose, knocking her out. Chrissy lowers Lola's limp body to the floor then stands over her smiling maliciously.
Lola wakes up to find herself on her couch wrapped in plastic wrap and duct tape. She is now barefooted and in just her sports bra and underwear. Chrissy is sitting beside her smiling. Lola asks Chrissy what she is doing. Chrissy pinches Lola's cheek and replies "taking over your business and you're going to help". She explains that she will force Lola to call her lawyer and tell her that she is going on vacation and that Chrissy will take over operations at the gym while she's away. While Lola is her prisoner Chrissy will merge their two gyms, with Chrissy running both. Lola begs Chrissy to let her go and not to make her do this. Chrissy says that if Lola doesn't give her lawyer these instructions things will get a lot worse for her. Lola reluctantly agrees. Chrissy uses Lola's phone to call her lawyer and holds it to Lola's ear. Lola gives her lawyer the instructions. Chrissy ends the call once the instructions are given, gently pinches Lola's nose and says "Good girl. You're going to make me a rich woman." Lola again pleads for Chrissy to let her go. Chrissy tells her to be quiet and that she's going to gag her now. Lola obeys and Chrissy gags her with a few layers of white duct tape. Chrissy then gets up to leave, telling Lola that she's going to Lola's gym to start the takeover. Once Chrissy exits Lola starts to struggle to escape.
Now we see Lola sitting on the couch. She has just freed herself and reaches under the couch and grabs her secret weapon. She says to herself how she will get revenge on Chrissy. Chrissy then enters and is surprised and scared to see that Lola has escaped. Lola threatens Chrissy, who puts her hands up with a frightened look on her face. Next thing she knows Chrissy is mummified in a white blanket with her bare feet exposed and bound with white tape. Lola is putting the last round of tape around Chrissy's ankles while Chrissy watches her in fear. Lola stands up, gently pinches Chrissy's nose and says "that should hold you." She then forces Chrissy to hop over to the couch, where Lola helps her lie down. Chrissy looks down at her wrapped body and tries to apologize. Lola just tells her to get comfy because she will be there for a while. Then Lola gags her with several layers of white duct tape. Once Chrissy is gagged Lola explains her plans. She is going to take over Chrissy's gym. In the meantime, Lola will keep her prisoner for a few days to teach Chrissy not to mess with her. She will let Chrissy work for her, but only if she behaves herself. Chrissy obediently nods that she will. Lola taunts Chrissy, clearly enjoying having her wrapped up. At one point Lola threatens to tickle Chrissy's bare feet. Chrissy shakes her head and feet in protest and begs Lola through her gag not to tickle her, so Lola agrees not to. Throughout the scene Lola constantly strokes Chrissy's body and pinches her face and nose as she explains what she's going to do with her. Chrissy doesn't struggle knowing she must be obedient so that Lola will eventually let her go.

Starring: Chrissy Marie, Lola Anderson
Size: 616.96 MB
Duration: 00:12:49 min
Resolution: 1920×1080
Format video: mp4
Preview:


Download link:
Rival_Fitness_Instructors.mp4