Cali Logans Bondage Boutique – Cruel and Unusual Interrogation
Cali Logans Bondage Boutique – Cruel and Unusual Interrogation
The scene fades and we see Terra Mizu tied up in a chair struggling with a cleave gag keeping her quiet. Cali Logan appears and proclaims that she has looted her EX-boyfriend's house and she gladly passes the reigns of putting up with his to the home-wrecking bitch. She has some fun fondling Terra tits then goes off to pawn all of his stuff.
The next day, Cali goes back to work as though nothing happened. She was really excited that someone has called about one of her buildings for sale. Unfortunately, when the potential buyer arrives, it's none other than a very angry Terra Mizu. She has come for Revenge!
The next thing Cali knows is she is forced to strip to her underwear and tied to a chair around a post. No one can hear her cries for help with the huge ball of cloth stuffed in her mouth. Terra threatens her and begins to interrogator about where the money went. Cali states that she has no idea what Terra is talking about which simply makes her more Angry. Terra decides she is going to need more intense interrogation tactics to get the information out of Cali.
Now zip tied at her ankles and wrists, Cali is kneeling in front of a bucket of water. Terra once again arrives and asks where the money is. Of course, Cali has no idea what she is talking about and the waterboarding begins. This last several minutes until Terra's alarm goes off and she realizes that she needs to attend to some business. She brings Cali to a pole and ties her tightly to it for safekeeping.
Terra once again returns and throws Cali into another bondage position. This time she is tied to a table with her legs spread eagle and arms over head. Terra wets her down and gives her one last chance to tell her where the money is. Since Cali says she does not know, Terra produces the electric tazer and begins to shock Cali over and over again.
Cali pretends to knock out from this and Terra begins to untie her to move her limp body to the next location. This gives Cali the opportunity to grab the shocker and shove it into Terra's neck. She is stunned just enough for Cali to get zip ties around her wrists and run off to call the police.

Starring: Terra Mizu, Cali Logan
Size: 2.1 GB
Duration: 00:28:48 min
Resolution: 1920×1080
Format video: mp4
Preview: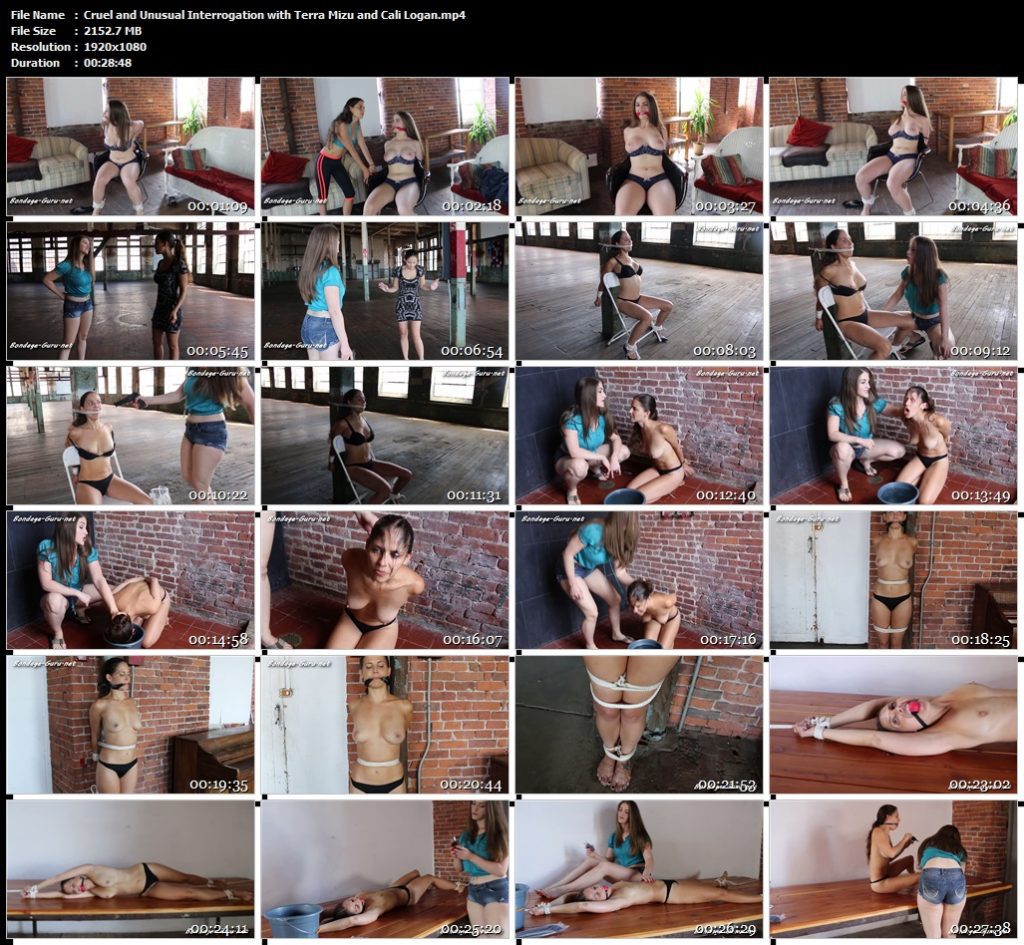 Download link:
Cruel_and_Unusual_Interrogation_with_Terra_Mizu_and_Cali_Logan.mp4