Bondage Kitties – Poker loser pays her debt with facesitting – SPANISH
Bondage Kitties – Poker loser pays her debt with facesitting – SPANISH
Lala and Scarlett are playing Poker, Lala has good cards and goes all in, but Scarlett has a better one and wins the game, Lala has nothing to pay her debt with and Scarlett thinks of another way she can pay her debt.
She ties her wrists and takes her to her room, Lala knows that nothing good awaits her but she has to obey at all times if she wants to pay off her debt. He pushes her on the bed and ties her hands in the leg so that she can't defend herself with them and they are fully extended above, he gags her with a tight ballgag and tight to her mouth and then goes for more rope, while Lala, still doesn't know what will happen to her. Scarlett ties her legs together, bringing her thighs together at the ankles, making a futomom on each leg and then tying them to the legs very tightly so that they are completely open and she can't close them at any time.
Now it's time for Scarlett to punish her by playing with her, she takes off her pants and sits on Lala's face, rubbing her pussy with Lala's nose, she can barely breathe and can only smell Scarlett's pussy through her bodysuit, then it's the turn of her ass, she puts her sexy ass also on her face and nose, Lala is gagged and can only breathe through her nose, which right now is on Scarlett's ass.
Once the game is over, Scarlett unties her, but only makes her believe that the punishment is over, she ties her hands behind her, legs tightly together and then finally hogtied , joining her ankles with her hands, and her feet with her head, too much tension for Lala to be uncomfortable for hours, she can barely move even if she tries to struggle, it is completely useless, Lala could never escape from those bindings, Lala looks very humiliating in that position while drooling and trying to beg…. You better not play Poker with Scarlett or you know what can happen to you.
Lala y Scarlett están jugando a Poker, Lala tiene buenas cartas y va con todo, pero Scarlett tiene una mejor y gana la partida, Lala no tiene con que pagar su deuda Y Scarlett piensa otra manera con la que puede pagar su deuda.
Le ata las muñecas y se la lleva a su habitación, Lala sabe que no le espera nada bueno pero tiene que obedecer en todo momento si quiere saldar su deuda. La empuja en la cama y le ata las manos en la pata para que no pueda defenderse con ellas y le queden totalmente extendidas arriba, la amordaza con una ballgag bien apretada y ajustada a su boca y luego va a por más cuerda, mientras Lala, sigue sin saber que le pasará. Scarlett le ata las piernas, juntando los muslos con los tobillos, haciéndole un futomomo en cada pierna y luego atándolas a las patas con mucha tensión para que queden completamente abiertas y no pueda cerrarlas en ningún momento.
Ahora es el momento de que Scarlett la castigue jugando con ella, se quita el pantalon y se sienta en la cara de Lala, restregando su coño con la nariz de Lala, ella apenas puede respirar y solo puede oler el coño de Scarlett a través de su body, luego es el turno de su culo, le pone su sexy culo tambien en la cara y nariz, Lala está amordazada y solo puede respirar por la nariz, que ahora mismo está en el culo de Scarlett.
Una vez acaba el juego, Scarlett la desata, pero solo le hace creer que el castigo a terminado, le ata las manos detrás, las piernas bien juntas y apretadas y luego finalmente hace un hogtied , juntando los tobillos con las manos, y los pies con la cabeza, demasiada tensión para que Lala este incómoda durante horas, apenas puede moverse aunque intente luchar, es completamente inútil, Lala nunca podría escapar de esas ataduras, Lala se ve muy humillante en esa posición mientras babea e intenta suplicar… Mejor no juegues al Poker con Scarlett o ya sabes que te puede pasar.

Starring: Lala, Scarlett
Size: 1.5 GB
Duration: 00:24:02 min
Resolution: 1920×1080
Format video: mp4
Preview: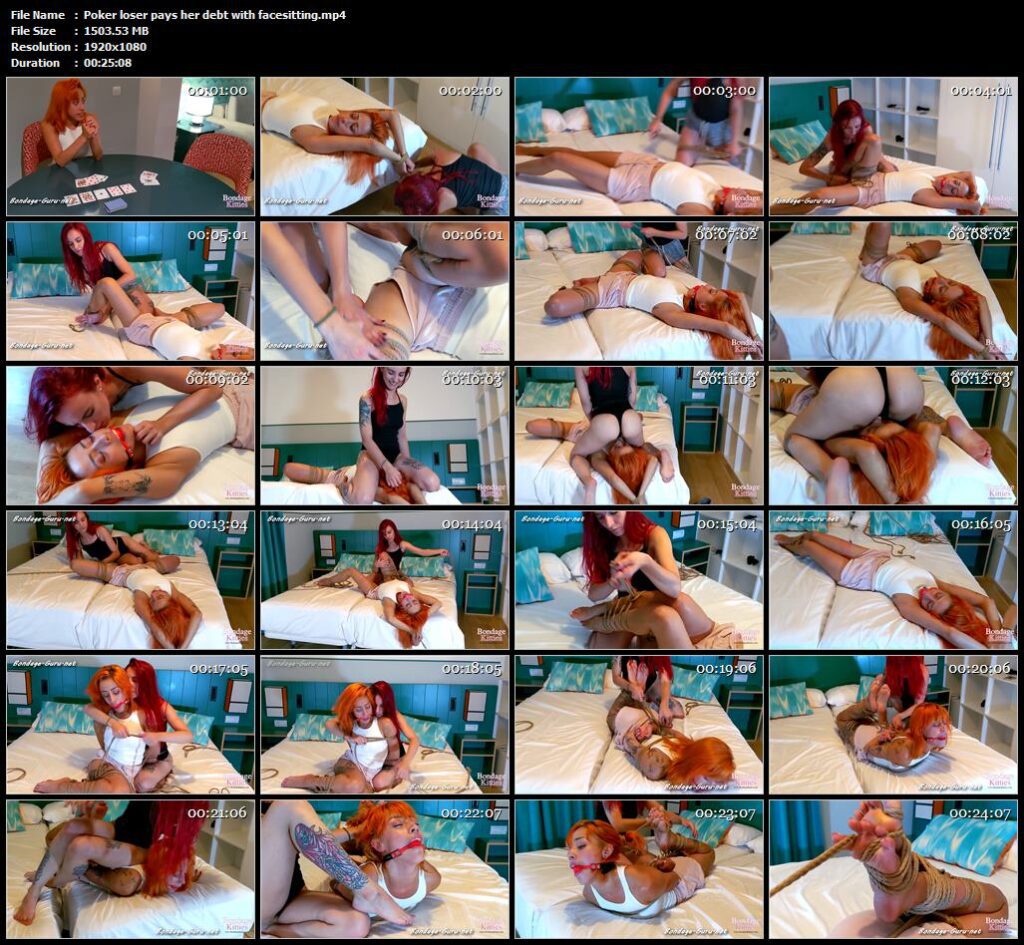 Download link:
Poker_loser_pays_her_debt_with_facesitting.mp4