Bondage Kitties – 2 sexy girls in leather + tape bondage + foot worship – SPANISH
Bondage Kitties – 2 sexy girls in leather + tape bondage + foot worship – SPANISH
In this custom video, Lex and Aly are two singers who go to an audition for a Grease musical, they are both dressed in leather, Lex has found out that she has not been chosen, but that Aly has got the part, she is very angry about it and enters Aly's apartment, who is home alone. Lex overpowers Aly from behind and grabs her by pressing his hands tightly over Aly's mouth and nose, she tries to scream, but Lex pulls out a ballgag and gags her.
Now he pushes her to the ground, pulls out a pvc duct tape and ties Aly's hands behind her back tightly, then ties her upper body with a lot of tape almost to the end of the roll and mummifying her, he also mummifies her legs with a lot of tape. Aly can barely move anymore as she tries to moan, she is mmphing and struggling as Lex laughs at her. Lex is now self-gagging, it's her fetish.
Lex now makes Alym smell his stinky, sweaty feet by pressing them over her mouth and nose for quite some time. He then removes Aly's gag and makes her lick her feet, indroducing the foot into her mouth. Aly is disgusted by the smell and taste but has to lick Lex's feet.
When she is done, Lex takes her socks and presses them over Aly's mouth and nose puts them in her mouth, gagging her with duct tape with lots of twists, she makes a huge wrapgag. Lex does the same gag on herself, gagging herself.
Lex ends up sitting on the couch watching Aly try to struggle helplessly and laughing at her.
En este video custom, Lex y Aly step-son dos cantantes que van a una audición para un musical de Grease, las dos van vestidas de cuero, Lex se ha enterado de que no ha sido elegida, sino que Aly ha conseguido el papel, está muy enfadada por ello y entra en el apartamento de Aly, que está sola en casa. Lex domina a Aly por detrás y la agarra presionando sus manos fuertemente sobre la boca y la nariz de Aly, ella intenta chillar, pero Lex saca una ballgag y la amordaza.
Ahora la empuja al suelo, saca una cinta aislante de pvc y ata las manos de Aly detrás de su espalda con fuerza, luego ata la parte superior del cuerpo con mucha cinta casi hasta acabar el rollo y momificandola, también momifica las piernas con mucha cinta. Aly ya apenas puede moverse mientras intenta quejarse, está mmphing y luchando mientras Lex se rie de ella. Lex ahora se autoamordaza, es su fetiche.
Ahora Lex le hace oler sus pies apestosos y sudados a Alym presionandolos sobre su boca y nariz durante bastante tiempo. Luego le quita la mordaza a Aly y le hace lamer los pies, indroduciendo el pie en la boca. Aly está disgustada por el olor y el sabor pero tiene que lamerle los pies a Lex.
Cuando termina, Lex coge sus calcetines y los presiona sobre la boca y la nariz de Aly se los mete en la boca, amordazandola con cinta adhesiva con muchas vueltas, hace un enorme wrapgag. Lex hace la misma mordaza con ella misma, autoamordazandose.
Lex termina sentada en el sofá observando como Aly intenta luchar sin poder hacer nada y riendose de ella.

Starring: Lex, Aly
Size: 1.3 GB
Duration: 00:21:52 min
Resolution: 1920×1080
Format video: mp4
Preview: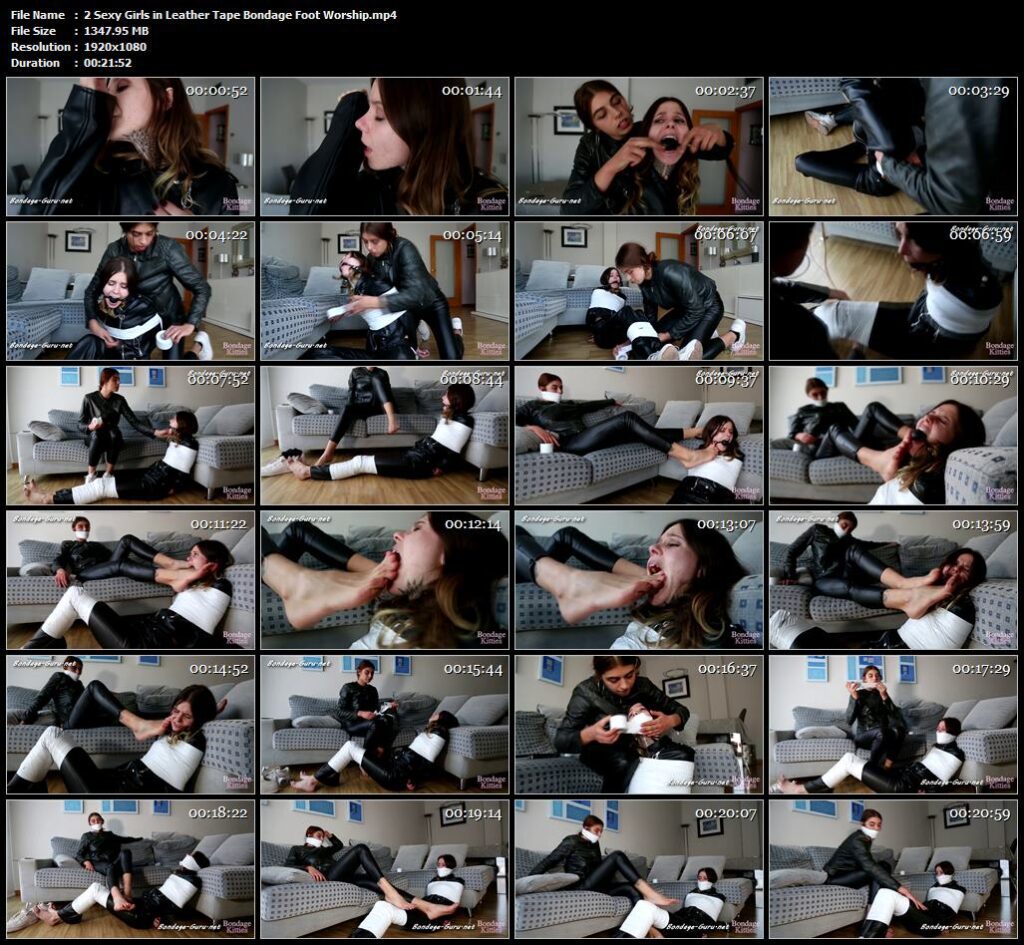 Download link:
2_Sexy_Girls_in_Leather_Tape_Bondage_Foot_Worship.mp4