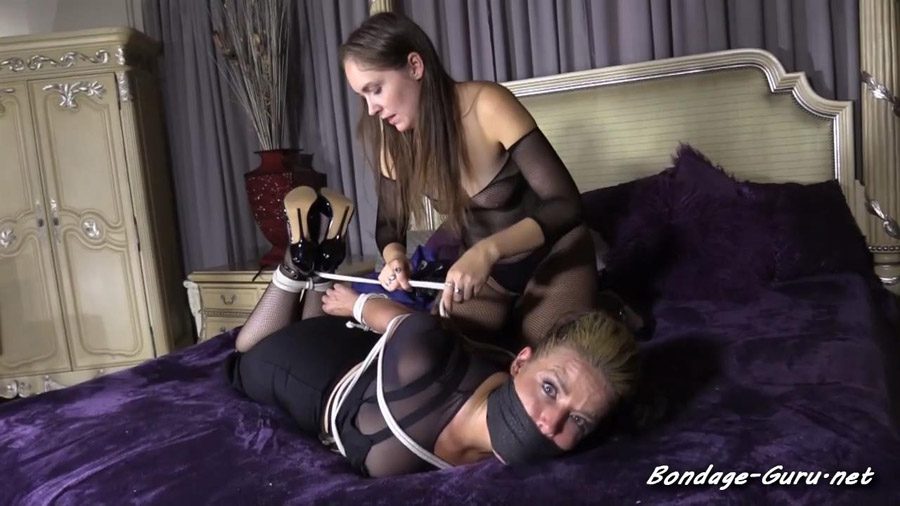 Bondage: JJ Plush, Born to be Bound – Lady burglars….
Bondage: JJ Plush, Born to be Bound – Lady burglars….
Rachel and JJ aka Fantomasia are both burglars. Fantomasia doesn't ever use a weapon and depends on her smarts alone. Rachel is a more traditional villain and carries a weapon. Both women stumble upon the same home. Fantomasia is caught off guard by the armed villain and does as instructed. She is tied at the elbows and ballgagged and tethered to a post while Rachel searches the home. After some time she comes back she stuffs Fantomasia mouth with two pairs of panties from the dresser of the home and she wraps her head tightly with vetwrap. She is forced to jump and shake her boobs about and then she is left hogtied on the bed. Rachel leaves with the loot and Fantomasia is left there to fend for herself. Not wanting to be discovered by the homeowners she picks at a knot that was left within reach on the hogtie rope. She is able to get out of it and get off the bed and hop out. Best believe Fantomasia will get revenge on dear Rachel.

Starring: JJ Plush, Rachel Adams
Size: 594.48 MB
Duration: 00:15:19 min
Resolution: 1280×720
Format video: mp4
Preview:


Download link:
Lady_burglars.mp4