Bondage: JJ Plush, Born to be Bound – I followed her all day and it was worth it!
Bondage: JJ Plush, Born to be Bound – I followed her all day and it was worth it!
I saw this cute young girl with a foreign accent at the beach, she was wearing a flowery dress and suntan sheer pantyhose with sneakers. How adorable, you don't see that much at the beach even in the winter. I watched her and two older men all evening. They seem to be having a great time, they were hanging on her every word but they were not getting very touchy with her. I wondered if they would all go back to one room together, maybe I could peek in the window.. but she said goodnight and went to her own room at the hotel. I knew she had been drinking all day in the sun and that she would soon be asleep. I looked like a normal lady so I went to the front desk pretending to be buzzed and said I had lost my room key card. I gave my room number, the front desk girl asked my name and I just said Diamondly as I pretended to have something important happening in my phone. I heard the guys call her Diamondly a few times, but I didn't get a last name. I entered her room and she was out. If she hadn't been my plan was to apologize sincerely and say I was in the room next door and wow there must be a problem with the keys. How scary! She was indeed asleep so I overpowered her and tied her up while she was still wearing that cute little dress and pantyhose. She gets her mouth stuffed, head wrapped tightly with vetwrap and white tape. I put her arms up in an unusual way and tie and tape them. I hogtie her on the bed as she writhes around. I pose for photos with her and I leave her there helpless on the bed while I go to the hotel bar to help myself to another cocktail. Hhhmmm what else will I do to this adorable helpless young tourist?
Side note, this was my last day in Florida which I always end with a night at the beach. After a lovely day of frolicking it was clear that Diamondly wanted to be tied up and I thought it would be fun to make a last minute clip. I didn't have any lights with me since I had been using the ones at Eric Cains studio on this trip, so I just used what was available in the hotel.

Starring: JJ Plush, Diamondly
Size: 814.8 MB
Duration: 00:18:20 min
Resolution: 1920×1080
Format video: mp4
Preview: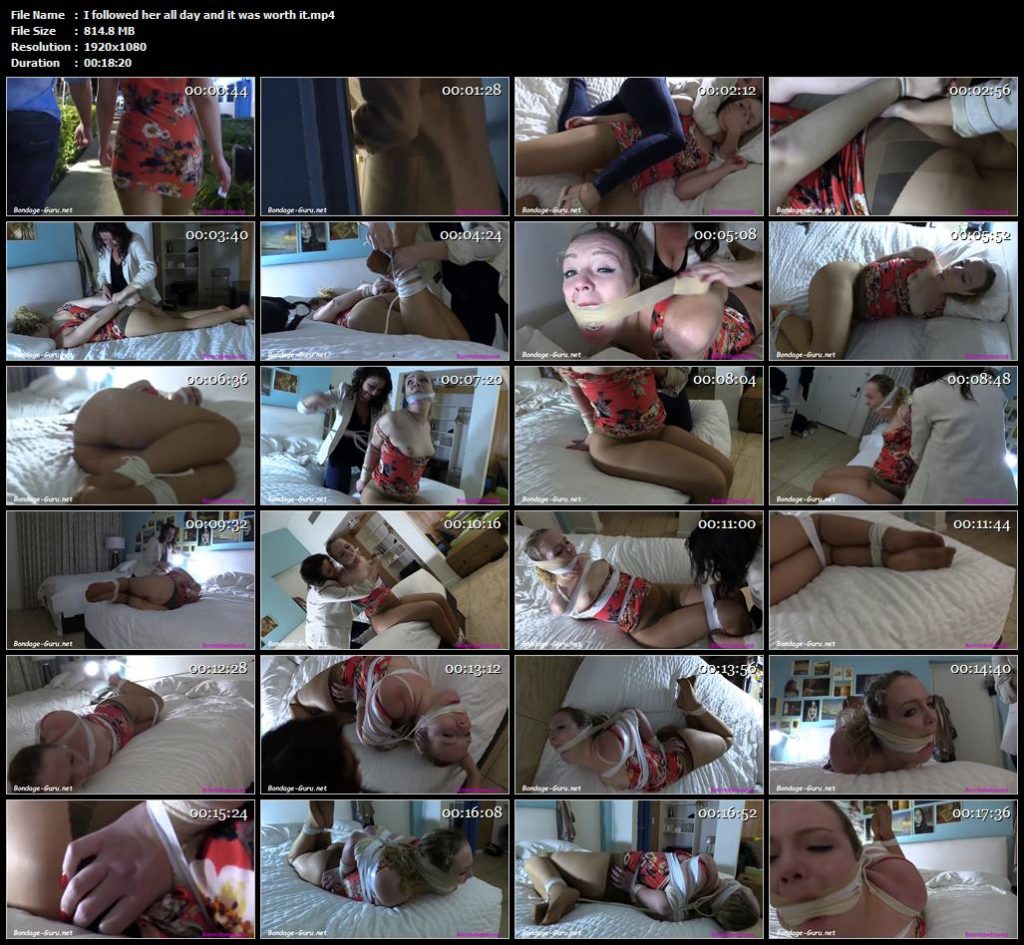 Download link:
I_followed_her_all_day_and_it_was_worth_it.mp4