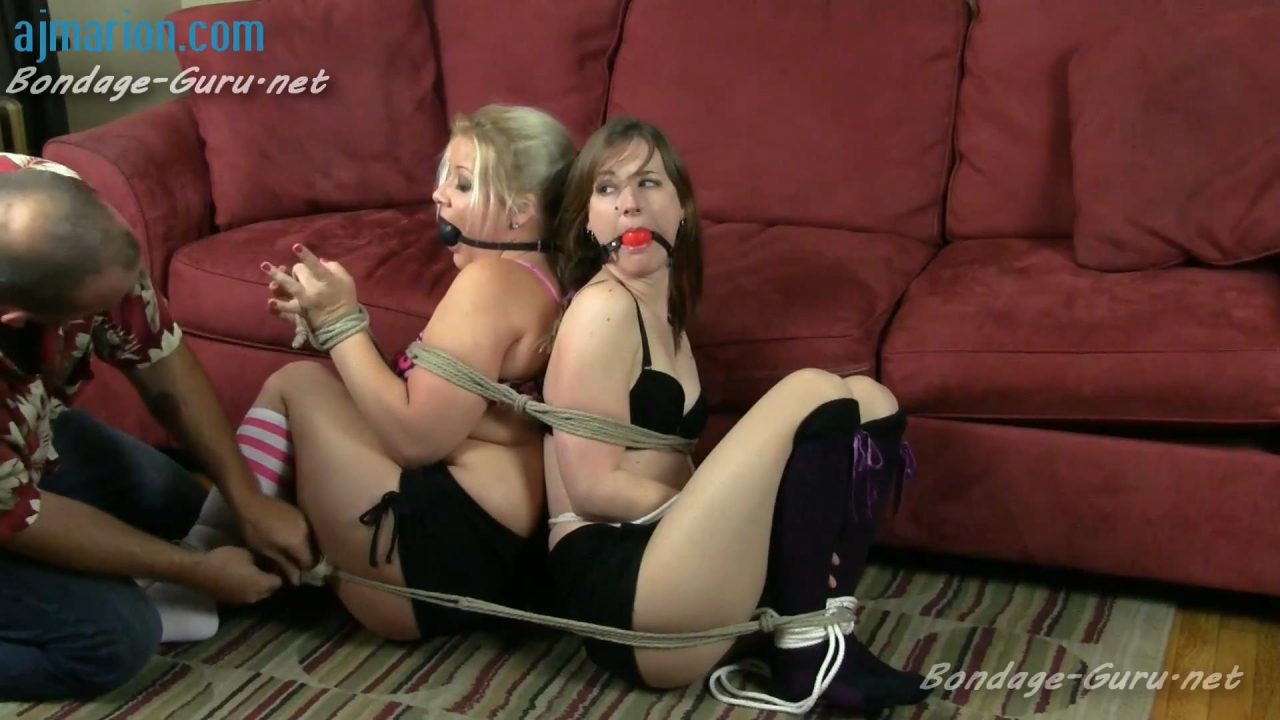 0139 – AJ Marion & Whitney Morgan – ajmarion . com
0139 – AJ Marion & Whitney Morgan – ajmarion . com
Whitney Morgan comes to AJ Marion's house for a sleepover late one afternoon. The girls get comfortable for a night of pillow fights, movies and bondage, of course! They are lounging on the couch giggling and having a fantastic time when AJ suggests they get to some ropework. Whitney loves rope bondage so she agrees enthusiastically.
AJ starts by binding Whitney's wrists in front of her. She moves on to tying her ankles tightly so there won't be any running away. She moves on to gag Whitney with a huge black ballgag and straps it in deeply, making sure there are only moans and squeals coming from out of her mouth. AJ runs her fingers all over Whitney's smooth, creamy skin and encourages her to lie down on the couch face down so she can get to Whitney's beautiful thighs and ass. Tickling is definitely on the menu so Whitney gets a fair bit of that as well.
Just as AJ seems to be getting geared up for some real serious play, a bastard sneaks up on her and grabs her from behind, holding her arms back. He pulls her arms back forcefully and begins tying her elbows behind her back to keep her from fighting too much. It turns out he's done this before and had gone to jail for breaking in. He decides to move her wrists in front of her as well and ties them that way, releasing her elbows.
Whitney kicks at the man trying to help AJ but it doesn't seem to work out so well. AJ starts kicking him and he encourages her to do so. While Whitney is kicking him he starts tickling her to keep her from doing it too much, interfering in his bondage game. AJ gets up to leave and the man grabs her and drags her back to the ground. AJ headbutts at him but he manages to dodge her enough that she gives up. Shoving her over he ties her ankles as well. She kicks him off about the time her ankles are bound.
She is helped up to the sitting position and that's when he ballgags AJ. The women are seated back to back and he binds them together, facing away from each other. He pulls ropes up to hold their legs in place, even as AJ fiddles with the rope trying to get free. He cinches it down firmly even as Whitney manages to get her wrists halfway to freedom. The man reties them where she can't reach the knot and then wanders off to the kitchen to get a sandwich.
The two girls then begin their escape, even with their necks tied to one another. They take a long while to get free but once they do, revenge is on their minds. Whitney suggests they tackle the man and tie him up until the cops get there to take him away again.

Starring: AJ Marion, Whitney Morgan
Size: 825.85 MB
Duration: 00:06:01 min
Resolution: 1920×1080
Format video: mp4
Preview:


Download link:
0139_AJ_Marion_&_Whitney_Morgan.mp4