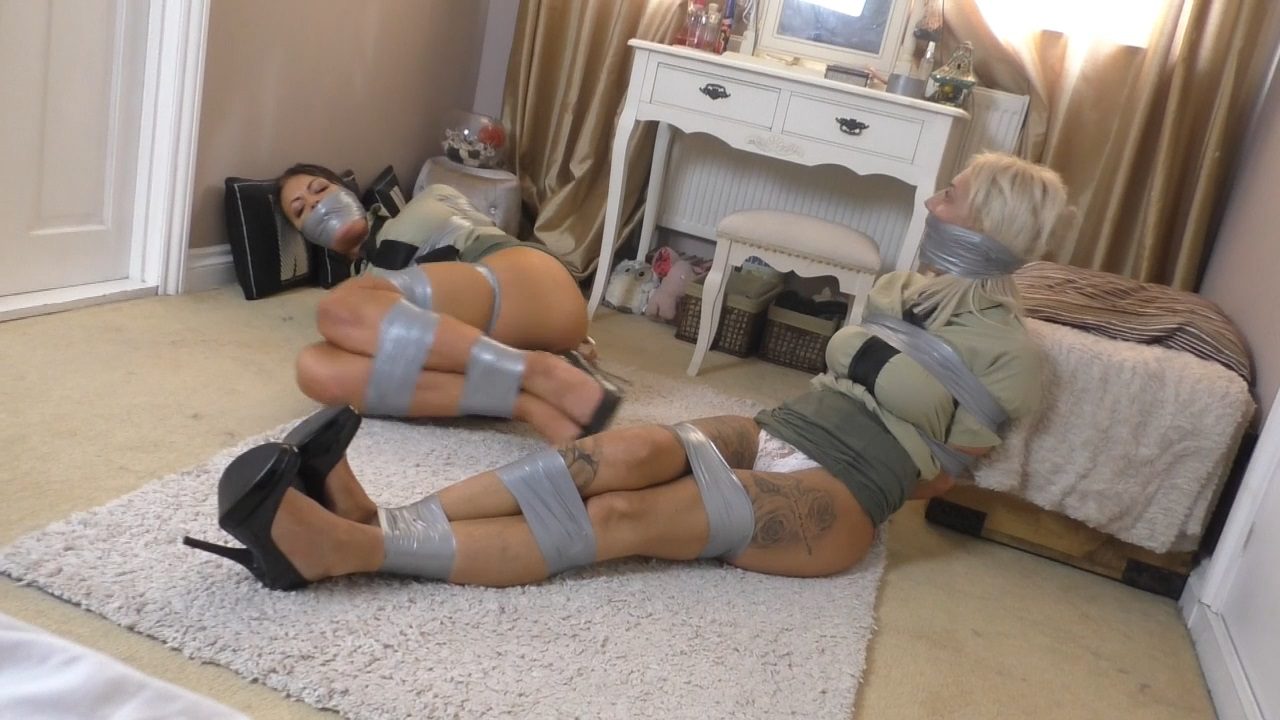 Georgie & Roxi in: Militarily Compromised: Securing the Dragon-Mantis Docs – & the Two Buxom Guard Beauties in the Way! (Full Adventure)
Georgie & Roxi in: Militarily Compromised: Securing the Dragon-Mantis Docs – & the Two Buxom Guard Beauties in the Way! (Full Adventure)
Sensational ladies in uniform pop up with some frequency here at Borderland Bound, and you'll be delighted to witness two epic military maidens getting primed for and INSANELY hard tape binding and gagging. They don't know it yet, believing as they do that they are more than a match for any nefarious type(s) who might be after what they are guarding, but they are about to be overpowered and left raging into gags so fearsome we almost can't describe them – but will!
It's a chilly afternoon and two busty beauties, soldier-babes both, are seated on a sofa in one of their safe houses on the Cornwall cost. The salty sea breeze permeates (not that you'll be able to tell that by watching this, which is why WE are telling you here) as the babes, in their neat shirts and ties and heels and short skirts (even a beret for Georgie – nice) discuss a matter of utmost importance! The head of their command has charged them with watching over some top secret documents pertaining to the storied Dragon-Mantis Project, a program in the late stages of development which if successfully implemented will bring a whole new meaning to tactical warfare! What's that, you don't want us to go into further detail on the project itself? Ah, ok, that's fine then. Phew!
Crossing her strong, tanned thighs, super-hot brunette Roxi, the ranking officer, instructs Private Georgie to head up to the top of the house and check on the docs. Georgie is keen to impress and assures the superior chick that all will be well. Roxi then wants her back down her at her post. Thing is, she doesn't come back. What in DICKENS might the girl be up to up there? As it turns out, she has been waylaid by a masked interloper who knows more than they do about what they are minding! Ordered away at persuader-point, she is held captive in an upstairs room to use as leverage with Roxi. When the latter comes up to investigate, eh has them both!
Ordered to kneel on the floor, hands still up, the intruder one by one binds their wrists strongly with silver tape, then their ankles. He doesn't care much for their mouths so slaps a couple of tape strips over Georgie's lips while he crams a thick sock into Roxi's mouth. She is then brutally cleave wrap gagged into compliance while she strains and gggggmmmmpppps face down on the deck. Georgie is next, and the fiend even has the beautiful blonde sniff at it first before it gets shoved in. Then he mercilessly restrains her entire lower face, cocooning it the way you love. As her gorgeous blue eyes bulge in shock, he slams her to the ground and wraps her up along with her squirming superior.
Satisfied that both women are bound and gagged as effectively as possible, with no way of them escaping, he locks them inside the room and heads straight for where he knows the docs are being kept. Meanwhile, the two hugely inconvenienced young ladies up there are rolling around all over the room, stunned by the incredible tape assault against them. Did this guy REALLY have to do them both up like this? We'll let YOU answer that, oh salivating viewer. But these are two military babes who are not used to lying still. They fight it and fight hard, with Roxi ultimately making it up on top of a foot stool, while Georgie tries repeatedly with her long painted nails to get her colleagues bindings ripped.
The girls are nearing some success (so they think) when the raider is back. Enraged at their efforts to curtail his plans, he hastily over wrap gags a bewildered Roxi right into the middle of next week. As she swoons, he gropes and hogbinds her while Georgie – sporting a huge face mask gag herself, watches in awe. Satisfied that the clearly ambitious Roxi will NOT escape from that decisive tape-pigbinding, he bids the fuming guards goodbye and leaves, locking them in once more. With him gone, along with the Dragon-Mantis papers, you can be sure the girls are RAGING. Watch them go at it, hard, gag babbling remarkably while we leave the rest of this to your imaginations before seeing it all for yourselves. We'll say this though: Despite the brutality of the tape bondage here, and the clear shock of it all to the desperate captives, their energies never wane. It's a show they are giving, after all, and they'll wrest every last drop of your attention with it. Just amazing.

Starring: Georgie, Roxi Lloyd
Size: 1.18 GB
Duration: 00:20:40 min
Resolution: 1280×720
Format video: mp4
Preview:


Download link:
Militarily_Compromised.mp4