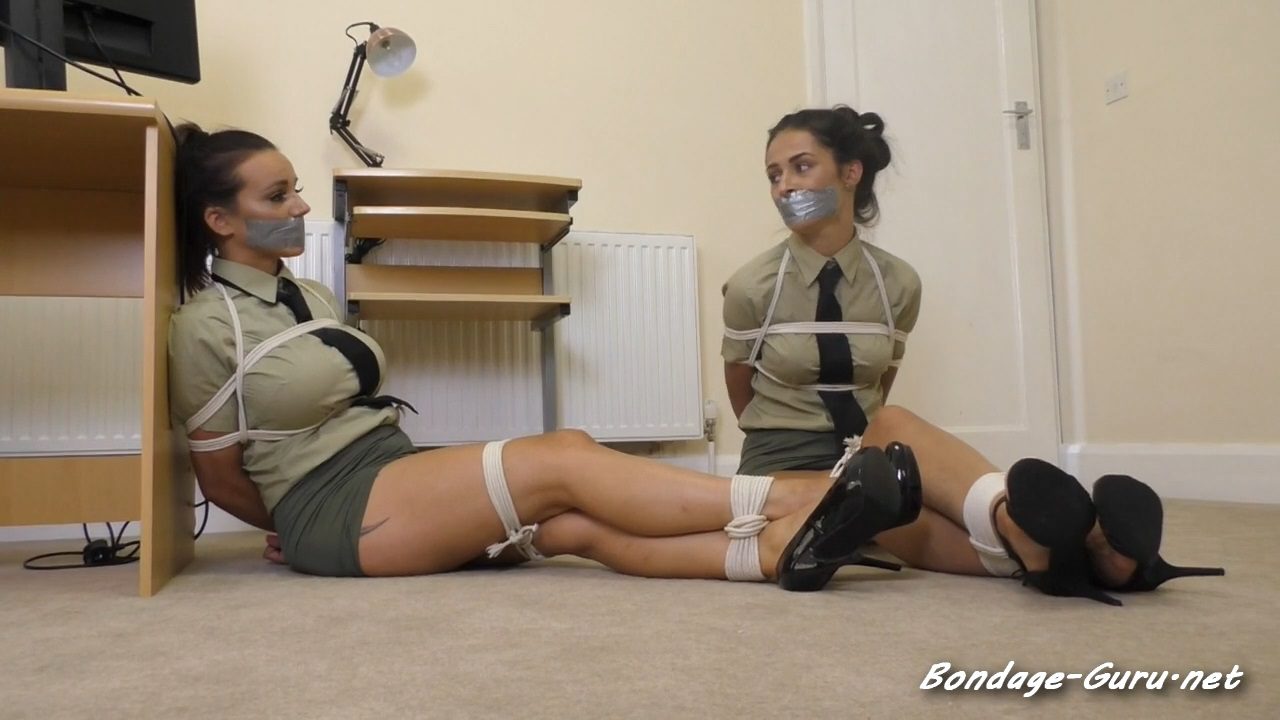 Demi & Jade in: Bound & Gagged in the Barracks: The MatchMaker Report is Gone & the Guards Are All Tied Up in Here! (Full Caper)
Demi & Jade in: Bound & Gagged in the Barracks: The MatchMaker Report is Gone & the Guards Are All Tied Up in Here! (Full Caper)
Gorgeous girls of authority, kitted out in in crisp uniform; wearing neck ties, tiny khaki skirts, tight-fitting shirts and gleaming black high heels, hair all done up and ready for business, presently struggle tightly gagged and tied in the office of SheepsWill Army Barracks. They urgently moan and mumble behind very sticky silver tape, which some scoundrel has slapped over their lips, effectively silencing them. With the hotties bound stringently with white rope, he's even tied their legs in such a way that they can't hop off and potentially alert others to the robbery! Smart. We like that. Now, to these stunning gagged and bound ladies, shall we?
"What in BLAZES is going on here?? And WHERE is the MatchMaker Report!!?" Brigadier Godfrey PigSlime is plain furious at the discovery of the two beautiful trussed up guards and a clearly raided barracks. While everybody else has been out celebrating the completion of duties pertaining to a recently secured defence contract with the MOD, the two lovely guards girls, played by amazing Jade and Demi, have proven they are not to be counted on again. If, with all of their training, they can allow themselves to be overpowered by some masked gimp like this, there's little hope for them. We'll go back to earlier in the evening to get the full story!
Dutifully monitoring surveillance of the barracks, the two leggy guard babes fail to notice the arrival on base of a masked madman. They fail to scope him out as he has used an old, apparently sealed off tunnel, to gain access. But he and his gang of armed robbers always know how to get in places, and they have researched matters well. Inside that barracks is a devastating report being minded for a very important politician who plans to read excerpts from it at a function held for foreign dignitaries? Trouble is, that report is about to go walkabouts!
Demi and Jade, knowing only that they are to remain hyper-vigilant, react to a stealthy noise from down the hall. Just as they are about to investigate (Jade gets a seriously hot handgagging in the hall) both women are overcome by a persuader-toting fiend. Taking them completely by surprise, he quietly closes the door on them as they roll around on the floor, with thick yellow rags tied between their teeth. Unable to talk and definitely unable to escape, they writhe helplessly as the first part of the robbery takes place next door.
Later, and after some luxury struggling (these girls are severely sexy) the raider has what he needs – the Report itself. The taking of this will leave the armed forces vulnerable to humiliation and could even undermine public confidence in them! That's the idea. Sew large-scale dissent, take advantage of the chaos and steal the REAL prize – an attaché case of diamonds being looked after elsewhere in the base. In the hub-bub, it'll be ripe for the picking. All sound credible…? Cool, knew you'd understand…
Taping the girls hot little mouths, the robber is satisfied to leave. He bids the two outraged guards bon venue, or similar, and locks them away in the office. They are not impressed and struggle hotly, for a long time actually. Need we say more? It's two expertly tapegagged beauties struggling around in sexy little military uniforms, grunting and straining into the tape over their mouths and gag talking a lot. We could say more, we suppose, but you can see for yourself how unrelentingly hot this rope and oral tape up situation is!
Nothing like a prime pair of bound and gagged army chicks locked away in an office, unable to stop the crooks, right? Well allow the ladies here to continue doing what they do best, and wait, along with them, for rescue! Talk about double-edged swords though. Having been tied up and gagged all afternoon, they clearly want out. But do they want to incur the wrath of the Brigadier in the bargain? All questions for later. Right now, we have some intense tapegagged action to get to intimate grips with. What beautiful women in uniform… Mmmmmmmmmm.

Starring: Demi, Jade
Size: 1.01 GB
Duration: 00:14:24 min
Resolution: 1280×720
Format video: mp4
Preview:


Download link:
Demi_and_Jade_in_Bound_and_Gagged….mp4