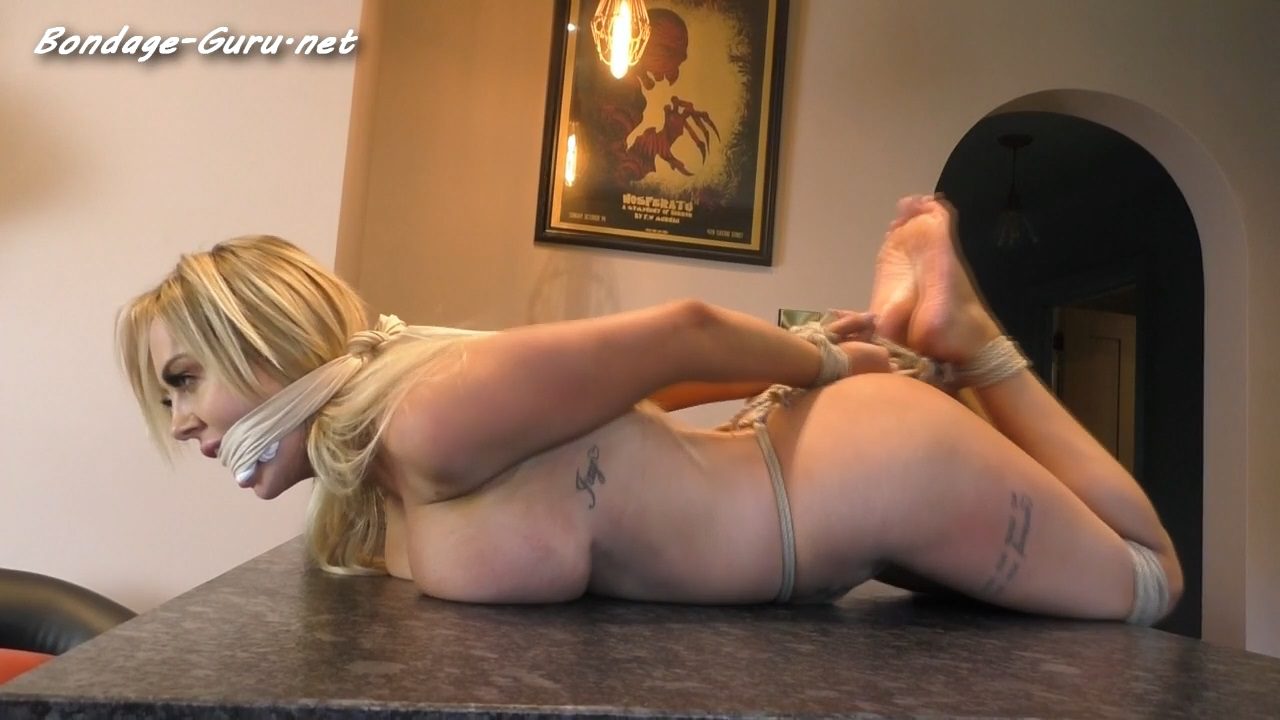 Taylor in: The Massively-Stifled, Toe-Trussed Psycho Chef PorkLoin Stress Test! – Borderland Bound
Taylor in: The Massively-Stifled, Toe-Trussed Psycho Chef PorkLoin Stress Test! – Borderland Bound
A gorgeous naked blonde struggles indignantly, the latest overcome beauty to fall prey to that most Psychotic of Chefs. He's trussed her up in his latest kitchen incarnation and has four different items gagging her ass. They are:
Panties (her own, pulled directly from her hot body and later replaced with a big sock), tan cloth strips, a heavy white cloth, and a belt from last Sunday's trousers!
If that won't shut her up, he doesn't know what will, and it seems to have done the trick give or take a few moments. Taylor's urgent grumblings are taken down more than a notch, but boy does she still try and yelp on occasion and never stops fighting her strict hemp restraints. If it's one thing the Chef knows though, it's how to tie up girls. So she's staying!
We begin with the ravishing Agent Rose standing before the Chef and proclaiming that she has what it takes to be his assistant. Of course, we all know (including him) that she is simply trying to wile her way into his graces and then arrest his rump. So he attacks her with a ladle or something and keeping her controlled, has her strip naked, gag herself with her panties and submit to a jolly good tying up!
Moving the bound and gagged lovely from his outdoor larder back to the kitchen, after a little 'chill time', he gropes her huge tits and leaves her struggling. Taylor has her wrists tightly lashed to her crotch rope and is going nowhere. Her muffled mumbles punctuate the otherwise silent and still kitchen as she squirms, heavily gagged. Then the Chef is back with her. He removes her gags for a little bit of pre-meal chit-chat, before violently stuffing her mouth with a piece of orange fruit after she fecklessly insults her host!
Mmmmbbblllmmmm!!! Outraged, and with her strange gag packed in good and tight between her teeth, the boobilicious babe is laid out on this bench and sprinkled with seasoning and lemon juice, drizzled over her huge, heaving tits. Then she gets the hogtying she so richly deserves for her gagged up insolence and we are now arrived at the real juiciness of this hot tale. Yanking on her crotch-rope for good measure, the Chef hogs her the fuck up while he has a watch of one of his favourite programs. You can imagine how all of that goes, as eh repeatedly tries to quiet the gagged blonde even more than she already has been.
Frustrated that the fruit-stuffed hottie won't stay silent, he stuffs her mouth with a big sock and cleave gags it in tightly enough to cross her eyes. Then he has a pop at her thick titties again before spanking her some more (he had a field trip with her feet earlier, by the way, with a large wooden spoon. Humiliated and helpless, Agent Rose twists around in her stringent hogtie, her feet previously oiled and her big toes locked together with string. What a treat those tasty feet are too, all wiggling about and stuff.
As the naked captive bounces up and down on that epic work-top, she gag talks a lot, often fixing us with those incredible slate grey eyes of hers. Melted, but we'll soldier on. Just as she is. Hogtied and spiced up some more, Taylor next gets a tight bandit style over cloth gag as an addition to what she already has restricting her mouth. Thick white cloth tied over her nose and mouth just adds more kinkiness to it all and again she is left to struggle and strain, while dinner (looks suspiciously like a frying pan of broccoli and sodden panties to us) cooks nearby. What IS this dude planning?
Having failed at her mission today (don't feel too bad, Dear, they all do) she simmers behind her big gag, chewing on a sock and grinding her jumbo knockers into that hard surface. It's astonishingly hot, especially when she swishes her spanked arse around and we see how tight that crotch rope is on, dispersing into her body. Must really. bite. So sexy.
But the Chef isn't finished yet. Still believing her to be making too much noise, he whips out one of his own belts and binds it across her face, securing her amazing gag yet more and turning down the volume a shade in the process. Utterly humiliated that the scumbag has used his own belt on her, the bound up blonde goes hogwild, writhing around, helpless and secured fo tonight's meal. She's very much wondering what this might consist of too! And while she does, we'll keep her company in this steamy kitchen. Acolytes of the Chef we truly are! Yep, we have a another Taylor epic in the making here. Bon appetite!

Starring: Taylor Rose
Size: 1.40 GB
Duration: 00:28:52 min
Resolution: 1280×720
Format video: mp4
Preview: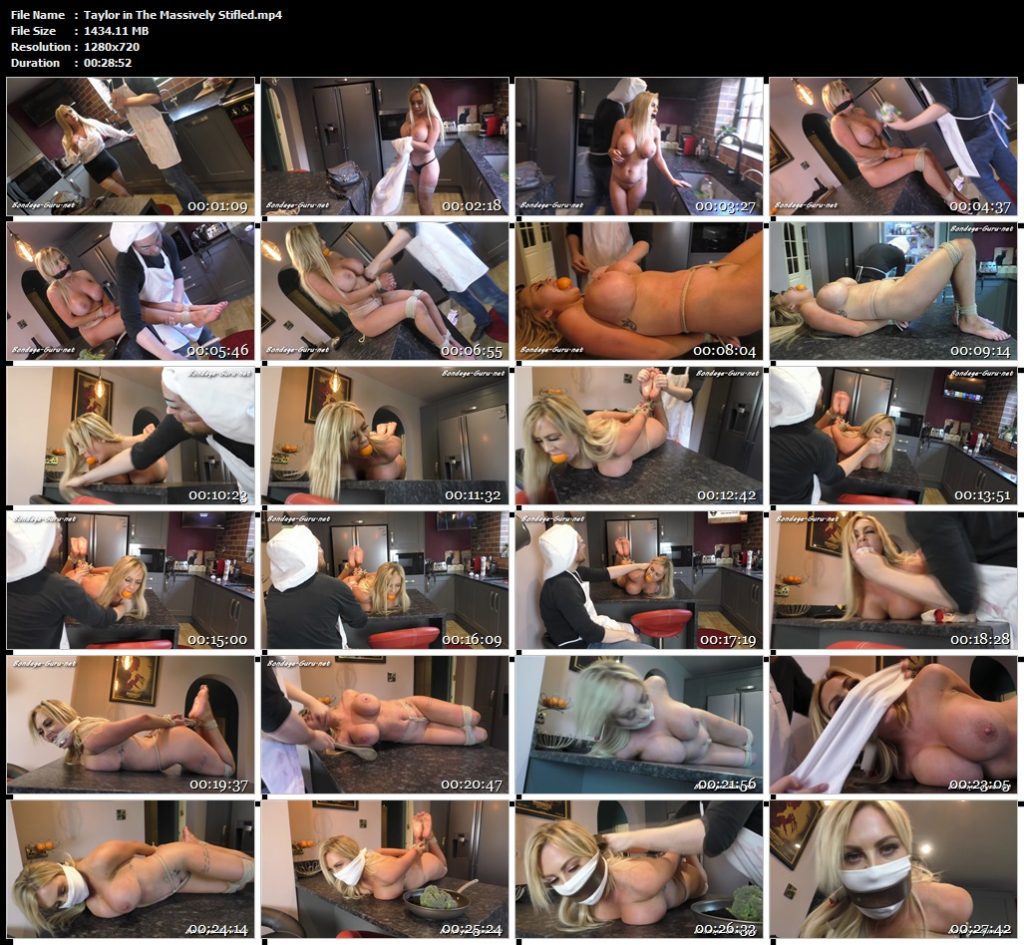 Download link:
Taylor_in_The_Massively_Stifled.mp4