Tasha & Callista in: The Complete BackPacking Adventure! (HD) – Borderland Bound
Tasha & Callista in: The Complete BackPacking Adventure! (HD) – Borderland Bound
Tasha & Callista in: Adventures in BackPacking Vol I: We Ordered the English Breakfast, Not the Continental Hogtie! (HD)
Its been a while since the demented Ignatius Hillier went off the reservation, and yet here he is again now, having stashed a surprise upstairs in one of his loft suites. He is preparing to head into town to purchase some things with which to construct dinner later for his. Surprise when the front door is briskly knocked upon. Opening it, the arch perv is overwhelmed by the beautiful vision of backpacking rambler Ms Marley. Inviting her in, rather quickly, he shows her to a room near the top. The stunning babe is thrilled to have found such a nice hostel. For that is what she thinks this is, and later, when Ignatius pounces, it may as well be that horrific. Surprising the confessed keen birdwatcher as she slumbers, he overpowers a struggling Natasha and leaves her bound and gagged in her room. After much sexy, cleave gagged bed struggling, the beautiful backpacker manages to hop off, where ultimately she finds the surprise upstairs on the third floor. Its Callista! Captured earlier and tightly hogtied and gagged in a corner of the room! That asswipe sure has been busy! Needless to say the energised hotties try repeatedly to free one another, with predictably hot n steamy results.
When Ignatius Hillier later discovers their attempts, he furiously binds Tasha into a tight hogtie to and leave the wriggling babes to gag chat and thrill us all down to the bone. After a while, he returns and viciously tape gags a heavily straining Tasha, assaulting both with spanks and rib tickles. The squirming, utterly trussed ladies bump and grind their way to tape gagged glory. Three tight duct strips apiece, all sticky and totally suppressive, they are nicely muffled up. Just what does Hiller think he is doing tying up such rare beauties? We dont know, but what we DO know, is that this guy is a legend. We mean, just LISTEN to these gagged up music makers, all hot, oiled and stringently bound, with the kind of classic, sexyass gags that got us all into this filth in the first place! Mmmmmmppppphhhhh!
Tasha & Callista in: Adventures in BackPacking Vol II: Two mouth Stuffed & Barefoot Bound Guests! (HD)
All tied up in Callista's room, the gorgeous duo twist and writhe, painful memories of what hot bondage they have already been put through in a previous effort by this madman, not far away. As they promise they will be good and that he doesn't have to maul and gag them, socks are jammed one by one into their mouths, well muffling their complaints, and are walled up with some exceptionally tight tape. Thus silenced (well, within reason) the two gorgeous, barefoot strugglers go at their bonds hard and gag talk away with astonishing hotness, getting US hard, no diggidy. Writhing and bottom bouncing on the floor, they are still totally bemused by the fact that their landlord for the evening has tied them up like this and hidden them away for fear of discovery by the other guests. What on EARTH does he have planned for them?
When he returns, as if to tell them, the girls strain at him with bronzed, toned legs, and he grabs Tasha and wrestles with the bound lovely. Then, tiring of the game, lashes both indignant ladies up into very close hogties, manhandles them with pure glee, spanks their jeans clad backsides and informs them he will be back in the morning, when the fun will REALLY begin. The two deeply disturbed and more than a little distressed damsels mmmmmpppphhhh and wiggle as much as their fierce hogties will allow. Rolling about, trying hard to communicate, the two wraparound tape gagged stunners cannot do much more. And so we get to kick back and have a jolly good time watching them, savouring them, EXPERIENCING them.

Starring: Natasha Marley, Cali Garcia
Size: 785.6 MB
Duration: 00:31:11 min
Resolution: 1920×1080
Format video: mp4
Preview: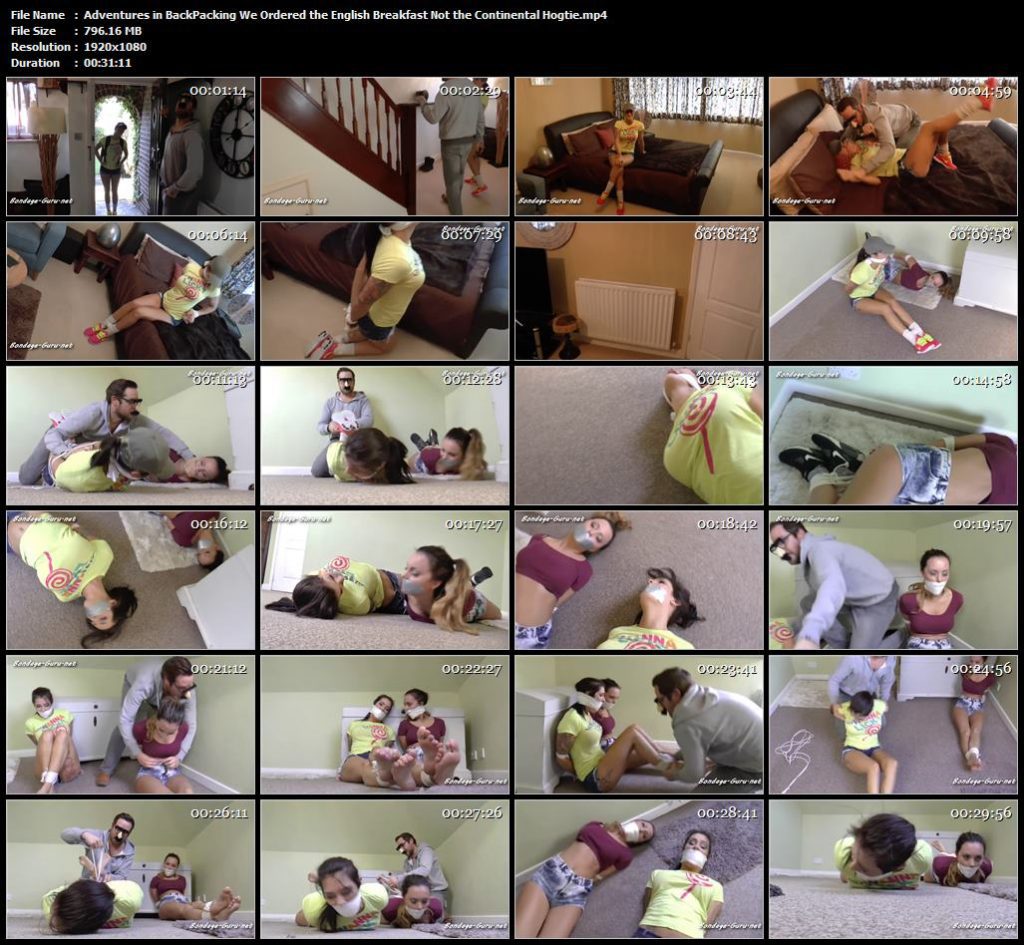 Download link:
Tasha_&_Callista_in_The_Complete_BackPacking_Adventure.mp4