Summer Marshall – The Temp – ShinyBound Productions
Summer Marshall – The Temp – ShinyBound Productions
When Summer was thumbing through the list of jobs at the temp agency, she just wanted to find a nice easy office job where she could coast through the day and not really have to do much. Looks like this SB Productions guy is looking for a secretary in his office. Looks simple enough..
She shows up on time and gets right to work. At about 10:15, her new boss comes in and tells her it's breaktime and she needs to take her 30 minute break. He shows her to the breakroom and she gets immediately suspicious when there are no chairs or anything in there, and it looks like a porn set or something. "Not to worry! I brought you a nice comfy chair!" her boss assures her. "Grab a seat right here.."
Now.. Tightly tied to the chair and ballgagged, he tells her she has 30 minutes to relax. "MMMPPPPFFFFHHHHHGGG MMMPPFFFFFFRRRGG!!!" She tries to yell at him and demand to be released, but the giant ball in her mouth makes it very difficult to understand her. She struggles hard, however she is welded to the chair with legs tied and her arms bound tightly behind her.
A few minutes go by and her boss pops back in, this time he's got a camera. "Say! We're about to choose our Employee Of The Month for this month and wanted to grab a few quick photos of you to put up on the plaque in the front office!" He snaps away while she tries to dodge.. Utterly humiliated.. "Great! Thanks so much!" He disappears again into his office.
After a while her boss comes back in to untie so she can go back to work. He takes off her gag and immediately she begins screaming at him and calling him names… So he shoves the gag back into her mouth and tells her to go ahead and take another 30 minute break.

Starring: Summer Marshall
Size: 476.7 MB
Duration: 00:13:54 min
Resolution: 1920×1080
Format video: mp4
Preview: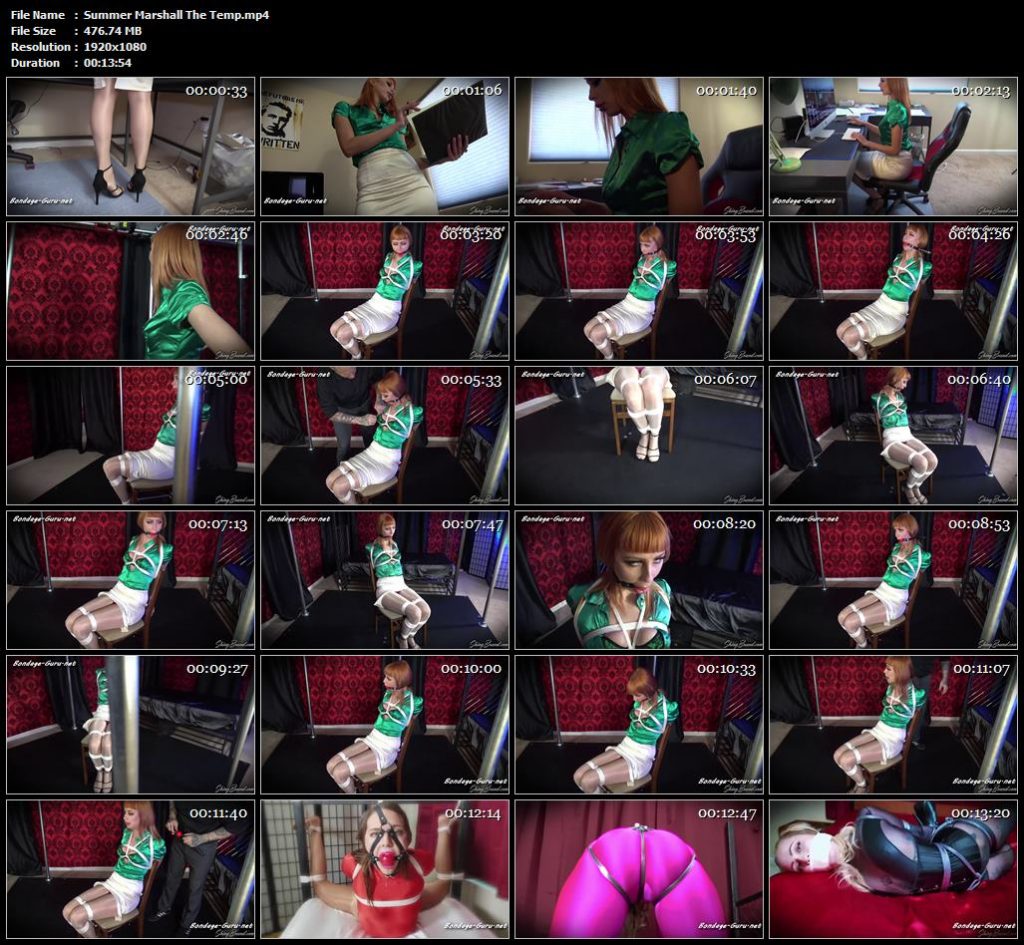 Download link:
Summer_Marshall_The_Temp.mp4