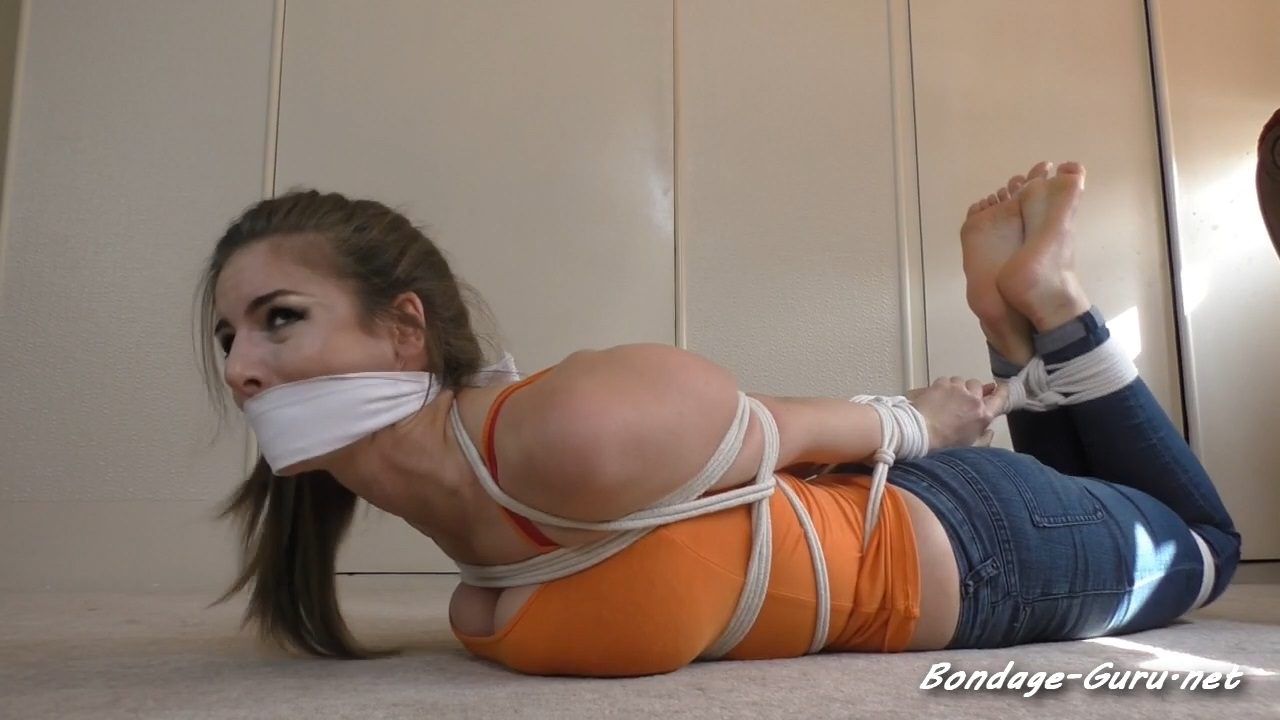 Stella in: ToeTied Big-Boobed Detective Damsel Hi-Jinks: The Whole MogWai File Laid Bare-Foot! (Complete Predicament) – Borderland Bound
Stella in: ToeTied Big-Boobed Detective Damsel Hi-Jinks: The Whole MogWai File Laid Bare-Foot! (Complete Predicament) – Borderland Bound
Oh man, just listening to this incredibly gorgeous girl mmmmmpppphhhhing away, shut inside a wardrobe – which she manages to nudge open with her cute canvas pumps, and watching her squirm oh so valiantly across the room, so that she might try and try again to escape. And, how sweet the epic recapture, and the wiggly toe-bound consequences. So. Damned. Hot.
Our lovely young damsel gets gagged TIGHT here. Tight as we could make it. Oh how sexy she looks with a handkerchief tied hard over her mouth, and what sweet music she makes, unable to part her full sensuous lips. But first, there is the matter of a weird comic book collection, and the stolen treasure map to be found within.
Arriving at the home of one Jeremiah MogWai (what a dickface, huh? Having a name like that) and looking startlingly hot in tight blue jeans and just as tight orange vest top – oh and some snow white sneakers of the canvas type – super-busty Stella is ushered into the living room of this fucking (if you'll excuse our Francais) dimwit. But is the guy as thick as he sounds, looks and behaves? Or is he a far, shall we say, darker adversary? We'll soon see. The comely young detective is investigating the brazen theft from the LongShanks Museum of Natural Yoghurt of an ancient treasure map said to belong to some pirate or something (so maybe not ancient ancient, but sort of old) and all fingers point to the unscrupulous collector, Mogwai here!
Turns out ol' Moggers put in an offer to buy the map, was rebuffed and then went after it anyway. A tip off says the guy has it, but they've sent in this little beauty to distract him and hopefully secure the map! With his mangy back turned away to fetch sweet tea for them both, the busty stunner immediately spies a stack of comics. Conveniently, concealed within mag number 3 is what precisely she is after! But, just then, MogWai enters the room, and he is packing more than a cup of the finest Earl Grey!
Ushered upstairs, hands the tarnation up, the ballsy girl mouths off a fair bit, ridiculing her now-captor, confident he will get away this this not. MogWai is just as confident that this one needs shutting up and keeping still until he can get rid of her that night over at Castlemane Coal Mine. What a tossing fiend! Anyway, with the compromised detective ordered into a walk-in wardrobe, he shuts her away, very tightly gagged and very tightly bound up. The outraged babe squirms passionately from the outset, soon kicking the door open. Curled up in a ball, she looks and sounds about a shot as it gets, but things warm up even more when she begins writhing around on the floor, trying again and again to get up.
Eventually, the plucky hostage gains her sneakered feet and hops off out of the room. These ropes are soooo tight. She can barely make it, but her courage sees her right. And, who knows, maybe she would have gotten out of there, if not for the oaf who grabs her and bundles her back, kicking and twisting, to that room. Here the dear girl has her sneakers stripped off and her stunning bare feet all fucked over – toe tied good and secure while the guy kneels on her legs to further demean and to hold her down. You can bet this sassy lass gives it the total large with the gag talk again too!
With that, Detective Cox is left struggling and straining; her amazingly tight gag biting into her cheeks, bulging them perfectly. Oh and those FEET!! Man, words can't do them justice. Just watch how the saucy little bitch uses them too as she wriggles around urgently. Then MogWai is back with more rope. He very roughly pigbinds the mmmmppphhhhing beauty while she bucks and grinds around. Clearly he enjoys her feet and he keeps playing with them in between heavy gropings and spankings! Much to the increased consternation of the muted captive.
Incensed and completely and utterly helpless all hogged up and toe-trussed, the tightly bound and gagged detective bucks around with pure contained fury. She knows the guy will be 'napping her later and driving her out to that mine where he will strap her down to a cart and maybe. push? Best not two dwell on that, but highly advisable to dwell upon this extremely well tied and gagged beauty and silently raise a clenched one to your Borderland Bound, without whom, you might not have stuff like this! Cheers!

Starring: Stella Cox
Size: 1.01 GB
Duration: 00:27:06 min
Resolution: 1280×720
Format video: mp4
Preview:


Download link:
ToeTied_Big_Boobed_Detective_Damsel_Hi_Jinks.mp4