Stella Cox in: An Awesome Long-Legged Beauty Getting Tightly Restrained & Gagged a Lot, in an Office – Borderland Bound
Stella Cox in: An Awesome Long-Legged Beauty Getting Tightly Restrained & Gagged a Lot, in an Office – Borderland Bound
Tight silk scarf gaggings combined with some very strange and perilous situations – and more gags. Yes, that'll do just fine. Enter the breath-taking Agent Cox. She is posing, in her see-through mini dress and lacy black underwear, as a lap dancer. She knows her client, said to be involved in the babe trafficking business too – could there be a connection with Agent Jade' thing? – gets off on seeing girls tied and gagged. If she can tempt him, she might be able to get him with his guard down later and see if she can find some clues. So, right now, she is going along with his rather kinky program. If he wants her gagged, he can have her gagged.
They start with a thick rubber bit gag, which he has her wear while she gives him an erotic dance. He can't keep his hands off of her either, repeatedly spanking her and fondling her giant tits. Stella seems not to mind at all, but internally, she wishes this fuckbag would lay off. Next, he leads her into an office type deal and trusses her up in a swivel chair while she gag talks and drools his way, which is clearly what he likes. Enjoying himself muchly, he next gags her with a thick black bandanna. Stella really gets her mouth around the bugger, chewing on it, baring her teeth, looking hotter than words can muster (though we try) and writhing sensually on her chair.
He leaves her bound amazingly with her strong thighs crossed, moaning sexily into her gag and repeatedly trying to talk for his pleasure. He says he'll be next door, thinking about her bound and gagged. She acts like this revelation turns her on and continues to strain around all tied up in her seat.
The wondrous Stella Cox does 'Damsel' jolly well and here she really showcases it. All tied up on a chair in her see-through dress and high heels, she wrestles with a stupidly tight white cloth gag tied over her sensual mouth. The mmmmmmms and ggggmmmmppphhhs really are first-rate, as you would expect from the leggy brunette. Her massive boobs fondled and Stella left to stew, a helpless captive, she is already trying her damnedest to break free. As soon as his back is turned she is on it. This case has seen her being captured and tied up, sure, but this is nothing new for the lovely detective. She is always getting caught and restrained. And we wouldn't have it any other way. In fact, we raise a glass tight now, to her continued incompetence! And the bound lady struggles passionately in her seat, that tight handkerchief stopping her sweet mouth.
As an ex-employee of FairWeather & Friends Car Dealership, and now a plainclothes detective, the beautiful Stella has heard some unpleasant rumblings about her former employers. Apparently, the FairWeathers – Ronnie &, um, Reggie, have been warring with business rivals and things have escalated out of all control. The whole damned bunch of them are violent criminals anyway, both using the car stuff as fronts for all sorts of other dark things that makes them their real bread and circuses (or butter) and it was only a matter of time before something major began brewing. Word on the street has it that Ronnie FairWeather, with some of his 'friends', plasn on doing a full blown heist over at the rivals, McStarFishes, stealing all of their cars and even nabbing a couple of hot chicks who work as receptionists there – scantily clad ones, just like their own, Penelope, who has the day off. Bingo.
Now the overly-elaborate plot twists more sharply around that country bend as we have Stella, aka Detective Cox, arriving to what she hopes will be the vacated FairWeather offices, to have a little poke around and see what she can find out. If she is seen, her cover, all decked out in a see-through, ultra-sexy dress and high heels, is that's eh popped back to see if she could get her old job back and to fuck with Penelope! Ok, so it's stretching things beyond breaking point, but she doesn't expect to get caught. Her first error!
It's while sneaking around upstairs that a top FairWeather aid, Felix 'TheCat' Marsupial, who has been tasked to mind the fort while the heist goes off, leaps out on the busty stunner and roughly and repeatedly (we hope you like a lot of handgagging action) clamps his hand over her mouth, bundling the grabbed cop down those stairs, getting her wrist taped up behind her and then forcing her into a disused office. It's here, as Stella drops the damsel in distress act and gets down and dirty, orally, that he stuffs her smart mouth with a filthy sock he finds hanging over a radiator. The beautiful snoop immediately gags on it but can't spit it out because he is winding a veritable wall of immensely sticky and strong-holding silver tape around her face and head. A lot. Satisfied that the clearly shaken bimbo cannot utter a single word, the goon parcels her up some more, very much enjoying her massive tits through her dress en route. Stella recoils, seething at him, penetrating him with those huge chocolate eyes. What a creep!
Later, Goon-Boy, Marsupial returns, on the phone to Reggie FairWeather Hisself. While he further subdues the bound and agitated girl, the pair of societal menaces discuss ways of getting rid of her, and you can just bet that Stella's reactions to all of this are worth the admission price alone. After he's had his fun with the furious cop he is about to lock her away again when he hears a noise. In his haste to check it out (they do after all have much to hide) , he conveniently leaves his phone behind in the office and again, you can be positive that the lady in waiting here has a LOT of fun, having eased her heels off of her warm sweaty feet, trying to get useful with it. After much footwork and trying to flip this way and that to get a better vantage on the device, the mounting frustration of the detained detective is palpable and she is soon raging around the office, looking for other ways to escape.
This scintillating barefoot journey takes her around the back of the desk, where she is eventually discovered by the bad guy. He explains that she will be dealt with later that night, implying that if she is good, things might not get too heavy. Guess she'll just have to trust his ass on THAT one. Grrrrrrrrmmmmmmm!!!

Starring: Stella Cox
Size: 1.66 GB
Duration: 00:43:57 min
Resolution: 1280×720
Format video: mp4
Preview: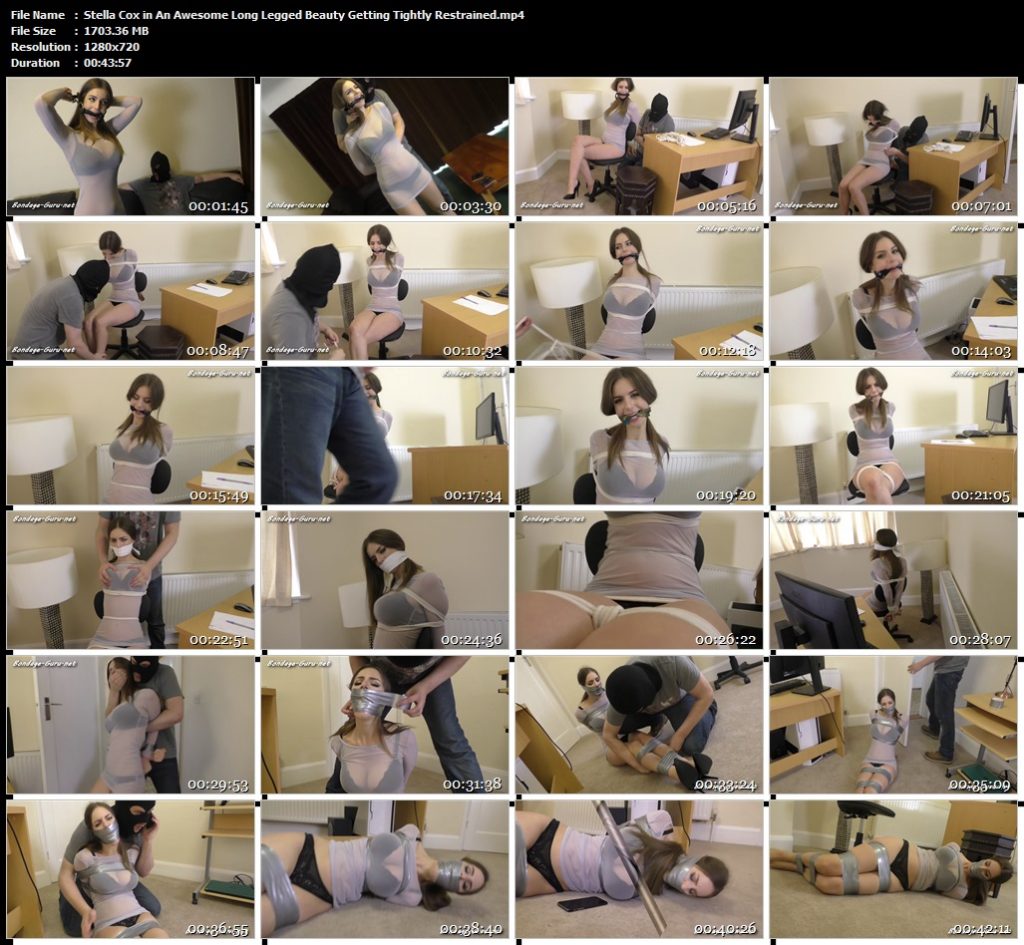 Download link:
Stella_Cox_in_An_Awesome_Long_Legged_Beauty_Getting_Tightly_Restrained.mp4